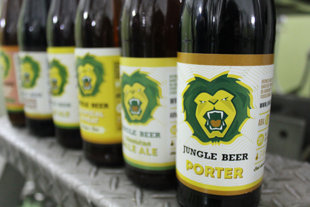 In the Jungle, The Mighty Jungle…They Make Beer
By Tris Marlis - Tuesday, Nov 20, 2012
Next time if someone needs an explanation on "kiasu," just hand them a bottle of Jungle Beer's Kiasu Stout. With this bottle of beer, you have nothing to lose and you get it all. The Imperial style beer has more then malts and hops. Then grab a few bottles of Jungle Beer's exotic Tropical Wheat range, with flavours like Mango, Pink Guava and Soursop. Then there are many more, from American Pale Ale to Porter.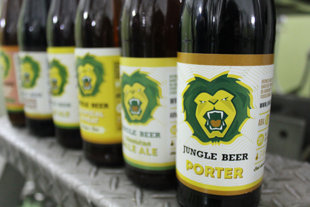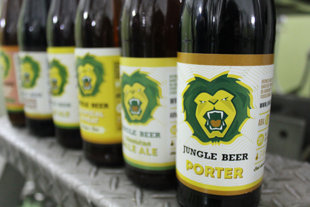 A few weeks ago, we had South East Asia's very first Craft Beer Week in Singapore. The goal of this event is simple – to raise craft beer awareness. Craft beer simply means beer that is crafted and not manufactured. As Aditya Challa, director and brewer of Jungle Beer puts it, "beer is not something that you just gulp. You are actually drinking something!" This upcoming local brewery promised to "create beers as diverse and exciting as our cuisine," and we feel it delivered. This is craft beer revolution.
Barefoot Brewing Company started brewing Jungle Beer July 1st last year. Adi and his partners are college buddies in Hawaii. Coming back to Asia, Adi realised that there are not many good local beers in Asia and he had this desire to create innovative Asian beers. After years working in IT and banking, he decided to study brewery in Scotland. During one of their reunions in Bali, Adi and his friends came up with this idea of making their own beer and they called it Jungle Beer. The name signifies adventure and a strong sense of place as there is no jungle outside tropics. In Singapore, "We always say our city is in a garden, but the garden itself is in a jungle."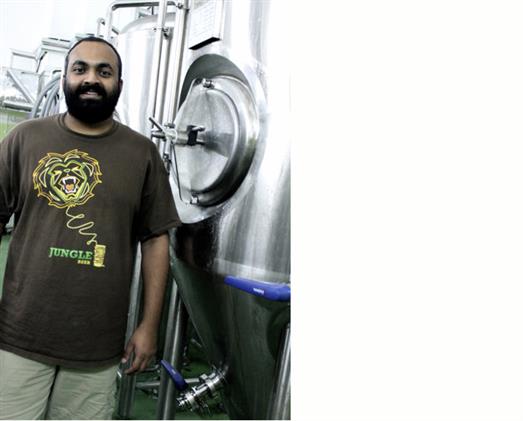 Now that his partners are residing overseas, Adi is the sole manpower in their company's operation. He personally does the brewing, bottling (with occasional help from couple of friends), boxing and delivering. We are talking about bottling manually more than 60,000 bottles of beer per month. Not to mention the numerous experiments to come up with a flavour. His business strategy is called "lack of strategy," he lets his company grows organically and let his beer's quality speaks for itself. So far this strategy is working as more fans are hooking up their favourite beer at their favourite bars. Barefoot is also doing some interesting collaborations with local eateries. I had their Cerveza Habanero at Senor Taco and Coffee Beer at Chye Seng Huat Hardware, I loved them both.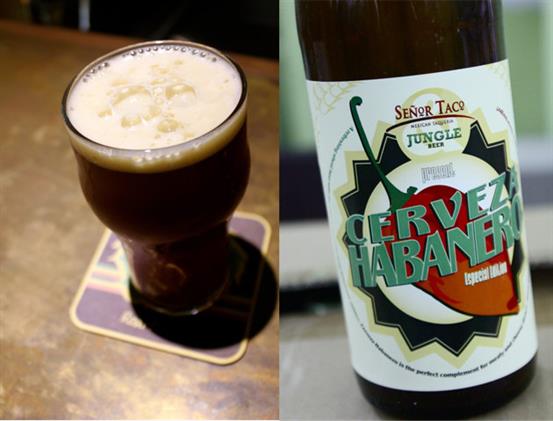 So, what's next for Jungle Beer? They are exporting their beers to Malaysia and New Zealand. Soon it will also be available at China and Thailand. With brewers like Adi working in this craft beer revolution, what's next for us? Well, a longer beer list and longer time to decide. Adi's message to everyone, "just try craft beers!"
Here's a list of places to do just that:
Barefoot Brewing Company Pte Ltd 8A Admiralty Street #04-27, Food Xchange @Admiralty Every second Saturday of the month the brewery is open for public. Enjoy free flow beer of four (or more) beers for $40 per person. Usually from 6.30pm until 11.30pm.
The Good Beer Company Blk 335 Smith Street, #02-58 Chinatown Complex (Mon – Fri: 12pm to 2pm, 5pm to 11pm. Sat: 12pm- 11pm) Just because we love to pair our beer with great hawker food. They have great selections of beer in bottles or on tap. Jungle Beer is $9.
Henry Congressional 44 Holland Grove Road (Wed-Thu: 9am to 10pm, Fri: 9am to 12am, Sat: 10am to 12am, Sun: 10am to 10pm) Great atmosphere and they have Jungle Beer in almost all flavors.
For more information on Jungle Beer, go to their website at http://www.junglebeer.com/