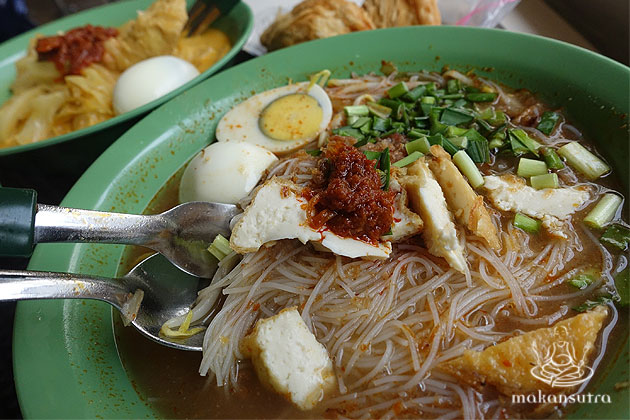 Indonesian Food House: Slurpy Soft Mee Siam and Spicy Lemak Lontong
By KF Seetoh - Monday, Apr 27, 2015
If you are reading the past 12 noon and feel delicious over what you see here then I suggest you head on there…tomorrow. The mother and daughter team never fail to sold out by lunch every day. "Even earlier on weekends" says daughter Tan Mei Ling. Originally from Jakarta, Indonesia but now Singaporeans, they set up shop some twenty years ago here and had never looked back. Her mother Mdm Lai A Man was former seamstress back in Indonesia and reveals "I just set up this makan stall in Orchard Midpoint over ten years ago with no experience and I learnt from the Malay ladies that worked for us". They sold comfort food in Orchard Road at hawker centre prices- averaging $3. "But rentals hit an uncomfortable five figures two years ago and we decided to relocate.", and Mdm Lai says she did not even tell her regulars there about the move.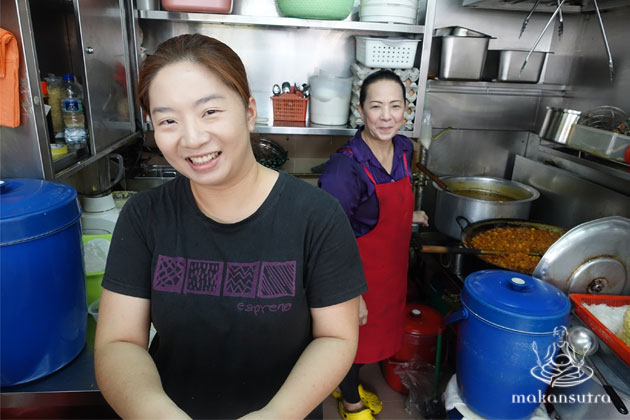 They have a new breed of regulars now, including fussy retirees and the heartland HDB folks. They stream in steadily, a few a minute and the menu is straightforward and comforting- Mee Siam, Mee Rebus, Lontong, Mee and Soto Ayam and if you go earlier, you will know why their shell curry puffs (potato and sardines) disappear from the shelves often by 9am. They go fast for a simple reason, the pastry is light and fluffy and it's jam-packed choc-ka-bloc full of ingredients. And if you asked me what the key signature here would be, I'll say Mee Siam. But that was before I tried the Soto Ayam, and the curry puffs, plus the Mee Rebus and Lontong. I tried everything on the menu. Now, I'll say- depends on what I'm in the mood for. They all have what it takes to please.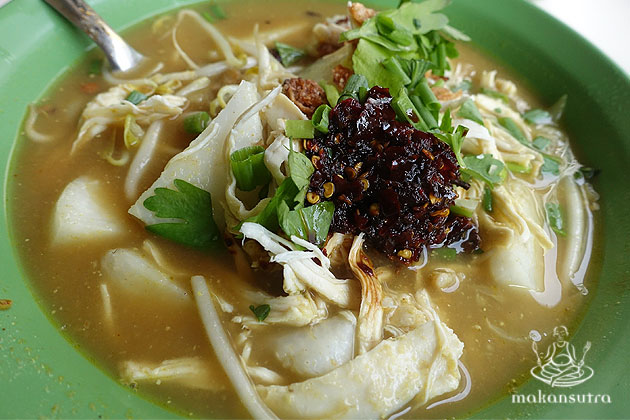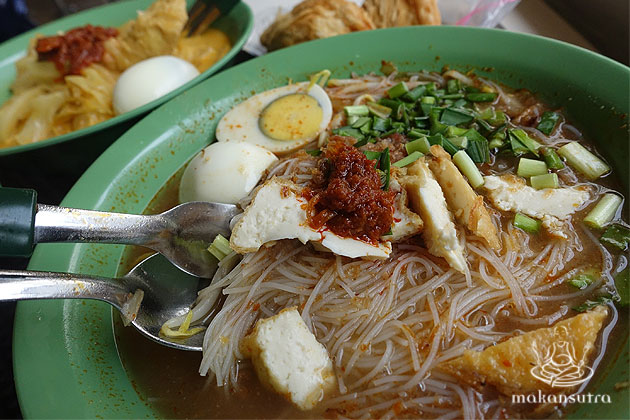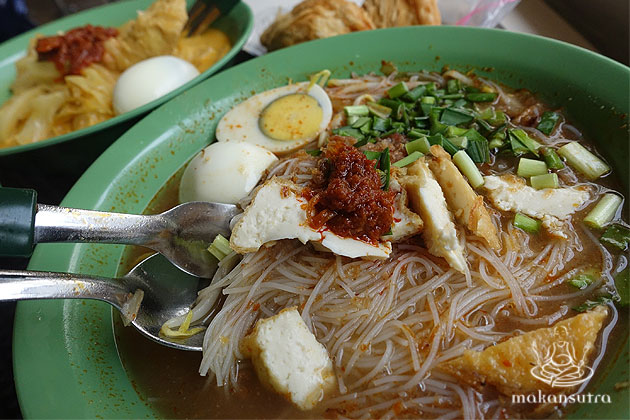 Firstly, the Mee Siam ($3.50)- the sweet tangy richness was intact but what made me order this twice in a week, was the beehoon, specifically, the texture. It was slurpy soft yet not mushy and had enough bite. It made me realise the old joy I felt eating this yonks ago at the old Waterloo St sarabat stall days, was not a figment of my imagination. The egg and the taukwa were nice but unimportant side shows. The lontong, wowed me with another simple reason- they made their own lontong rice cakes. It was like the old school lontong style rice pressed together into a cake kind of texture and softness. It felt nothing like the usual suspect market bought ones. The spicy stock was rich enough with a confident blast of heat from the chilli in the rempah. Absolutely loved it.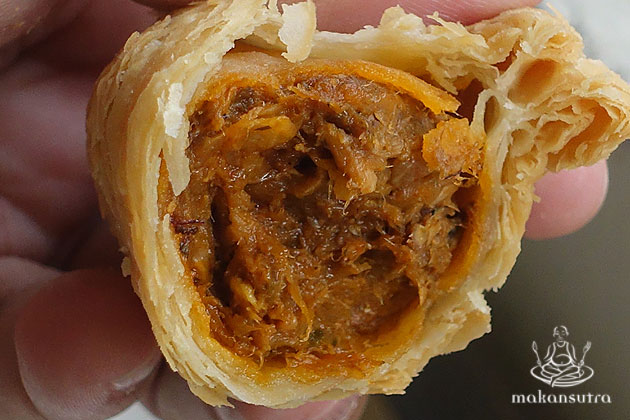 We spoke as Mdm Lai was frying up a huge wok of curry potatoes for the next day's curry puffs. The moist and spicy tubers was exactly what I felt and tasted in the curry puffs. And, they weren't stingy with the sambal enhance fish flakes in the sambal sardines version either. They clear everyone of it before 10 am even on a slow day. I'll have to say the least favourite, although ranked way up there by many other's standards, was the Mee Rebus. It came just short of the grago (dried shrimps) enhanced version the now defunct Selera Kita folks. But it was very likeable nevertheless, especially if you like it sweeter with a handsomely savoury kick.
Reminder, if it's past noon now (on a weekend), don't bother going, gun for a weekday.
Indonesian Food House
01-06, Blk 117, Geylang East Centre Food Corner
Aljunied Ave 2
6.30am-12noon (or till sold out)
Daily (closed at Chinese New Year)