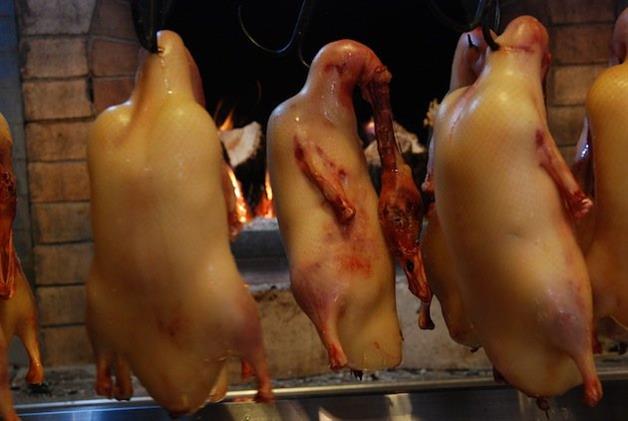 Is Duck Meat Halal?
By Sheere Ng - Saturday, Mar 16, 2013
Satay, Mutabak, Rendang and Soto – among these popular Muslim foods, there is hardly a trace of one particular meat, and we're not referring to the prohibited pork. Strangely, even though duck is permitted by Islam, it is not as widely featured in its gastronomic offerings.
Arabic recipes written in the medieval times suggest that this dietary pattern was established hundreds of years ago.
"Most meat came from vast flocks of sheep… People liked the taste of mutton and the abundant fat that it provided…" according to a chapter in Food: A Culinary History from Antiquity to the Present. However, "Most prized of all was fowl, which people raised even in the city – hens first and foremost, then roosters… geese were preferred to ducks."
Evidently, the waterbird has been ranking last in the list of Muslim's preferred meats. While historical records offer no explanation for this aversion to ducks, professionals in the food industry today can shed some light.
Alhambra Padang Satay's Mr Mohd Hussin, one of the few hawkers who offer Halal duck satay, says that the Muslims are turned off by the ducky and gamey odour, which some relate to the smell of stinky laundry. Even though mutton is regarded to be gamey as well, the Muslims have been "acclimatised" to it since childhood.
Mr Hussin added duck satay to his menu mainly because he enjoys the meat, and he acquired the taste from his Chinese grandmother's cooking. Even though he sells more duck satay today than one year ago, only 30 per cent of the customers are Muslims.
The Muslim's culinary inexperience with the meat also plays a part. "A lot of them don't know how to cook. If you don't know, there will be a smell. Compared to chicken, duck it more troublesome," says Mr Mohammed Ali, General Manager of Heng Kwee Heng, the only Halal duck supplier in Singapore.
The low demand, partly driven by the price (a Halal duck costs almost thrice the price of chicken about the same size), he adds, also explains why the company has had no competitor for the last 20 over years.
But Chef Jean Francois Nordin, a Malay descent with French culinary training, points out that some Malay ethnics groups in the neighbouring countries do eat duck meat. Acehnese's Gulai Bebek (duck curry), Negeri Sembilan's and West Sumatra's Duck Rendang are some examples. "These places are swampy, good for rearing ducks," he says, although such condition is dwindling in this region as kampongs are making way for developments.
There is a sign of growing interest in the meat, especially amongst the younger Muslims. Mr Hussin says most of the Muslim customers who buy his duck satay are young people. Mr Ali attributes part of his company's business growth (he declines to reveal the numbers citing business confidentiality) to the growing curiosity about other ethnic cuisines. To meet this demand, the company has also began to offer ducks cooked in Chinese style, such as roast duck, braised duck and peipa duck.