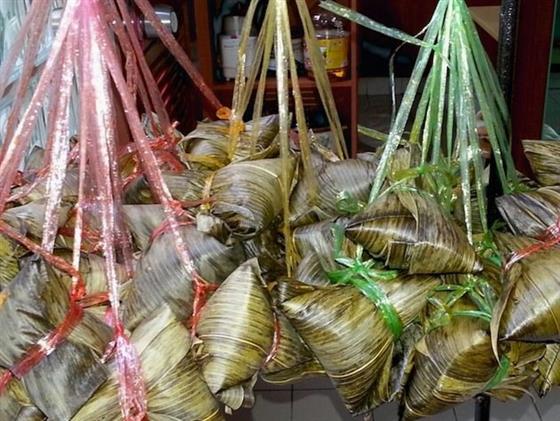 It's a Wrap
By Stefanie Chao - Monday, Jun 10, 2013
There is always something fond to be said about beloved recipes that are passed down generation to generation. Somehow, your dearest memories of food are usually what you ate growing up, and more importantly, the pleasure of experiencing the preparation process. More often than not, everything else that you eat later on in life is compared to those cherished memories. Madam Lim Bee Arn, 50 and a homemaker, believes in just that and she made up for lost time by learning as many heritage dishes as she could from those nearest and dearest to her. Over 30 years ago, her grandmother had a winning meat dumpling, along with many other delicious creations, which was hawked at a market (where Holland Village is presently). What was special about this meat dumpling was the combination of a smorgasbord of good stuff like melt-in-your-mouth meat, chestnuts, mushrooms, salted egg yolk and a moist hae bee hiam (spicy shrimp floss) packed into flavourful rice, and scented with lotus leaves, all coming into one harmonious explosion in your mouth.
Today, Madam Lim has modified the recipe to her taste and makes it once a year to celebrate the Dragon Boat Festival (端午节) with her family. She has succeeded in reducing the amount of oil and salt without compromising much flavour, and has even eliminated the addition of Borax (Peng Sha 硼砂). For those unfamiliar with the chemical, it was added to the rice in the past, in order to make the dumpling firmer and ensure it will not stick to the leaves. However, it is now a restricted item in Singapore and considered poisonous as it is also found in detergents and insecticides.
For those who feel daunted by the seemingly long time and large effort that it takes to prepare this recipe, Madam Lim advises that all ingredient preparation can be done the day before and what better time is it than to enlist the help of family members during the weekend? Much bonding and conversation is done over the wrapping of the dumplings. I myself learned much from little anecdotes of the past shared by Madam Lim and her cousin who wraps dumplings at the speed of light! Meanwhile, I was clumsily struggling to keep the dumplings shaped and tied firmly, much to the laughter of both women. It's common to make a big batch of dumplings. Any extras can be stashed in the freezer for up to 2 months and enjoyed with much relish after reheating.
Bak Zhang (肉粽) Recipe (approx. 25 dumplings)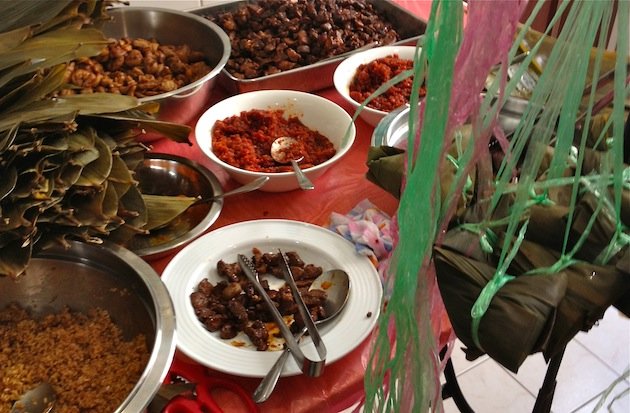 Ingredients:
1kg Grade A Thai glutinous rice 60 pieces of dried Lotus leaves 400g pork belly, 400g pork butt (腿肉) 25 pieces small mushrooms 30 pieces dried chestnuts (in case some are bad) 6 salted eggs (Madam Lim makes half with the egg yolks and half without) hae bee hiam (recipe follows)
Seasoning: Cooking oil, salt, white pepper powder, Superior dark soy sauce (Kwong Cheong Thye brand recommended), light soy sauce, five-spice powder, garlic cloves.
Hae Bee Hiam: Finely mince 30 pieces of peeled shallots and 15 peeled garlic cloves in the blender. Finely mince 20 pieces of dried chilli (soak in water to rehydrate for 1 hour, then drain), and 15 pieces of fresh chilli in the blender. Finely pound 150g of prepared dried shrimp (hae bee) in the mortar and pestle for a better texture. (To prepare shrimp, wash and then soak in water for 30 minutes, drain.) Heat ½ cup cooking oil in wok and fry the shallot, garlic and chilli mixture till fragrant, about 5 minutes. Add the shrimp and fry for 15 minutes more—you want it to be on the moist side. Season with 3 to 4 tbsp sugar and some light soy sauce to taste. Drain off most of the oil and let it cool completely before storing in a bottle.
The day before:
Prepare hae bee hiam. Cut pork into 2-cm cubes and marinate with 2 tbsp superior dark soy sauce, 2 tbsp light soy sauce, a generous dash of pepper and ½ tbsp five-spice powder for a few hours. Clean chestnuts by picking off any residual shells and boil for 30 minutes until softened. Soak mushrooms in water until softened.
To cook pork: Heat up 2 tbsp of cooking oil and fry 4 cloves of minced garlic till fragrant. Add the pork and stir fry till just cooked. Let it cool down slightly and pour any residual gravy into a bowl. Divide in between the bowls of drained chestnuts and mushrooms to marinate in overnight.
Prepare lotus leaves: pass them through a wok-full of boiling water to soften it slightly then soak them overnight in pails of tap water.
If you want softer rice in the dumplings, soak them overnight in tap water. If not, it can be prepared the next day for a dumpling firmer in texture which is what Madam Lim prefers.
The day itself:
Line your kitchen floor with plastic and prepare some laundry poles for hanging the dumplings, with bundles of raffia string that have been soaked and softened in water for easy tying. Drain the leaves and pat them dry. Discard any torn ones with large holes.
If you have soaked rice the night before, drain it well. Heat up 2 tbsp of cooking oil and fry 4 cloves of minced garlic till fragrant. Add the rice and stir fry well to coat the grains with oil. Season with 2 tbsp superior black soy sauce, salt to taste; and a generous dash of pepper as well as five-spice powder. Let it cool down.
Steam the salted eggs for 12 to 15 minutes, let it cool down slightly and remove the shell. Set aside the egg whites to consume later, and halve each yolk.
To facilitate any first-timers, here's a video showing a step-by-step (and very much slowed down!) demonstration of how to wrap a dumpling.
To fill the bak zhang, select 2 leaves and place the tail end of one lining up with the top end of the other. Form them into a conical shape, then pack 1 tbsp of rice inside, fill 4 to 5 cubes of meat, a mushroom, a chestnut, half an egg yolk if using, and spread 1 tbsp of hae bee hiam over this. Cover with about 1.5 tbsp more rice, packing it in firmly with the back of the spoon. Fold over and form the conical dumpling shape, then fasten firmly with 2 rounds of raffia. Ensure that the rice is well-packed inside with no holes in the leaves, fasten firmly with the raffia or else the dumpling will be waterlogged during the cooking process later. Repeat till all the filling is used up.
Immerse dumplings in a large pot of well-salted water and boil for 90 minutes or until the rice is well-cooked to your liking. Hang on the poles to cool completely and wait till the next day to consume so the flavours can meld. Leftovers can be refrigerated for up to a week, and frozen for up to 2 months. Steam for 15 to 20 minutes to reheat.