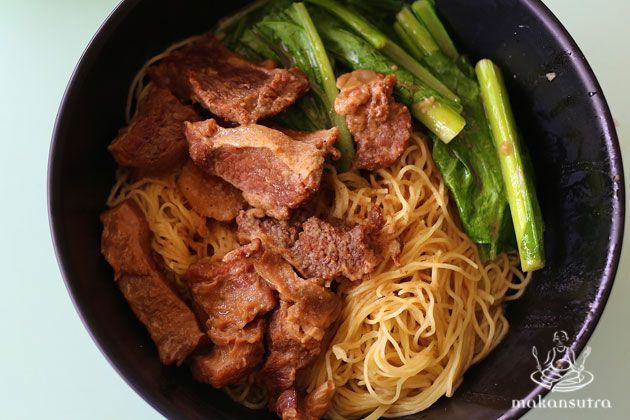 J & J SPECIAL BEEF NOODLE: UNIQUELY TEO-HOK (TEOCHEW-HOKKIEN) STYLE
By Cecilia Joven Ong - Tuesday, Apr 28, 2015
William, 65 and his wife Wah went headlong into the hawker food business after being retrenched during the dark 2008 era. He never looked back. He is still pleasing his regulars at his stall in Old Airport Road Food Centre.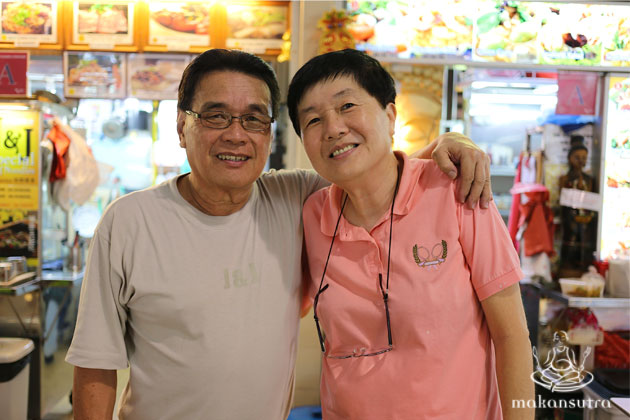 It was already past lunch at this beef noodle exponent's stall and customers were still tricking in. I spoke to his delightfully friendly wife Wah, 65.
It had never been an easy journey for them over the last 7 years.  She talked about how they participated in a TV programme by MediaCorp in 2009 and how they overcame the rental saga in 2011. Wah emphasized that they did not have much choice back then as there is no turning back once they started the business.  "We never had a recipe to follow but we started experimenting by mixing up different concoctions with our son as the food taster. We will only put that particular dish on the menu after he tasted and approved it.", adding "This is what got us started, it is a family effort. Our son shot those food pictures for the stall, he photographed and framed them up and have it displayed right at the stall and that saved us quite a lot." She pointed proudly then out.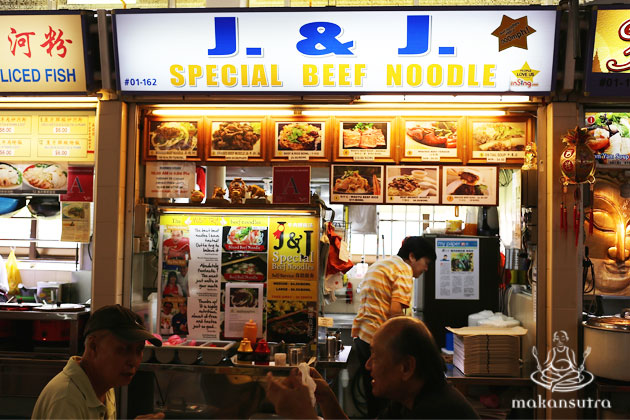 While chatting with Wah, a customer came by and said to her, "Your Beef Kway Teow is really nice. I did not know about it till now.", and Wah replied, "It's not too late for you know about us. You should come back more often then." She did not forget to thank that customer for her support. There were also many regular customers who came by to say hello.
She said, "The rental is always our main concern. The last adjustment was about a year ago and it was reduced slightly but we do not know when they are going to increase it again." Then she continued, "We did not manage to go for holiday for a while now, we did so only when the food centre closed for renovation some time ago.  We managed a short vacation in Bangkok. We are also here even on our day off to do our preparation works. I am forced to give up my interest in patch work." She showed me some of her past patch works on her phone.
Their signature dish is the Teo-Hok (Teochew-Hokkien) style Braised Beef Noodle ($5.50), their very own creation. It is created out of love by the couple, a Teochew and a Hokkien. You do not get this anywhere else. The beef was perfectly braised to give it the desired texture and flavor, then topped with slices of raw onion and garnished with coriander. The same braised beef can also be ordered Kong Bak Bao style.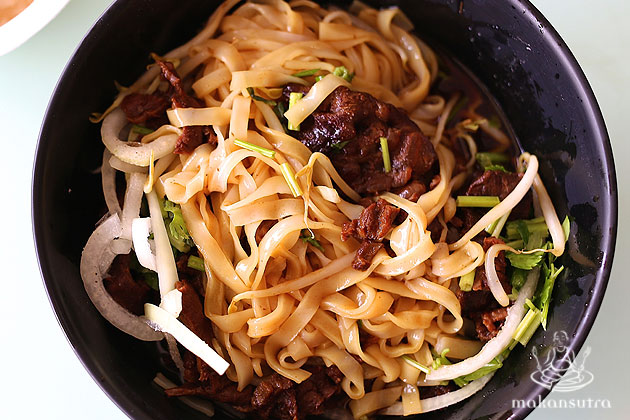 Another must try dish is their Wagyu Beef Rice Bowl ($11). They use premium beef which explains the higher price but it is well-received dish amongst their regular customers, she adds.  They also serve it with Kway Teow as an alternative to rice. The beef slices were cooked just right to give it a perfect texture and the beef stock infused rice complemented it well.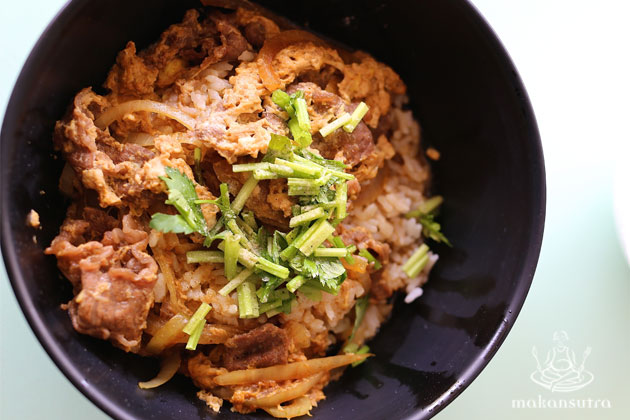 Their Braised Beef Brisket Noodle ($6.50) is another must try. Willaim mentioned before that some of his customers told him that it is even tastier than what they had eaten in Hong Kong. The chunks of Beef Brisket were not only soft but also full of beefy flavor and the springy noodle did not have that unpleasant alkaline taste.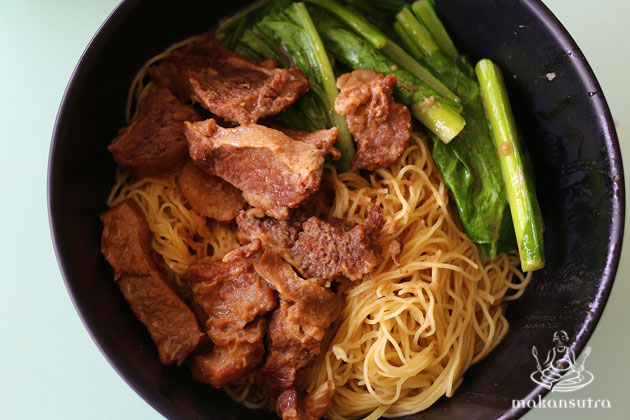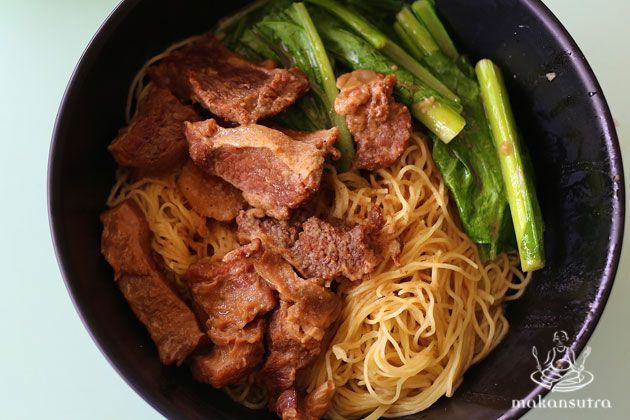 Their greatest job satisfaction is none other than becoming friends with their customers. Wah shared that the support from their customers is what keeps them going despite the long hours.
Wah said, "This stall is keeping Papa (William) busy and this is what he enjoys doing rather than just staying at home, doing nothing." William then added, "That will definitely going to bore me." Wah added, 'He can't possibly take bus from this end to the other just to kill time." There is love strongly shared between this pair of cheerful couple.
"I will support him as long as he is happy." Wah says. She gave me a hug when we bid goodbye.
J & J SPECIAL BEEF NOODLE
Block 51 Old Airport Road Food Centre #01-162 Singapore 390051.
Operating Hours: 10.30 am to 9.00 pm (Closed on Mondays)