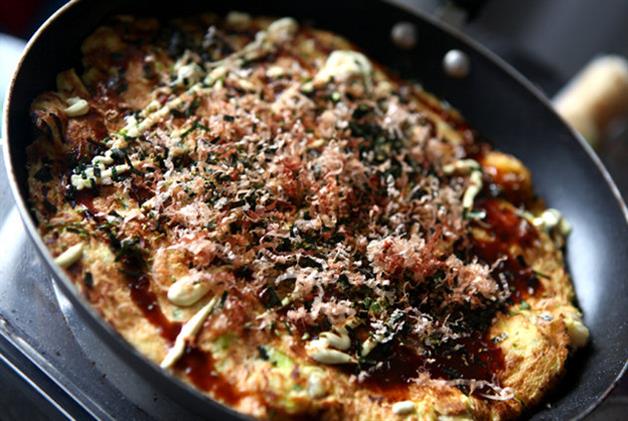 Japanese Street Food: Okonomiyaki Recipe
By Stefanie Chao - Wednesday, May 08, 2013
A popular street food stand (屋台, Yatai) item in Japan, Okonomiyaki is derived from the Japanese word "okonomi" or "what you want", and "yaki" which means "grilled". It's a quintessential symbol of street food in Japan, with different variations throughout the regions, but is said to have originated from Osaka.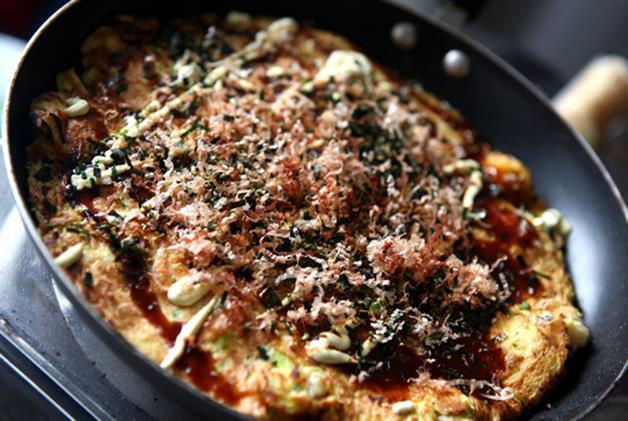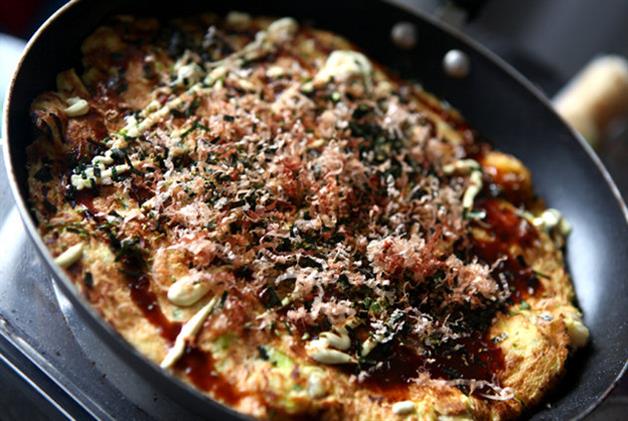 With Okonomiyaki, the possibilities are endless and even though this recipe states that pork and cabbage are used, one can make their own adjustments. Use seafood, chicken, or even make it a healthy alternative with loads of vegetables! Just make sure to pre-cook your ingredients first to draw out excess moisture, to avoid a soggy pancake, and to cook it over high heat , for that smoky sensation. The version from our Makansutra kitchen is cooked Osaka-style, which is made with the addition of Nagaimo or Japanese Yam. It has a gooey texture synonymous to starch solutions that functions as a binder in the batter, and negates the use of excessive flour. Moreover, it gives the pancake a slight bounce, which results in a pleasant chewy texture that other binders in batter cannot provide. Some may have an allergic reaction to the sticky yam, so clever handling, like holding the rest of the GLAD-Wrapped-yam while grating the peeled portion, is necessary.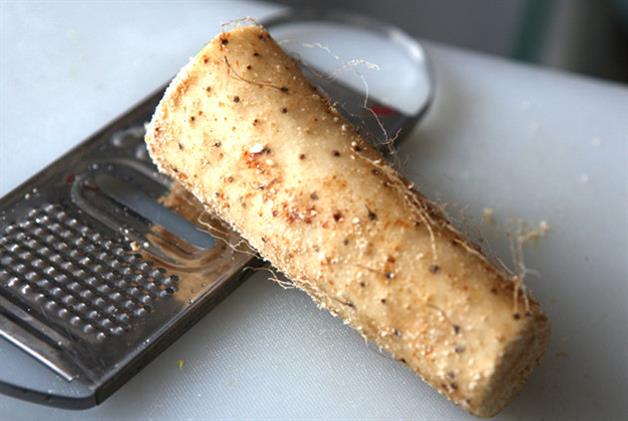 Other interesting addition of condiments up the flavour quotient – include sakuraebi (Japanese dried shrimp, think hae bee!), Tenkasu (crunchy bits of Japanese fried batter), substituting some of the water for dashi stock, and even seasonal ingredients like various fish roes, the most famous one being Mentaiko (marinated cod roe). Talk about elevating the humble street food into a real treat!
Whether you have it simple or sophisticated, Okonomiyaki is no doubt one of those communal foods that will have people gathering around the table, salivating with anticipation and ready to devour this street treat that must be consumed fresh off the grill and washed down with cold beers or colas.
OSAKA-STYLE OKNOMIYAKI (serves 4 to 6):
Ingredients: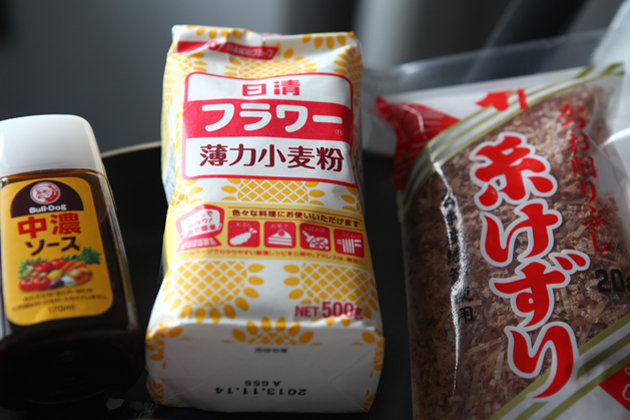 200g shaved pork belly strips from Japanese supermarkets, or to be healthier, same weight of pork shoulder butt cut into small dice.
200g Japanese cabbage, shredded
20g thinly sliced spring onions
Beni Shoga (shredded Japanese pickled ginger) to taste
140g Nisshin flour (which has a lower gluten content hence yielding a tender pancake)
45g grated Nagaimo (Japanese yam)
140ml water or dash stock
4 eggs
½ tsp salt (use less salt if you add dashi stock, omit the salt if you add Mentaiko)
Pepper to taste
Cooking oil
For topping:
Aonori (powdered seaweed) to taste
Katsuoboshi (Bonito flakes) to taste
Chuno sauce (a sweeter alternative to Worchestershire sauce, used mainly for Okonomiyaki), to taste
Japanese mayonnaise to taste
Methods:
1) Heat up some oil till smoking hot and flash fry the pork and cabbage over high heat till partially cooked, season with a sprinkle of salt and pepper. Let it cool down.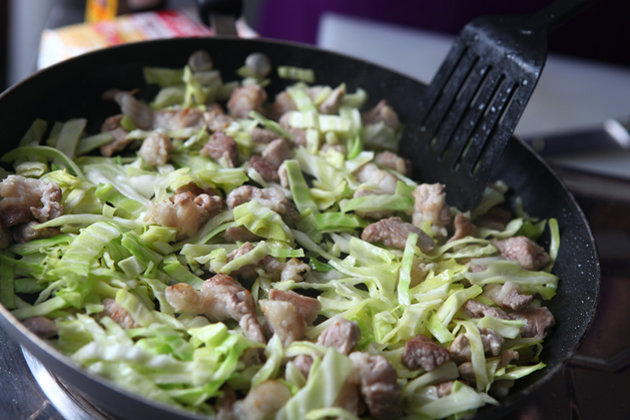 2) To make the batter, whisk the Nagaimo, eggs, stock or water and salt till combined well. Whisk in the flour and stop mixing when the batter comes together.
3) Fold in the benishoga, spring onions and cooled pork mixture.
4) In a 10-inch pan over medium-high heat, heat up 1 tablespoon of oil. Ladle in half the batter and swirl to cover. Lower the heat and cook till the underside is a deep golden colour. Flip over and increase the heat to medium, continue to cook till the other side is also a deep golden color. Serve immediately, drizzled with some Chuno sauce, Japanese mayonnaise and a generous sprinkle of Aonori and Katsuoboshi.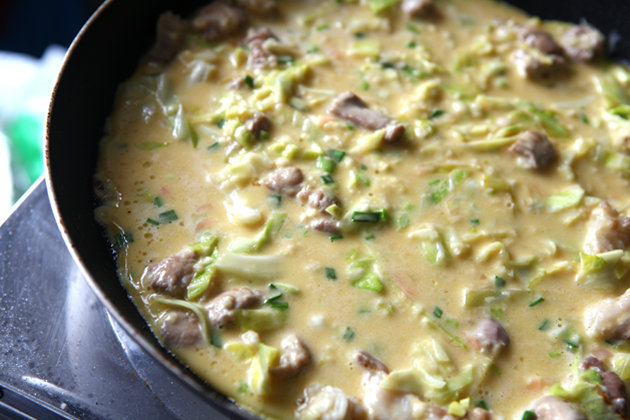 5) If you're using the shaved pork belly, then follow all instructions until step 3, except you only fold in the benishoga, spring onions and precooked cabbage. Ladle the batter into the preheated pan, and lay 4 to 5 slices of shaved pork belly over in a single layer. Press gently to adhere, lower heat and cook pancake till a deep golden. Flip and continue to cook till pork is sizzling and golden brown, with crisp edges. Serve immediately, drizzled with some Chuno sauce, Japanese mayonnaise and a generous sprinkle of Aonori and Katsuoboshi.