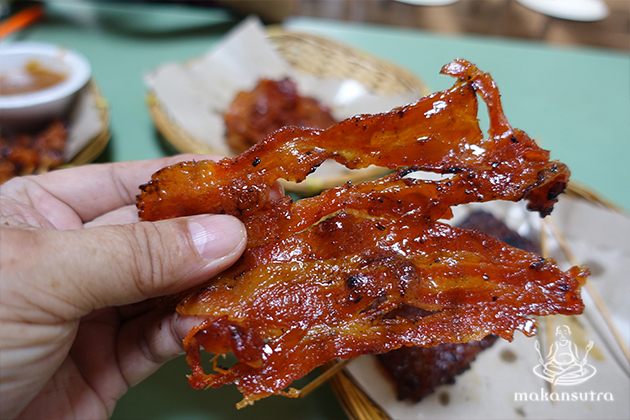 Jia Hui BBQ: Bak Kwa Siu-Dai
By KF Seetoh - Friday, Aug 31, 2018
I have a love-hate relationship with bak kwa, that adorably sinful piece of bbq sugared and caramelised jerky. For one, you cannot eat too much of it or it gives you the someone-please-help-my-tummy feeling after the fourth slice (I know some need 10). But I never felt the love for bak kwa since umpteen years ago when they became at best monotonous and predictable. Each brand's only differentiation is the logo. Then came along bespoke bak kwa like those from the "mysterious" Empire folks. You cannot buy them, only a registered member and customer can gift a box to you. They use fruit woods and an American style smoker to extract the best from the kurobuta pork slices they use. You can kind of taste what I am describing. But sadly, only the privileged few can try them.
Then I came across Mr Chang Kay Hui's curious looking hawker stall. It looks like he hawks supplied packs of leaf wrapped nasi lemak with freshly barbecued chicken wings as a side dish and little jars of wild honey to atone for that makan sin. On closer look, I spy a meat slicer and a rack of A4 sized sheets of bamboo frames neatly spread with fresh slices of bak kwa in that little stall. It rests above the amber heat of the charcoal grill below and I just had to ask. "I slice the pork and marinate them at 7.30am each day and the smoke over the heat till 8pm at night." Mr Chang, 61, adds that only pork collar is used which explains the softer texture of his hand made bak kwa. I probed on and realise he's been a hawker since his teen years selling a host of things but was fixated on bak kwa about 15 years ago because he likes eating it. No one taught him, just a few tips and suggestions here and there and he winged it, "but I could not get that "bak kwa" taste at the start". Basically soy or fish sauce and sugar makes up the key ingredients in the marinade, but there was an edge to it. It did not take him long to figure that "extra secret" ingredient. This under-the-radar hawker now has his own set of regulars and you can see the slick packaging boxes stacked in front of the stall. His wife Yiling helps out when he takes a break at lunch.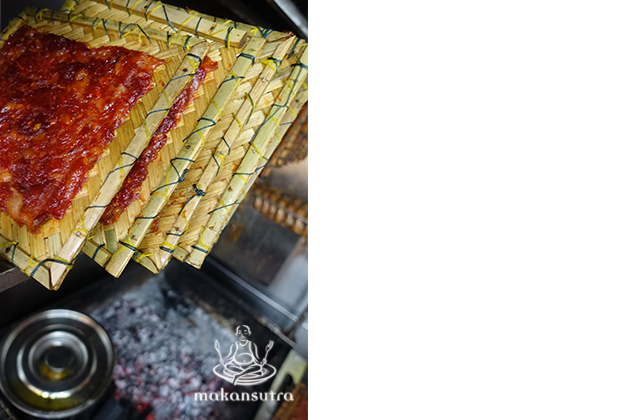 First encounter with his bak kwa ($3 per snack sized stick and $50 a kilo)- it comes thick, uses sliced and not minced meat, is twice as thick as the usual suspects, and surprisingly soft. There must be an ingredient besides the sugar that helps tenderise the already softer cuts of collar meat used. And he is easy on the sugars. I can taste that it's pork, not just slices of cloyingly sweet pieces of grilled cardboard-like jerky meat.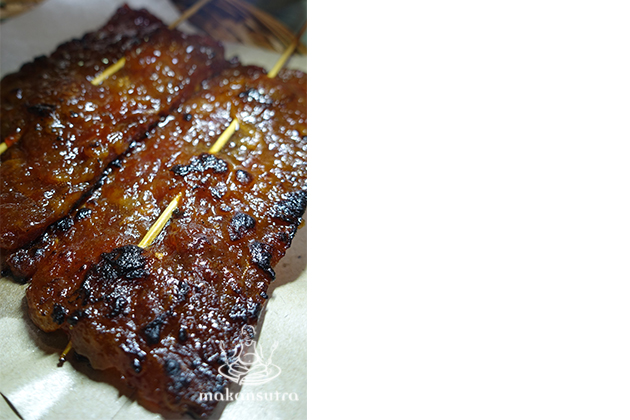 Best part, he serves individual hand-phone sized slices on site and it's a pleasure to have them with a cup of kopi-o kosong po (un-sugared skinny black coffee). I found my second calling in bak kwa love. But he also dangled his bacon version. Whoah, this came with nary any fats and with that same less-sugar sensation. I hate to love those candied fats in versions you find in the usual chain stores around.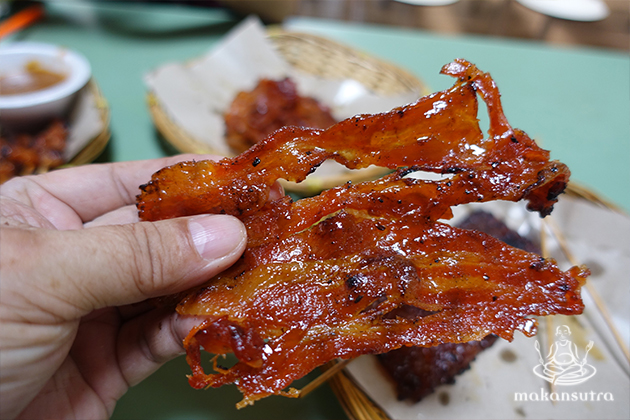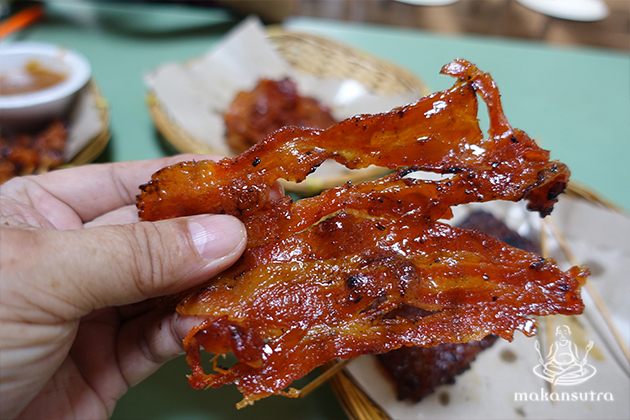 Machine made bak kwa you may like, but they are only mechanical imitations of these hand made slices of bak kwa. Truly, a slice of our local makan culture worth celebrating.
Jia Hui BBQ
#01-40, Bedok South Hawker Centre
16, Bedok South Rd
10am-8pm, close on Monday and Tuesday.