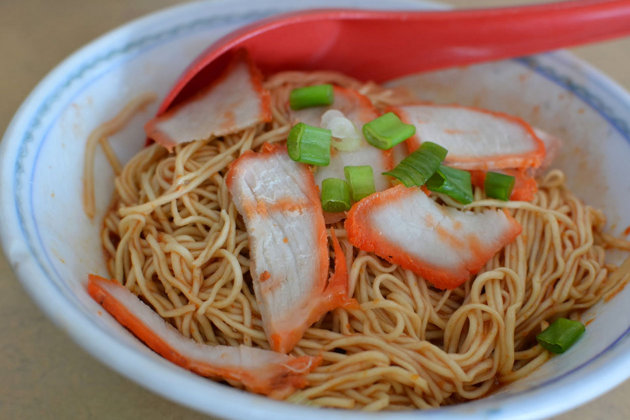 Johor Bahru Wanton Mee Favourites
By Tony Johor Kaki - Wednesday, Mar 19, 2014
I am often asked which the best of each type of food in Johor Bahru (JB) is. I can only answer fairly if I have eaten at every stall selling that particular dish there – which I have not. But the best that I can do is to share my opinion on which are my current favourites, based on the limited number (but by no means a small number) of stalls that I have eaten at, so far.
So, to the question – which is my favourite wanton noodle stall in JB based on my personal experience and preferences? To me, a perfect wanton mee is made up of a few elements. The gently crunchy eggy noodles must be tossed and coated with a flavourful aromatic sauce. Plus, it needs to be topped with chunky char siew (roast pork) that is charred at the edges, caramelised on the outside, still moist and juicy inside, accompanied with a savoury broth, with delicious meaty wantons wrapped in slippery al dente skins. A few stalks of fresh crunchy greens complete this simple dish.
In JB, I have not come across a perfect wanton mee as yet, as generally, char siew isn't iconic of JB, even at the most popular shops. The relatively dry meat is usually sliced thin.
Their strength seems to lie in their noodles and the most popular shops make their own. Hence, they can pay greater attention and have better control over noodle quality.
Those who had been with me on JB food trails will know that I often stop over at Chin Chin 晶晶 wanton mee in Skudai.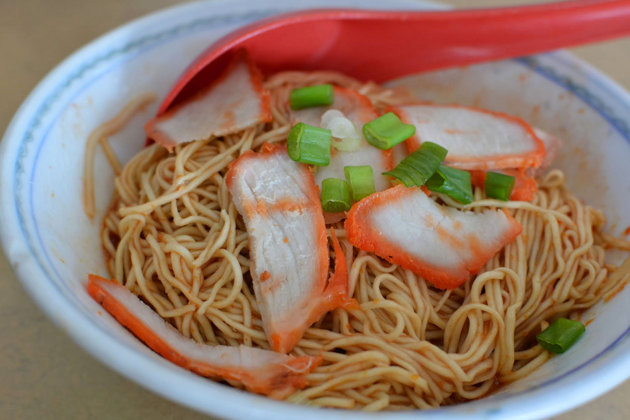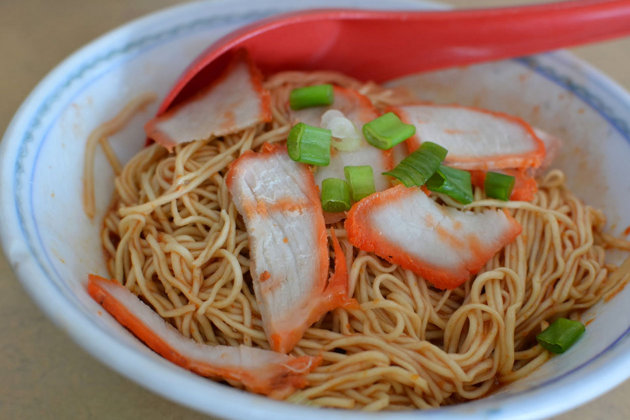 The star at Chin Chin is their egg noodles. Made with just wheat flour and eggs, the noodles are slender yet have a soft delightful crunch.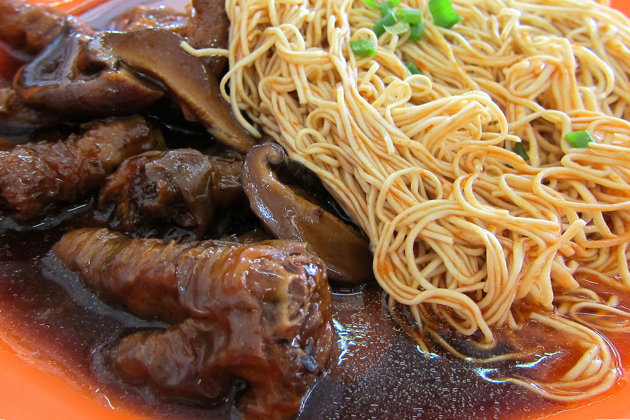 The char siew and the sauce aren't outstanding at Chin Chin, and I much prefer their chicken feet noodles, i.e. noodles tossed in the braising sauce with black mushrooms used to stew the chicken feet. The chicken feet were fried and then braised till the wrinkly skin was jelly soft.
Chin Chin's crunchy egg noodles with the savoury braising sauce are viscous and gelatinous – it's hard to resist. Chin Chin's chicken feet noodles are my personal favourite in JB, actually.
If you can't make that drive to Skudai for Chin Chin, then you can happily settle for the wanton mee at 許记 (pronounced Xu Ji) in Taman Sri Tebrau, which also deliver a very crunchy and al-dente bite.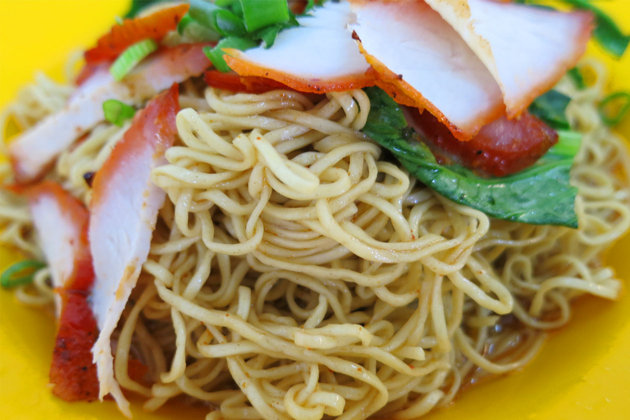 許记's boss learnt his noodle making skills from the same noodle master as Chin Chin. I know only two wanton mee shops in JB, Chin Chin and 許记 (Xu Ji), that use this type of hand-made noodles.
In Taman Century, there are three old name wanton mee shops, namely Ho Seng Kee 何成記, Ho Meng Kee 何明記 and Yit Foh 益和. All three wanton mee stalwarts here make their own crunchy noodles which are comparable in terms of quality, texture and taste.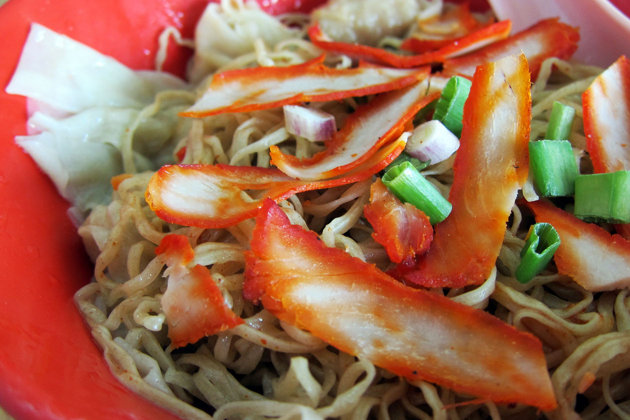 Ho Meng Kee actually supplies their popular duck egg noodles to numerous stalls around JB. Ho Meng Kee and 80-year-old Ho Seng Kee both have their own loyal following.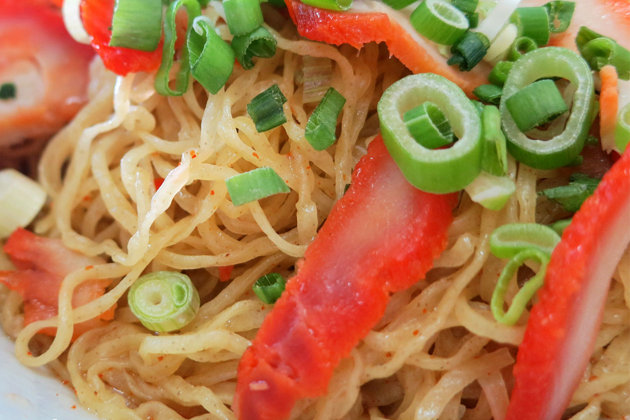 Both their sauces may be a tad dry for some but that's the JB style. I have to vigorously toss, turn and spin the ball of noodle in the bowl over and over to make sure that every strand gets coated with some sauce. The noodles are crunchy and the sauce is flavoursome but this style takes the phrase "dry stir noodles" (干撈面 or kon loh noodles) literally.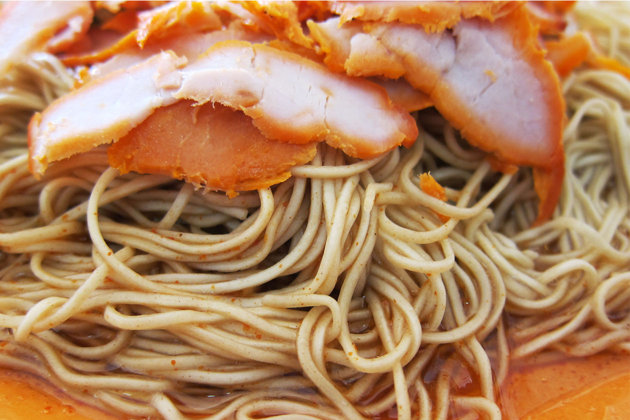 My personal favourite in Taman Century is 40-year-old Yit Foh, mainly because of their lighter, drippy aromatic sesame seed oil-based sauce. The result is a slurpy, slippery wet ball of crunchy fragrant egg noodles. Yit Foh's wantons are also one of the largest and meatiest.
List of Wanton Mee Stalls:
Restoran Chin Chin 晶晶云吞面, Junction of Jalan Lawang and Jalan Kaloi, Skudai (next to MPJBT) Hours: 7.30am to 4pm (Closed on Thursdays)
許记云吞面 stall in Xuan Hua kopitiam, Junction of Jalan Keris and Jalan Kelewang in Taman Sri Tebrau (opposite Wisma Tionghua) Hours: 7am to 2pm (Closed on Wednesdays)
Ho Seng Kee Wanton Noodles, Jalan Kancil, Century Gardens Hours: Daily 8am to 4pm
Restoran Yit Foh 益和云吞面, 153 Jalan Harimau, Taman Century, 80250 Johor Bahru Hours: 24 hours (Closed on Thursdays)
Ho Meng Kee Wanton Noodles, 153, Jalan Harimau, Taman Century, 80250, Johor Bahru Hours: 24 hours Daily