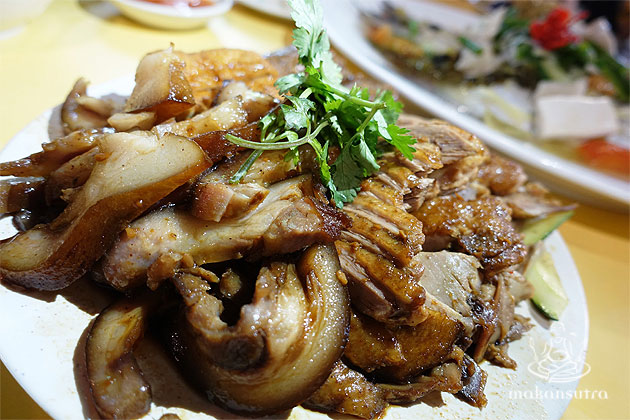 Joo Chiat Porridge resurfaces at hawker centre
By KF Seetoh - Monday, Oct 20, 2014
"I used to carry a 1000kg burden, now it's down to 200kg on my shoulders each day", says Mr Chia Hock Kim, who used to run his old Joo Chiat Teochew Porridge stall at the corner of Dunman and Joo Chiat Road. "Rents and staff to man and cook the over 25 dishes and to keep them fresh was a flat $45, 000 a month" he shrugs at me. And this was minus the food and miscellaneous cost for part time workers and food wastage bills.
So he waved goodbye to most of his 8 "so-so" workers and nestled here at a prime slot in a prime hawker centre. Now his monthly fixed cost hovers around $9,000 with 3 workers. "Please don't ask me how much I paid to get this stall" was his request and I promptly moved to ask about his food (but not before he whispered the fascinating numbers in private to me.) The first thing that caught me at his eye catching stall is the layout and stall design. The signboard is a simple calligraphy of the Chinese words for Joo Chiat Teochew Porridge in black against a white lit background. No English words as Mr Chia says it's all about traditions and people can see what he sells. And it is very evident and well laid out as he knows what works with his 30 years in the business. A display of fresh fishes like pomfret, garoupa, snappers and prawns and clams sit on a bed of ice at stall front, all ready to be steamed or stir fried.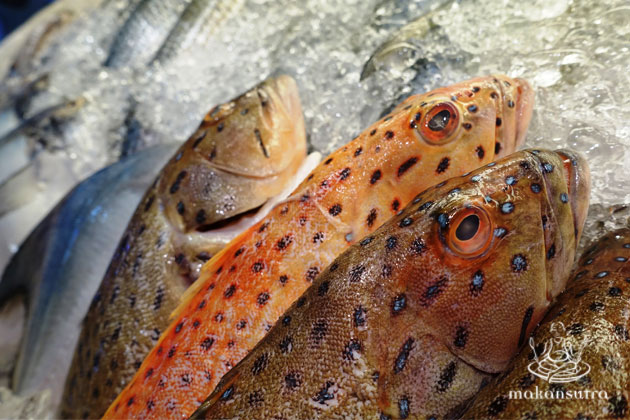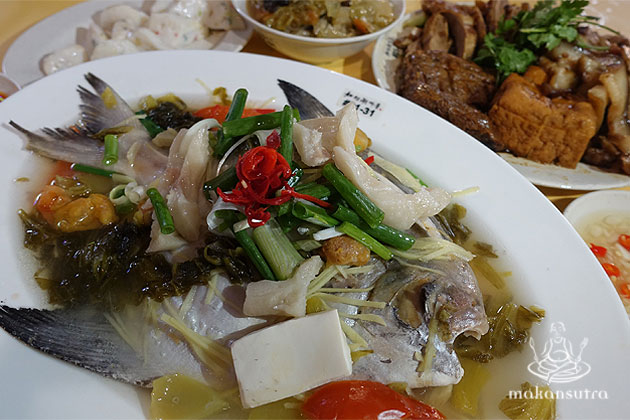 The warmly lit shelf is laid out with platters of simple salted egg, stewed pig head chunks, whole stewed ducks, tofu, tau pok, own made fish cakes, steamed squid and stewed salted mustard vegetables and cabbage stew (on most days), but what is not seen are this ala minute "Teochew wok" dishes. He tossed a mean plate of wok steamed giant prawns with garlic, chilli and ginger that was so in need to be paired with a bowl of their traditional style rice porridge, which they keep warm in an earthen pot.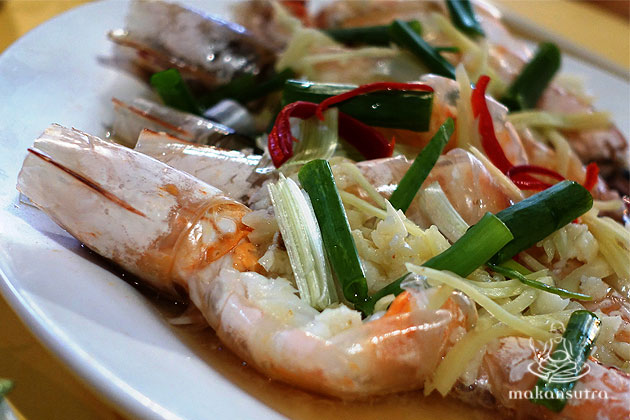 The prawns was crunchy sweet and fresh as was the steamed pomfret, done with ginger, prunes, lard, tofu, salted mustard leaves, scallions and tomatoes and soy- or what they call, Teochew style. He also does quick stir fried clams in bean sauce or sambal and the clams come just short of overcooked. I asked for a plate of "lor" or soy braised items and he stacked a plate of pork head meat, pork skin, duck slices, tofu and taupok which was one of the most comforting Teochew porridge pleasures I've had in a long time. It completely took me over when I dipped them in the vinegar garlic and taucheo or fermented bean sauce.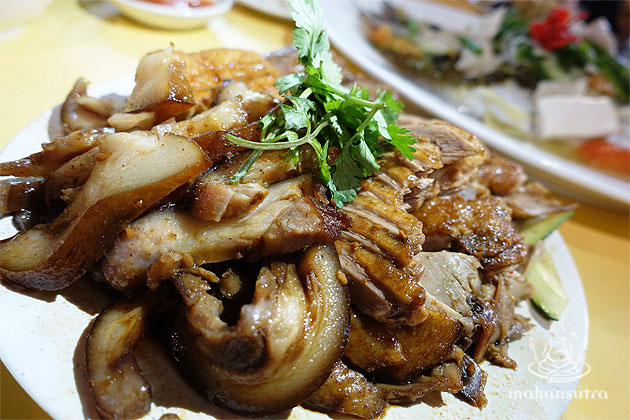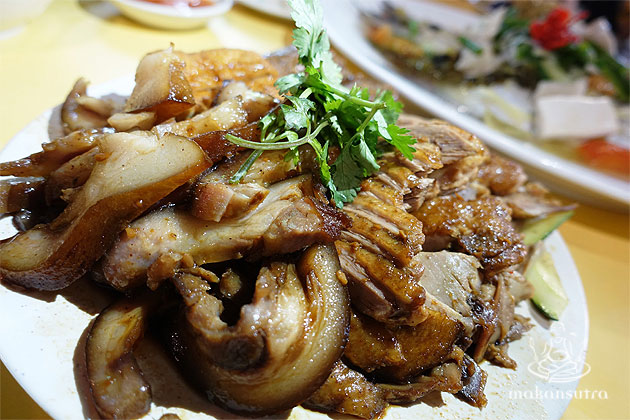 "You have no idea how much financial load this little operation had taken off me from my previous kopitiam stall space", and Mr Chia also remind me about how he need to stay consistent with his offerings as he knows his old hard core regulars will hunt him down. He is busy in the tiny kitchen from the get go with his assistant Mr Fan Yong Tang and there aren't many Teochew porridge cooks in hawker stalls that will do dishes ala minute these days- as how it was done way back when as traditions dictated then.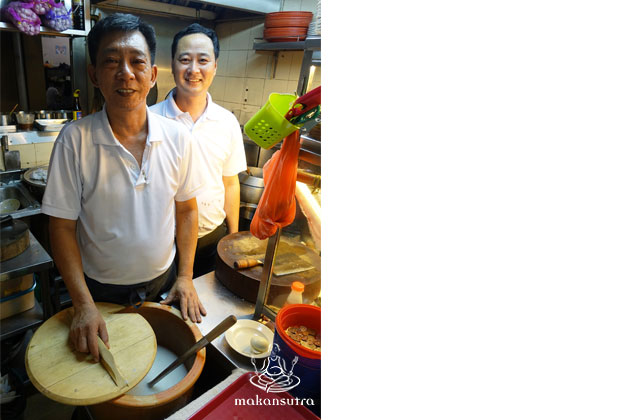 His best quote of the evening was "the prices are now lower than at the previous place".
Joo Chiat Porridge
Blk 51, Old Airport Road Food Centre #01-31,
11am-9.30pm daily.
HP: 9880 7932 (Mr Chia)