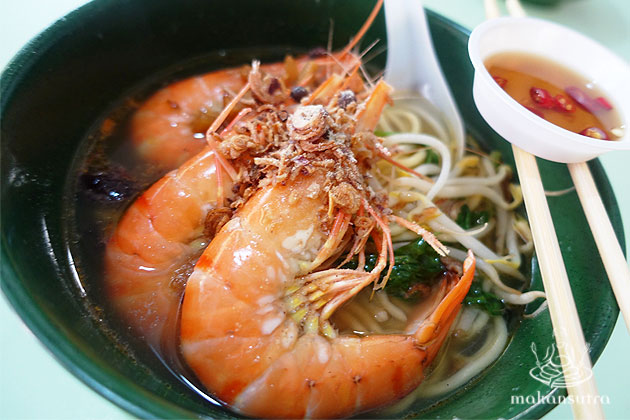 Kallang Cantonese Prawn Noodle: Clear and Lively Prawn Noodles
By KF Seetoh - Monday, Jan 12, 2015
There are two types of prawn mee soup- good and lousy (followed by those that are not even worthy of being lousy). Then, the connoisseur theory is "clear or the murky soup type". There are also the picky experts with their "tiger prawn or banana prawns (ang ka prawns)". Today, we add another theory to that list, live or chilled prawns.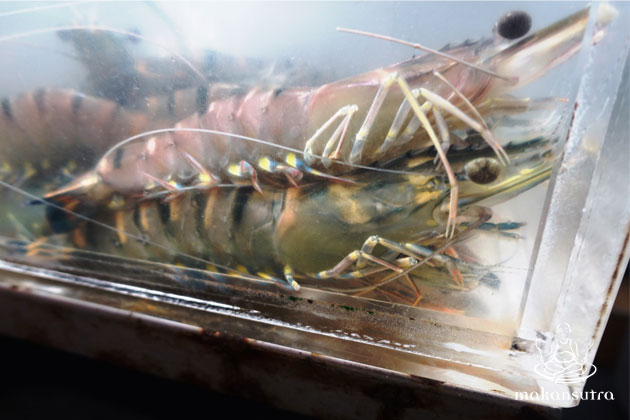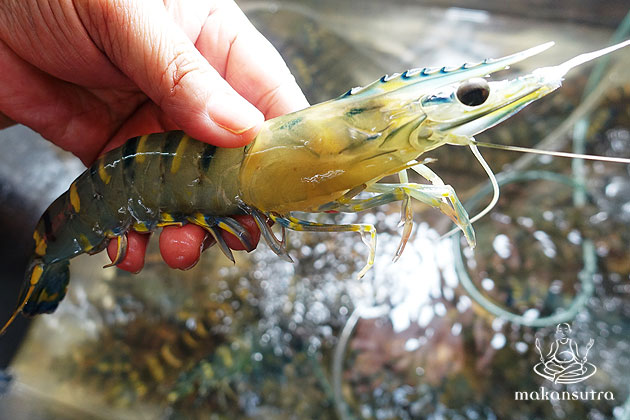 It's been a while since I came across prawn noodle stalls that offer live prawns. There was once a stall at the defunct Kim Seng Plaza in the late 90s where the young chef had huge temperature and circulation controlled pails of shrimps, crayfish and little lobsters meant for his stunning bowl of noodles. His rich "clear soup type" came infused with hints of herbs that lent an extra layer of sweetness. This Feng Yun stall did very well, moved on to an extra few branches and last I saw was their outlet at the old Marina Square food court and now.. nada, out of sight and sound. They exited the scene in 2010 despite the positive media response. I miss that one. Their prawns came sweet and huge and portions were as big as the price tag, at $6 for about 3-4 prawns then.
Then the heavens opened up and took pity on me. I stumbled upon this shy and humble little stall that had a cooled water glass tank of shrimps jumping about. "That's my signature and I think I am the only one selling this with live prawns now." say Mdm Seow Toh Chio, 53, who's been a hawker since her teenage days. "Since day one, about 4 years ago, I switch to this recipe with live prawns". I poked her with cheeky question and she replied "I won't know if my business would be better or worse if I didn't offer live prawns".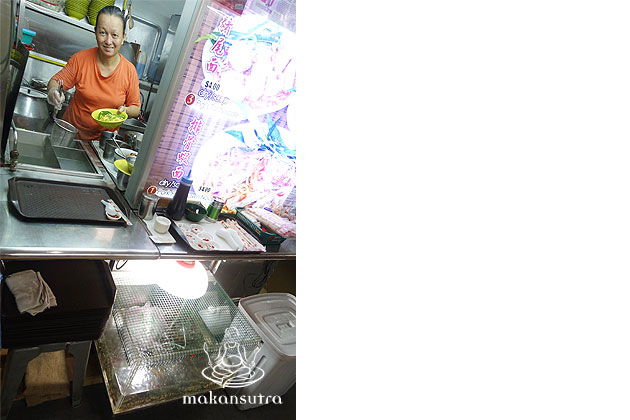 I had it on three occasions over the last six months and clearly, their clear soup comes together by lunch, "Yes, that's how it is. I make the stock in the morning and of course it is best by lunch." She says, but on a breakfast meal there, I found the stock fairly acceptable. What floored me and brought back nice memories were the prawns- they were jumpy fresh and immediately blanched upon order. The sweetness was ridiculously so and the texture was springy resilient and crunchy. When I had it for lunch last week, it was a how Mdm Seow meant it to be-sweet, briny, redolent of shrimp flavour and hints of rock sugar and some onions and garlic in the soup. About three huge live shrimps sits over that bowl of noodle if you order the $5 version, it comes with 100gms of those live jumpy prawns. With the bits fried crispy shallot bits and the crunchy lard crackling atop, it just says "destruction time". Some customers just order the live prawns blanched in the stock, Mdm Seow tells me.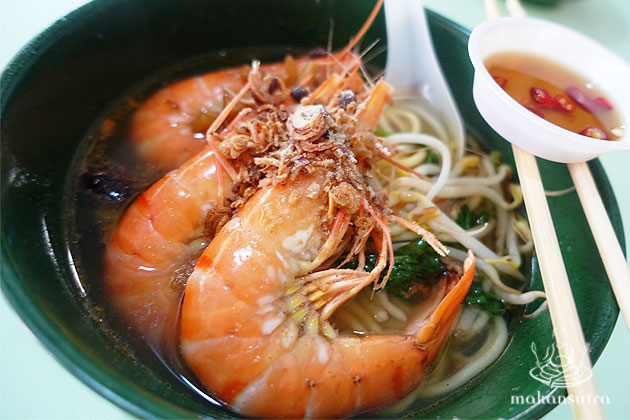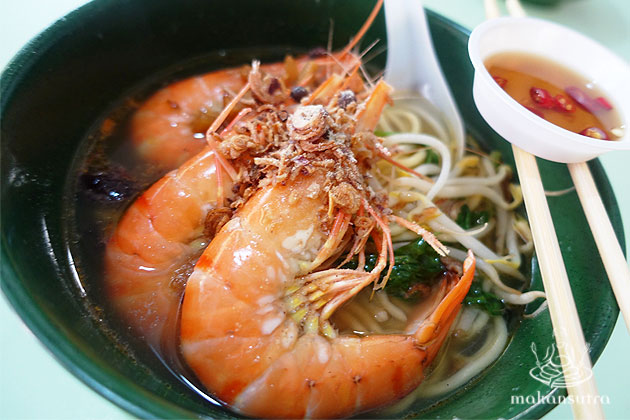 To the queasy (those who won't mind a good bloody piece of steak or hamburger but will freak out when they see cows killed for it), she assures us that her prawns come daily and she sells them out by closing time adding, "None is starved for a few days". But to another informed foodie who knows that these crustaceans are bred for consumption- "I don't care so as long as the meal is satisfying."
Kallang Cantonese Prawn Noodles
01-83, Old Airport Road Food Centre
8am-3pm/ 6pm-10pm
Close on irregular Tuesdays.