Keep Steaming Putu Piring
By Tris Marlis - Thursday, Sep 19, 2013
On television and radio shows, magazines and even social media, everyone is talking about the death or cancer of our hawker food trade – like the humble Putu Piring- or steamed rice flour cakes with gula Melaka. But now, looks like it is making a comeback of sorts, process of resurrection. When KF Seetoh of Makansutra mentioned this southern Indian snack on Gold 90.5FM's Makankakis, hosted by DJ Denise Tan, it evoked fond childhood memories of many listeners. The recommended stall was Kurnia Putu Piring, and it garnered the highest hits on the radio show's blog. But the disappointed listeners who rushed there, was told the Eunos stall recently moved. But amends was made on air the next week and the number to the boss (in between jobs and hawker stall) was given out. The response was tremendous.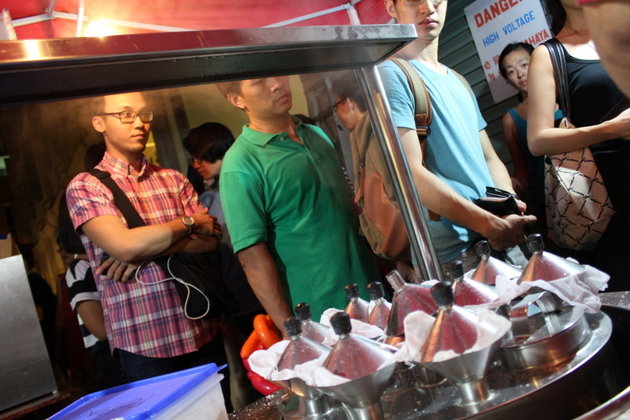 We later met the owner, Mr Ahmad Kassim. He had closed that stall, but continues to cater for private events. He was also invited to set little cozy makeshift stall, in a "Hawker Lane", as part of the Night Festival celebrations. "After the mention on the radio show, my friend told me many people came to my previous stall at Eunos. I received some calls asking for quotes and someone even requested me to make putu piring at his wedding," says Mr Kassim joyfully.
Mr Kassim and his family have been selling putu piring since early 1970s and is one of the very few remaining folks in town practicing this craft. His brother-in-law currently owns two famous stalls selling putu piring, at Haig Road Food Centre and Mr Teh Tarik food court (they are just a shout away from each other).
When freshly steamed, the rice cake is soft, melts in your mouth and has that velvety texture. Mr Kassim uses coarse gula melaka bits, which melts when steamed but yet retains some texture. His brother-in-law's version uses semi-melted gula melaka which gives the putu piring an oozing sensation, like lava cake.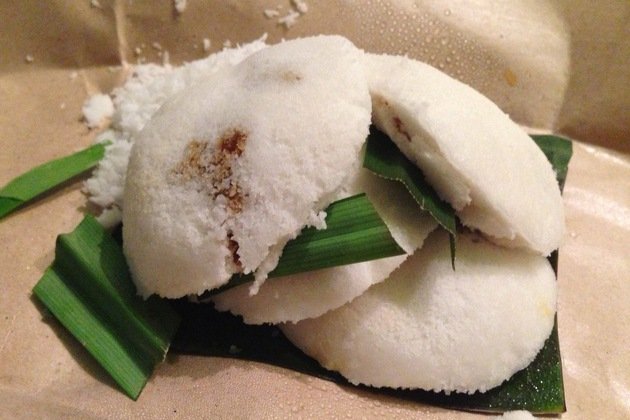 As simple as it seems, putu piring requires elbow grease work, as it is best served a la minute. Rice flour and gula melaka are put together and shaped very lightly, they do not tap on it, to make sure there is ample air trapped in the cake before it goes to steamer. It is almost like doing tai chi, and they have to do it continuously for the entire day without fail.
"I want to make sure there is a continuity in this tradition (putu piring)," says Mr Kassim of his mission. He had started a putu piring "camp" where he offers a 3-day short course on the art of making putu piring, and shares his recipe with minimum cost. "Just a token la," he jokes. He proudly tells us to spot the certificate at his subsidiaries' stalls, such as one located at Bedok North. Besides that, Mr Kassim also supplies the ingredients to night market vendors, but he is now looking for a kitchen space where he can continue this offering.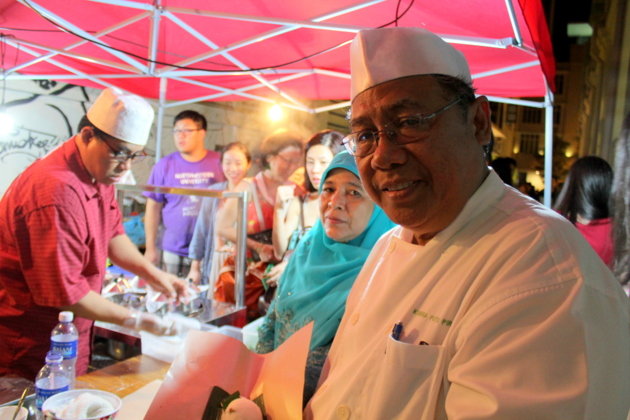 With more awareness raised, they are now appearing at unexpected functions, such as the Night Festival and this week, Mr Kassim proudly tells us that one of his students will be appearing at the F1 Grand Pix event. These folks are easy to spot, they are always dressed in white – traditional Malay dresses or even chef coat. If you'd like to invite Mr Kassim to your event, PM us on our Makansutra facebook page or at contact@makansutra.com.