KEK Pandan Gardens: "Three months or close shop.."
By KF Seetoh - Monday, Dec 14, 2015
Updated 10 August 2018- KEK Pandan Gardens – Closed
It is one thing to be given this chance to inherit and expand upon your parent's very popular seafood cze cha business, but doing it is another story. This very popular street cuisine business has no rules nor can one be trained to fully understand the nuances and customer expectations of the cze cha business. If you simply open another sibling's outlet and carried on with the same-old-same-old stuff in dad's menu, customers may be reminded of the original outlet, and worse, head there instead.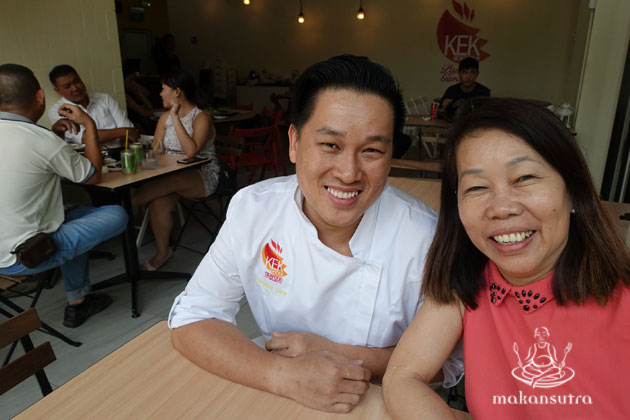 So, the kids of Keng Eng Kee, as I call them, took almost two years to work on a brand new menu which inherited the style and culture of the old kitchen but is executed differently at this one week old joint. I name this one..Progressive Cze Cha. Lead by Wayne Liew in the kitchen and supported by his brother and sister, Paul and Geraldine manning the front of house services, these Gen Y kids are the ones to watch in this space. "Almost 80 per cent of the dishes in the new menu are new; we have to stay away from the tried and tested favourites from the old menu." But the hard core signatures like their chilli and pepper crabs and the moonlight hor fun, remain. I ventured into the most important question and "my dad is supportive but," with a smile Wayne said "he will give us three months to prove our worth and success. If not, we have to revert back to the old menu or close up shop". But what did dad Mr Liew Choy, say about the new dishes. "Nothing; he just kept quiet and smiled", and through Wayne's expression, it seemed it came from a good sifu that offer no guarantees except a good luck pat on the back. So, no mollycoddling here for these Gen Y food soldiers.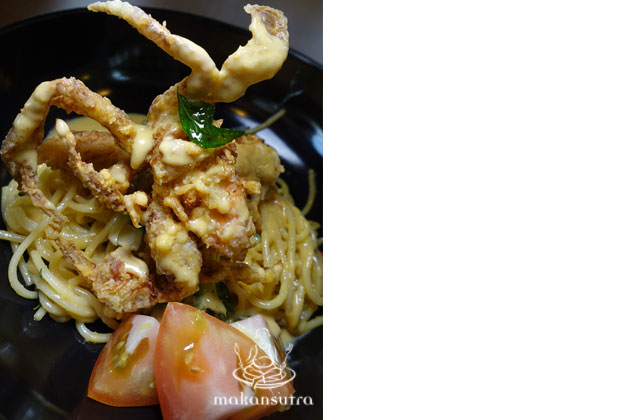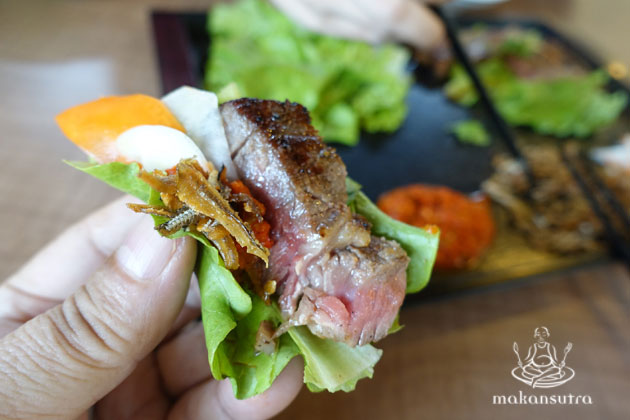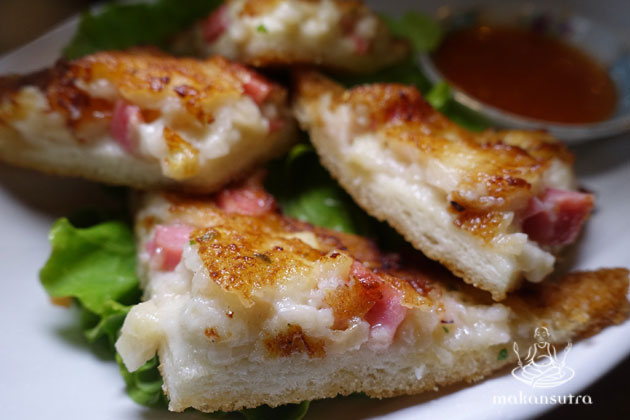 I tried first an item from their 'Tapas' section- Prawn Toast, prawn and sotong paste smeared over thin toast with water chestnuts and Taiwan sausage bits, and pan fried. This one, with the sweetish chilli sauce, will get the beer sales flying off the shelves. It was light and crispy and surprisingly, not too oily. Then out came a Salted Egg Yolk Soft Shell Crab pasta (remember, this is a cze cha place), tossed in salted egg yolk sauce with curry leaves and sat below fried soft shell crabs. Even if you have an entry level appreciation of cze cha cuisine, you would know what those words tasted like, especially if the sauce was not too cloying and those soft fried crustaceans came like it should. This beats any carbonara I've ever tried. They introduced a Halibut with Capsicum Sauce which sounded very seductive, complete with fresh fried fish fillets and a sourish sweet ala chilli crab kind of sauce minus the chilli. It did not seduce me but this will easily appeal to kids, which meant, not his dad too. Wayne also concocted a Korean inspired Beef Wrap, done in lettuce leaves with rib eye slices topped with sambal, garlic, pickles and crispy ikan bilis. It was so easy to like but he is thinking of switching to pork cheeks, due to his largely heartland Chinese clientele there. I can't wait for the switch.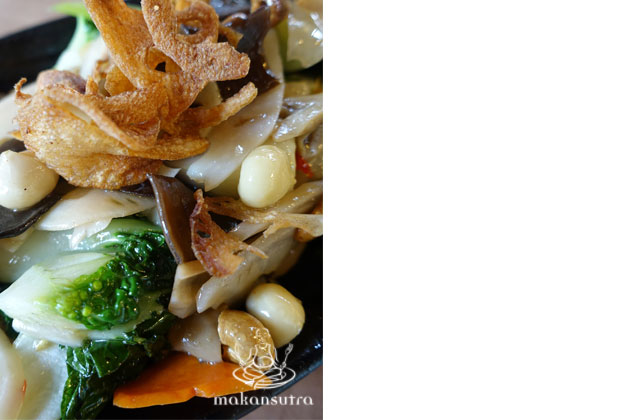 I had to order the Mix Vegetables with Macadamia nuts, as I am a sucker for. The greens combo was refreshing, with crispy fried slices of lotus roots, baby bok choy, button mushrooms, black fungus and even cashews. One of the noisiest, most crispy fresh and crunchy vegetable dish I've ever enjoyed polishing off.
A few other interesting dishes was noted on the menu and I can't wait to try it even four months later.
CLOSED- KEK Pandan Gardens
200 Pandan Gardens #01-12(road facing)
Opening hours: 11.30am – 2.30pm; 5-10pm; Daily
Tel: 66943044
Main stall:
124 Bukit Merah Lane 1 #01-136
12- 2.30pm, 5-10pm daily