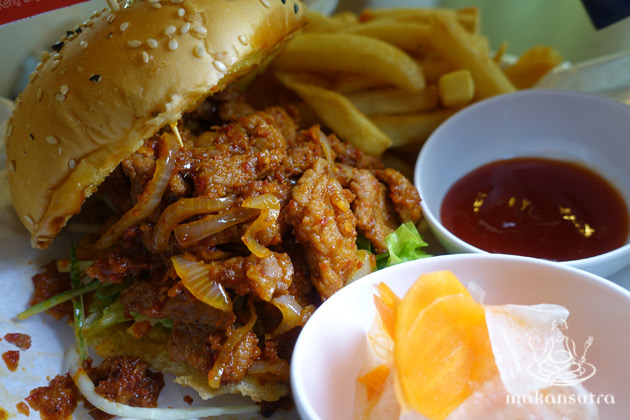 Keng Eng Kee: And now, Cze Cha Burgers
By KF Seetoh - Monday, Oct 17, 2016
While I am a keen preserver of the old flavours and the old ways, which gives us our international culinary reputation (say what you will, they still come for chicken rice and chilli crabs), I also keep a "third eye" for new creations based on old ideas. Because, the most meaningful way to move forward is to know where you came from, otherwise, you are just wandering around the kitchen, getting inspired by what's in the fridge.
So, what does an old school restaurant (or cze cha) chef turn to when all is said and done about their wok-hei laden classic like chilli crabs, salted egg yolk this and that, fried coffee ribs and even a mummy's favourite spinach with ikan biliis? You look west, while maintaining sight on your base camp. One simple trick, stick'em between burger buns while not reinventing what the kitchen culture.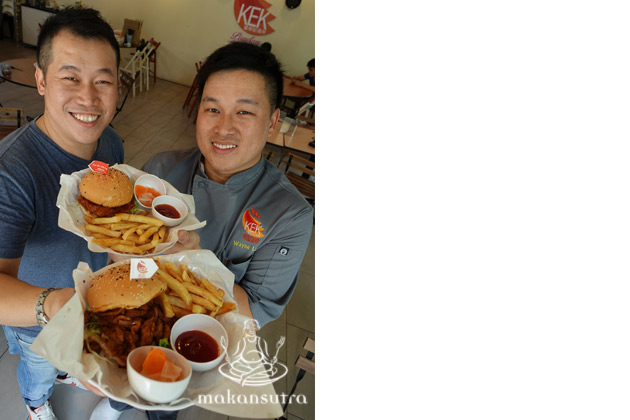 After a year at their sub outlet, the second generation chef Wayne Liew and his brother Paul, at KEK Pandan Gardens, which introduced a slightly nuanced menu from their flagship Keng Eng Kee Seafood Restaurant at Alexandra Village, they went rogue- in a good way. They introduced the Wok Hei Burger menu. I suppose there's a childhood like sensation to eating these retro "adult" food, with your hands. Best part, at $9 each, their sets come with a choice of drink and the good ol' fries, with pickles at the side.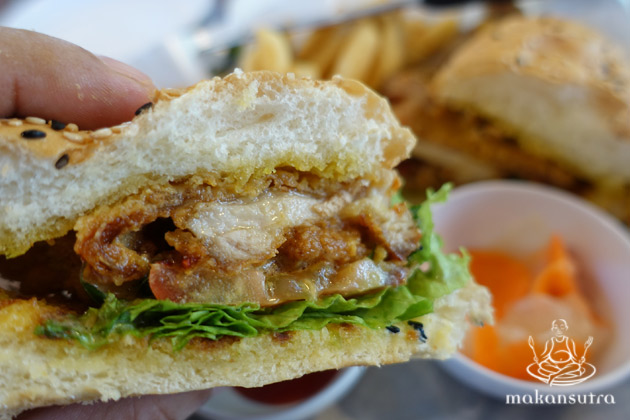 Firstly, the Salted Egg Pork Burger– among the four (out of the six in the menu) I tried, this one stuck in my taste memory cells. The chicken version (also available) is nice but this one l prefer because of the texture. The soft buns and greens need a firmer protein in the middle this does the trick neatly. The sauce is salty enough to be balanced by the breads and fries.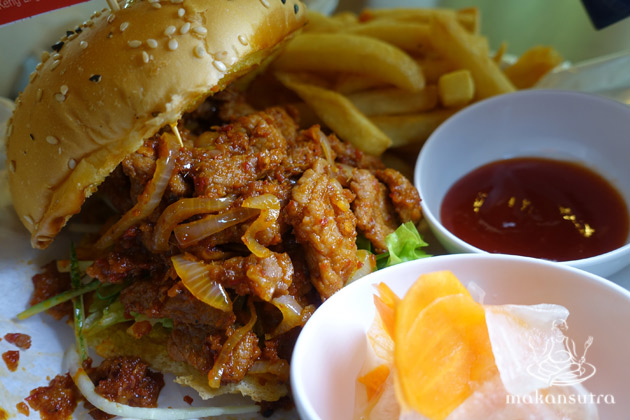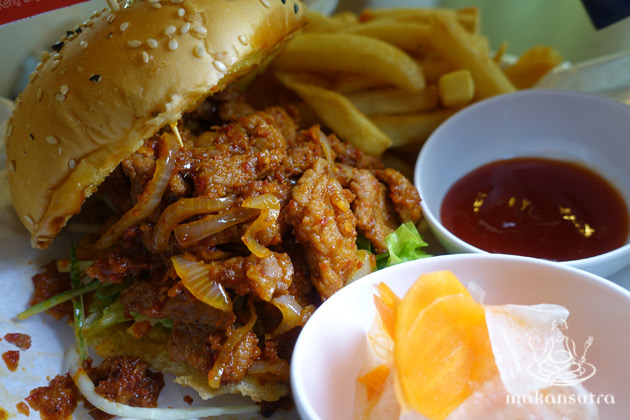 The Sambal Beef Burger, while looking like a roast pulled beef chunk tossed in sambal (not overly spicy) came very robust and beckoning. The portion was generous but it was kind of a hit and miss for me. Firstly, sambal and beef isn't all common and it dulls each other out, flavour wise. We are more used to the sweetish beef rendang. But still is a nice twist to existing offerings in the common menus arounds.
A no brainer to munch is the Coffee Pork rendition. Just imagine breakfast- sweet kopi-o, with roti and pork (ham) and fries. Hey, if they slapped on a fried egg between, the show would've been complete. The intense kopi flavours takes centre stage (as they use a coffee essence, provided by suppliers who specialise in these things). It came bittersweet and the bits of sesame seed calmed it just a bit.
Finally, the Pai Kwat Wong pork burger. It's just that- a platter of the weekend family cze cha favourite, done boneless and placed between burger buns. If you eat the pork ribs by habit, this burger will sail right in so easily and you won't even know how much you will enjoy it.
So, what's next. I say, take a look at the massive range chap chye rice stalls (especially those found in industrial areas) and think how some of those dishes will taste between buns and even with pasta. How about mala beef tofu spaghetti, or double fried head to fin crispy sambal ikan selar placed between focaccia.
KEK Pandan Gardens
01-12, 200 Pandan Gardens
11.30am-2.30pm/ 5pm-10pm daily
Tel: 66943044