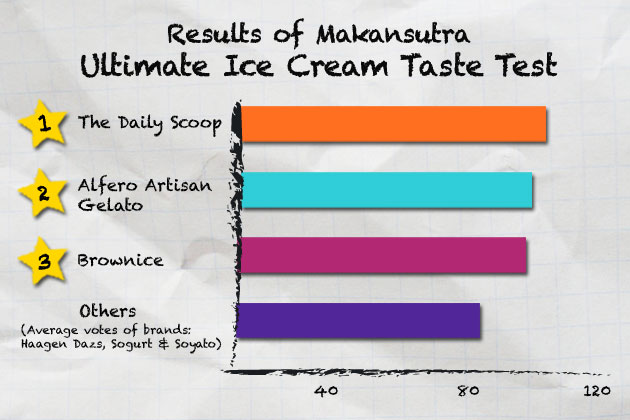 Kids say the Darndest Ice Creams
By Joanna Goh - Wednesday, Dec 11, 2013
It's true, they say the darndest things. These days, they show it too. They are honest, blunt and have no reservations in delivering abject honesty. Terence, an 8 year old showed exactly how he felt about one particular ice cream in graphic style (see picture) at our recent Makansutra Ice cream Party, held last Saturday at Makansutra Gluttons Bay at the Esplanade. It was a simple event to have children and their parents eat six types of chocolate ice creams of different brands made with different bases – from brown rice, yoghurt, soy milk to double fat and cream. We wanted, in the name of fun over a warm Saturday afternoon, to see if parents and their kids have the same palate for such pleasures. They had to make simple notes about the taste, texture, etc…and tell us what they thought.
All the kids were very candid and Terence was particularly so with this yoghurt based ice cream. Not all hated it though. On the taste test forms, he drew ticks across the bar with the word "king" beside his favorite ice cream and let it rip for the one that displeasured him.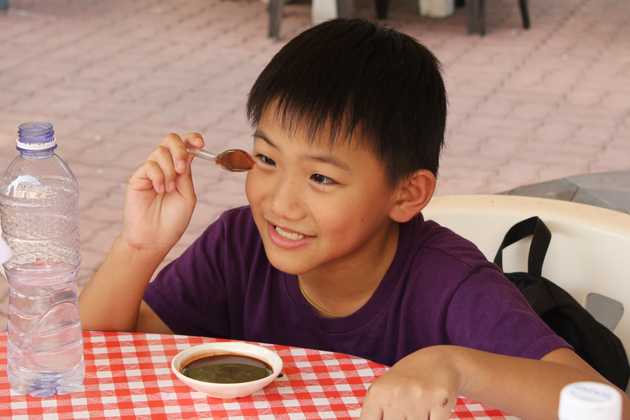 There are so many popular names for ice creams in the market and new ones keep popping onto our radar. Which was why we decided to let kids (who will eventually be their new regular customers), tell us what they thought. There were also chocolate ice creams or desserts made with less fat and more flavour (gelato) and even one, that don't use eggs (for light vegetarians).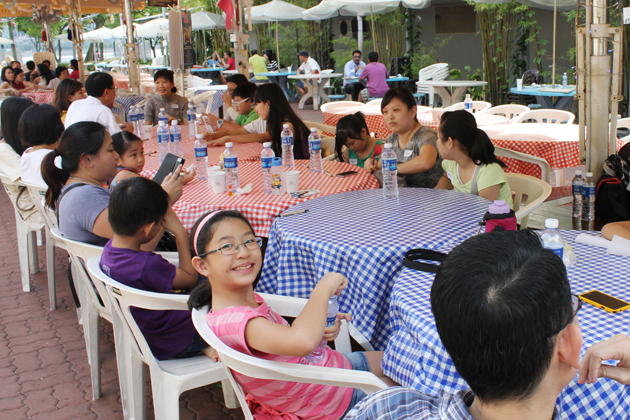 The contenders of the taste test were: 1/ Alfero Artisan Gelato, handmade with only natural ingredients, and follows the same traditional method in producing the Italian taste. 2/ Brownice, a brown rice base, all natural, vegan ice cream. 3/ Haagen Dazs, which has quite a bit more fat buried under the intense flavours. 4/ Sogurt, a low fat and high in calcium yogurt ice cream that tastes as good as it looks. 5/ Soyato, a premium soy milk base ice cream with 3 times less fat, half the calories and absolutely no cholesterol and trans fat. 6/ The Daily Scoop, egg-free, made with low fat milk and uses a unique hand-churning method that results in richer flavours.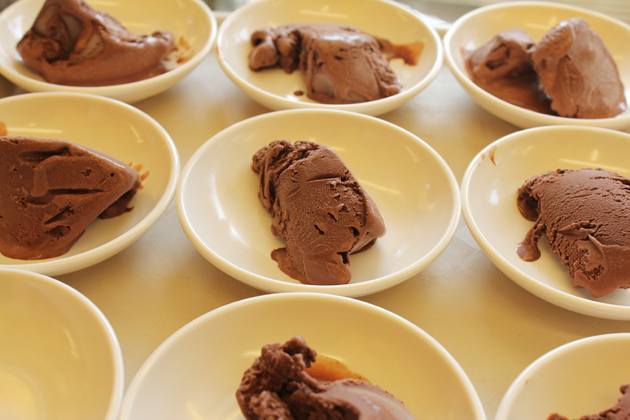 The ice creams were judged based on their own unique factor. This includes texture, richness, appearance, taste and flavour. The adult tasters guessed, stared and swirled each mouth of ice cream slowly to savour, not knowing the brands and base of the ice creams. They were quite critical, while the kids just breathed the ice creams in, especially the ones they liked – then said it like it was. Some wrote very precise comments while others spent more time evaluating the appearance and then, there were those who just wanted to devour.
The results, were surprising, just look at the expressions they had when we revealed the make and brand of each ice cream tested. The top brands that stood out won based on taste. The winner for the best chocolate ice cream brand went to a local brand that scored the highest – 102 out of 120 votes. The brand The Daily Scoop had most of the kids loving the rich cocoa taste, smooth texture and liking the appealing dark colour. Alfero Artisan Gelato came next, scoring 98 votes with their sweet and smooth creamy texture that many kids could not resist. The second runner up Brownice, another local brand, came in really close with 97 votes, had one parent, Katherine, leaving praise and a big star on her scorecard. Haagen Dazs, Soyato and Sogurt did win the hearts of tasters as well, scoring similarly high votes among the tasters in this ultimate chocolate taste test. See result chart below. We thank all the ice cream brands for taking on this challenge.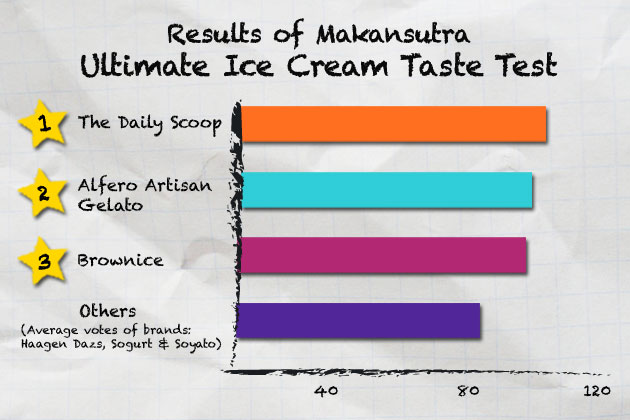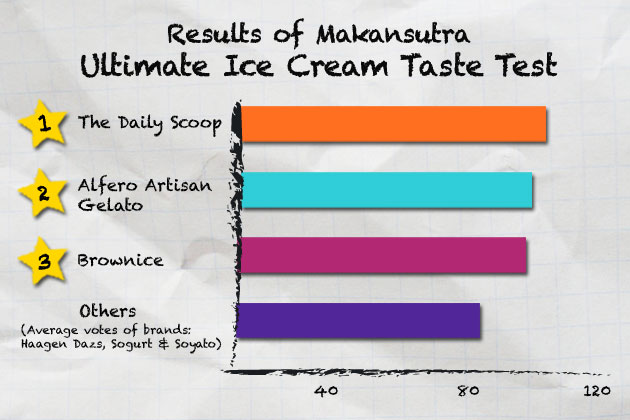 But the kid/parent results did not pair exactly on results nor were even close to each other. The winner was the Liow family having Mummy, Jeslyn (on the right) and her daughter, Renee (on the left) having the closest palate. There was only a mere 25% difference in rating preferential. The adults too, had a penchant for healthier choices.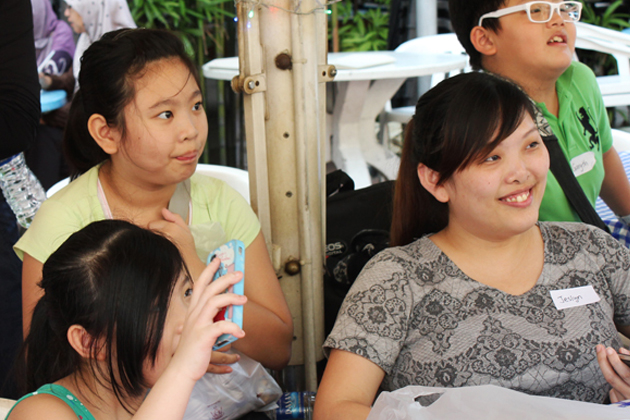 So, dear parents, here's the takeaway – you may pass your gorgeous looks and brain DNA over to your kids, but the palate and taste buds, are a different story. Perhaps, the divine makers need people to eat everything edible on this great planet, for balance and harmony. Not just hamburgers or chicken rice or whatever dad and mum likes.
At event's end, we whipped out a bowl of ice kachang topped with ice cream, for each family. To which Garyth told his parents upon seeing it, "I want one all for myself!"
To the wonderful parents and their kids, thank you for participating. Makansutra is happy to have organised this. Do look out for our next kids makan event.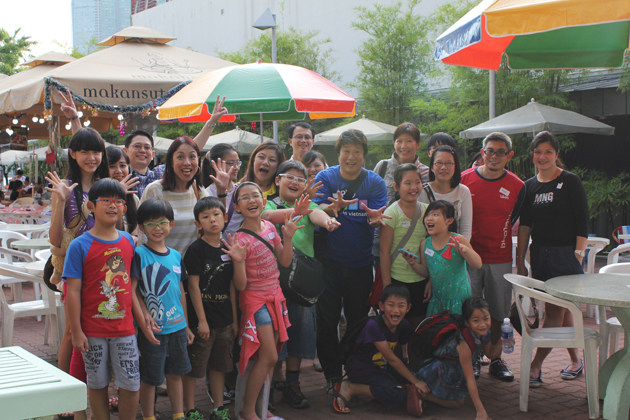 Makansutra Gluttons Bay 8 Raffles Avenue, #01-15 (beside Esplanade, opposite Marina Square) Mon-Thu: 5pm-2am Fri-Sat: 5pm-3am Sun: 4pm-1am
Note: This is not a full representation as these are opinions of 24 respondents who were randomly selected from Makansutra Facebook page.