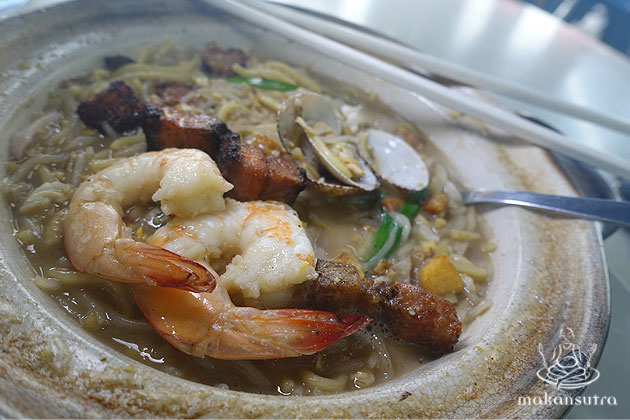 Kim Keat Fried Hokkien Prawn Mee: Gutsy Cha Hae Mee
By KF Seetoh - Monday, Jun 22, 2015
The story behind how the Fried Hokkien Mee came about in Singapore sounds like a whodunit mystery. Oral history and online records credit this to the Hokkiens (who are noodle experts), who sold it along the street side around the Rochor Road vicinity, hence it original moniker – Rochor Mee. The hired Teochew assistants went on to set up even more stalls after they learnt the skills and today, Teochews have somewhat of a claim to the heritage of Fried Hokkien Prawn Noodles in Singapore. It's a truly Singapore culinary icon which we are placing on a pedestal as one of our Deliciously Singaporean SG50 culinary campaign. It features 50 dishes that are born, bred and evolved here over the decades.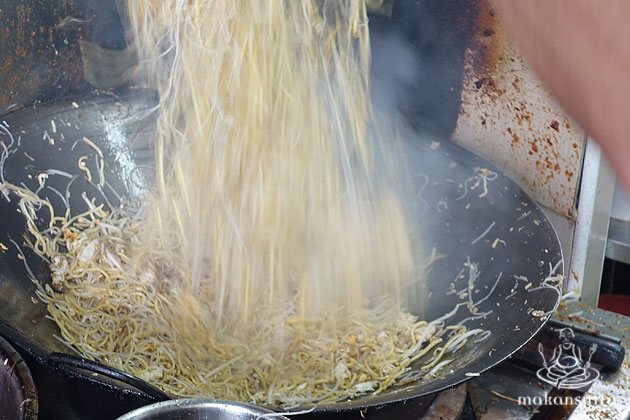 I've always known this is a very complex dish to make and many of my foreign chef and foodie friends regard it with respect and for its artisanal value. Yet in local foodie terms, it's merely Cha Hae Mee and it should come fast and cheap. Which is why the first question I raised with boss Mr Lee Eng Keat was about the consistency of his noodles. "Many hawker don't have the guts to fry it well…they are scared of burning the noodles" and Mr Lee proceeds to show me in detail how he puts a plate together. Firstly, it is the art of frying up eggs with lard and garlic before the two noodles are introduced. He incessantly tossed it over high fire and let no noodles sit and burn longer on the wok than it should. I could see the colour transform- from raw noodle factory shine to roasty golden brown goodness with some burnt ends and he stops just as the first signs of smoke appear in the wok. Then the first round of stock is introduced and is quickly absorbed by the dry roasty noodles. Another round of the stock in released and many make them with secret recipes that go beyond the basic bone, prawn shell, garlic and dried shrimps base. One secret in his stock, is manila clams. The art of the fry demands absolute attention, "You have to see and smell it all the time and recognise sight and aroma. Distracted and the noodles all go black and chao ta (burnt)" he tells me his trick.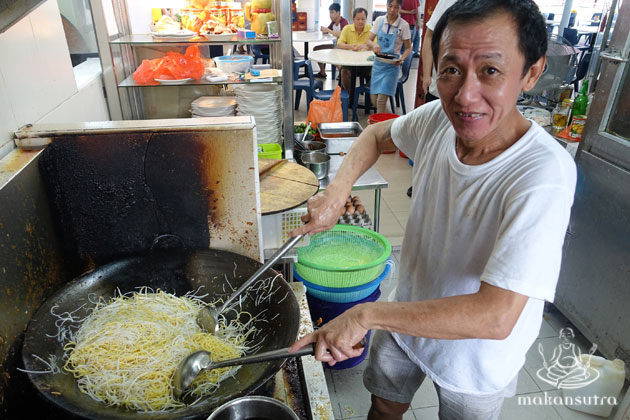 The best online comment about such hawker food quality, came from Melvin Chew, a fellow hawker who sells Teochew braised duck and kway chap, "As a fellow hawker, cooking cha hae mee can be inconsistent at times. Imagine having to cook 50 plates non-stop. It can be very tiring and taxing. Some slip ups happen".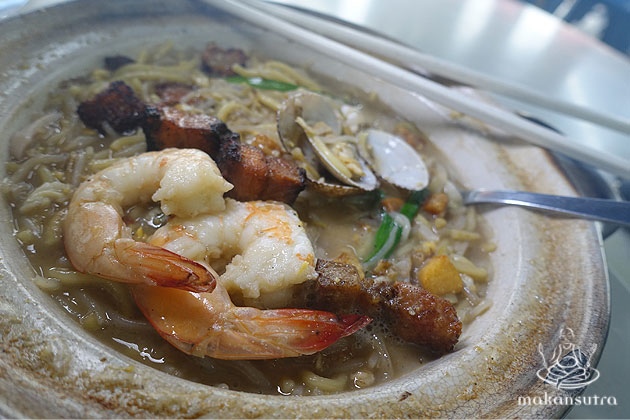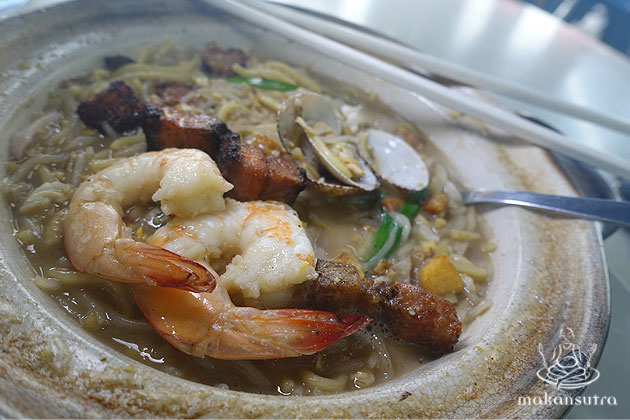 The verdict? I am one of those extreme fuss pots when it comes to Cha Hae Mee. I note the type of prawns used (Mr Lee does not use the garden variety Tiger prawns but the pricier Ang Ka or Swa Lor versions) and the intensity of the stock, which must come through in the noodles. If he does it consistently the way he does it for his regulars and myself, then this is a winner. Each strand of the well fried noodles harbour the flavour of the stock and the ingredients are classic- sotong, fatty pork, lard croutons and prawns with his signature additional topping of manila clams ($3-5). I personally prefer this claypot version ($10), it's just more flavourful.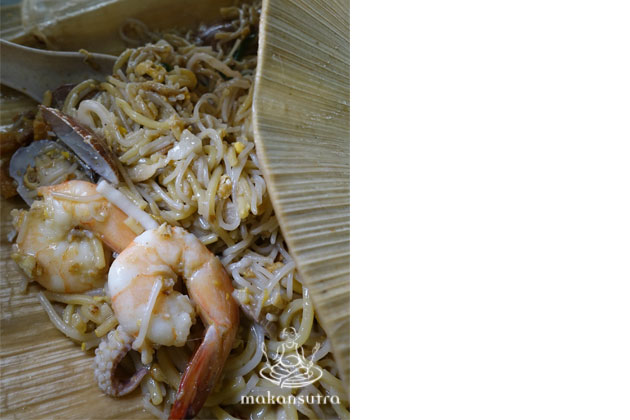 Kim Keat Fried Hokkien Mee & Claypot
Blk 92, Lor 4 Toa Payoh, #01-264
11.30am-9.30pm
Close on Tuesday
HP: 94560413