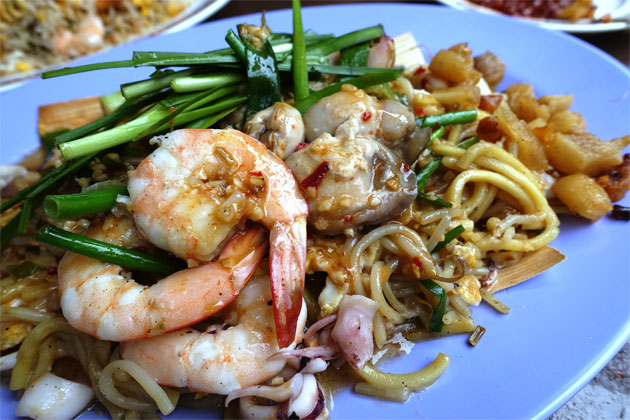 Kim's Fried Hokkien Mee: Gold Watch Standard
By KF Seetoh - Tuesday, Jul 29, 2014
He ladles a big scoop of intense prawn stock in his left hand, holding it above the wok. Browns freshly chopped garlic (with right hand and spatula) in the searing hot wok with some lard. And at an exact moment, lowers that scoop of stock in along with the huge plate of just fried seafood noodles. It is very hard to teach and perfect this part, which I think is the most important, when frying Hokkien Prawn Mee or cha hae mee. A moment longer than necessary and the garlic gets bitter, infects the stock and affect the noodles.
But Mr Tan Kue Kim is a master. If you asked the golden generation foodies, they will say the golden trio or "fook , luk, shou" (the gods of fortune, prosperity and longevity) of Fried Hokkien Prawn Mee of Singapore is as follows- "The Cripple" at Lavendar Street/ Serangoon Road junction, "The Opium King" at Lor 29 Geylang (both have passed on) and Ah Kim (as he calls himself). He knows just when to let what into the wok at exactly when..he uses all his senses when cooking.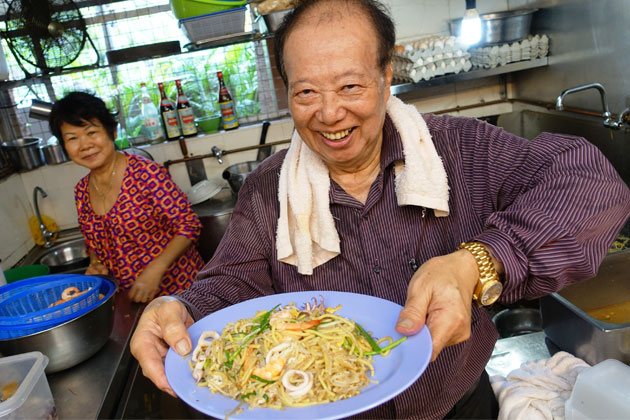 With his signature towel around his neck, shiny gold watch and his long sleeved shirt which he says " makes me look very professional and of course it keeps the heat off my arm", you can tell this is a master at work on his wok. Ah Kim, 67, learnt the skills of this Singapore born dish from his cousin as a kid in Changi Village "but I guess people respond better to my version." In the 80s, Kim's Hokkien Mee was a household name but he quietly disappeared from the scene, as if in semi-retirement in the 90s. Older hawkers in the know murmured about his personal and financial woes that led to his little hiatus. Now he's back, with a shop in Jalan Eunos and this hawker stall (about two years ago, which he personally cooks at everyday). He even has a franchise model, "I teach them everything and charge a small profit. If they fail, I fail too. " His son runs a seafood restaurant in Joo Chiat.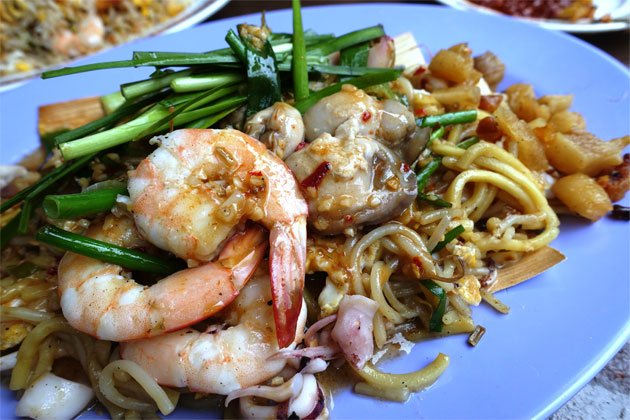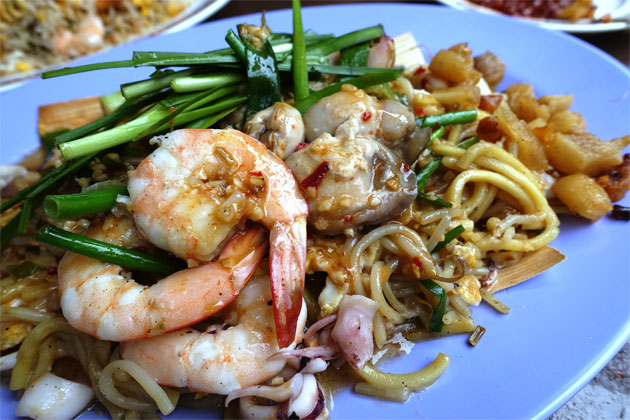 But if his students listen, learn and appreciate his art of cha hae mee, then delivering consistency is a breeze. About ten years ago, Ah Kim decided to top his dish with whole oysters (optional upon order). To me, it was a brilliant move. He does not fry it into the noodles but only pan sear with some garlic and fish sauce to seal up the juices so it does not infect the dish. The roasty and juicy oysters made sense over his wok-hei laden noodles. He lends a fresh garden green touch by using raw chopped chives, to max the aromatic effect. He lets the heat of the noodles slowly soften and warm up the chives. Best part, his sambal belacan and lard croutons are..free flow! Do go easy them.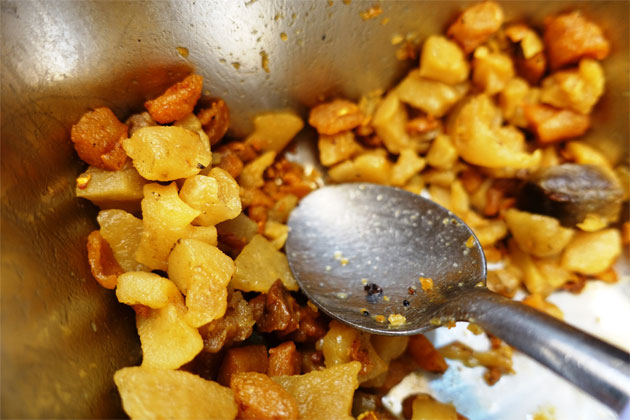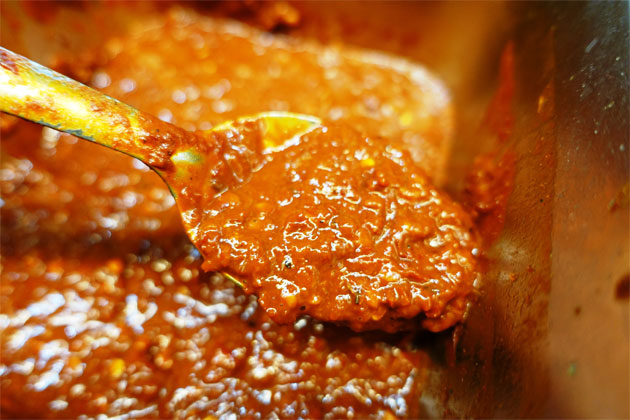 He also offer a mean prawn fried rice and oyster omelette, which makes sense, given his skills and ingredients inventory.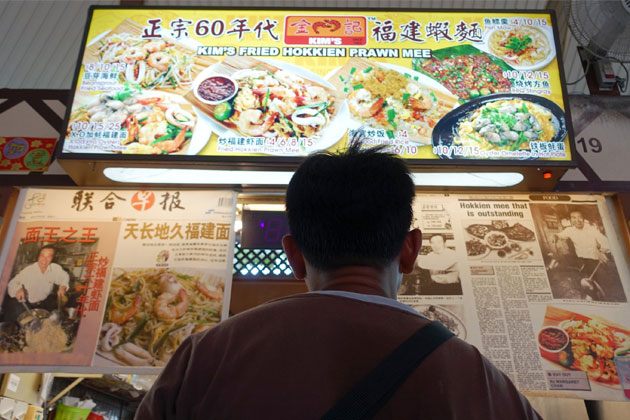 Kim's Fried Hokkien Mee
Stall 19, Bedok Corner Food Centre
1, Bedok Road (opp Bedok Camp)
11am-3pm/ 6pm-10pm
Close on Tuesdays.
Updated on 15 August 2018:
Relocated to 62B Jln Eunos
Operating hours: 11am-1am daily