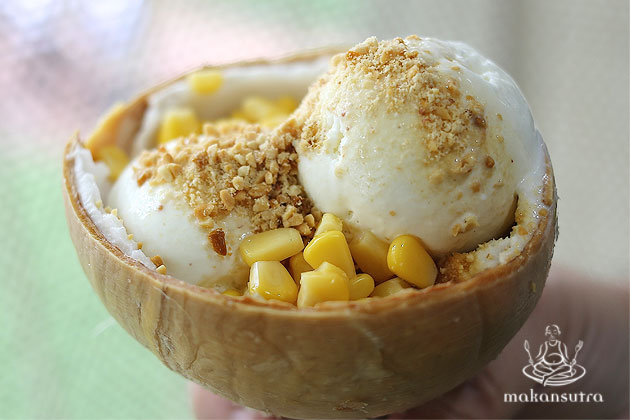 KOKO ICE CREAM: Three Young Men & Their Thai Coconut Ice Cream
By Cecilia Joven Ong - Friday, Jul 03, 2015
Jefferson, Daniel and Bryan, the 3 good friends in their late 20s started this dessert stall at Amoy Street Food Centre in April 2015. Even though they do not have any prior F & B experience, they took up the challenge as they wanted to serve authentic Thai Coconut Ice Cream to Singaporeans at a reasonable price. Daniel is a financial advisor while Jefferson and Bryan are both professional musicians. The 3 of them rotate among themselves to take charge and operate this stall with their newly hired assistant.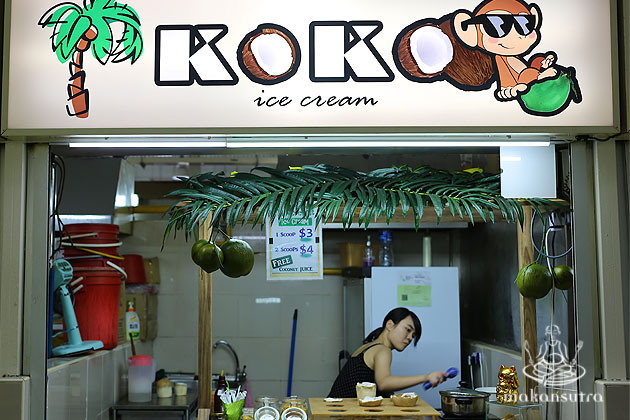 The idea of starting this business came to them when they were travelling together in Thailand and they happened to meet the founding family of the famous Mahachai Thai ice cream that has about 200 years of history in Thailand. Bryan said, "As it is not possible to import the frozen ice cream from Thailand, we only bring in the base and make the ice cream at our stall once or twice a week." They are also constantly improving on the recipe by adding in some secret ingredients to improve and to distinguish the taste of their ice cream from others out there.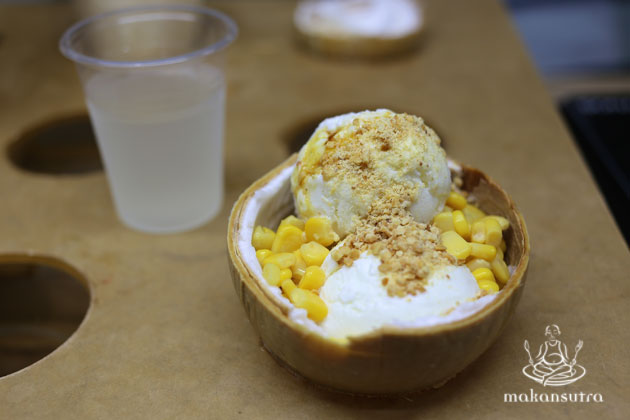 CHALLENGES AHEAD
He said, "We're actually losing money everyday operating this stall due to the high rental and short operating hours as our customers are office workers who come by only during lunch time on weekdays. In order to operate our business on longer hours, we are forced to expand to other locations. We are in the midst of making arrangements to open the other outlets in Bedok Point and Jurong Point and this will enable us to operate 7 days a week and to increase our customer base."
Their Thai ice cream is served in a half coconut shell for $3 per scoop and $4 for double scoops. A layer of coconut flesh that is removed from the inside of the coconut is added at the bottom of the shell to complement the ice cream. You have the option to choose 2 toppings amongst the choices of ground peanuts, cornflakes, sweet corn, rainbow sprinkles and chocolate balls. Other than the usual chocolate sauce, there is the specially created KOKO sauce, which is their unique creation using gula melaka as its main ingredient.
The coconut ice cream has an intense coconut flavor with a rather creamy texture and a well-balanced level of sweetness.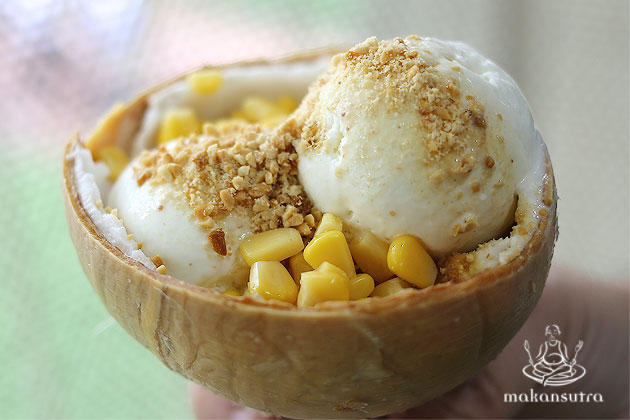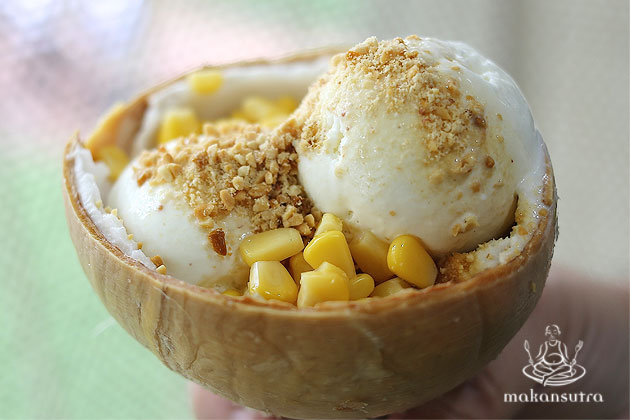 To sweeten the deal, a cup of coconut water is given with their ice cream but this did not stop their customers from comparing prices to other hawker fare in the food centre. Some customers felt that the price is still a bit steep as they could get a full meal at the same price even though their prices are actually lower as compared to their competitors. These are probably the folks who gripe about this while having a $5 coffee in a cafe.  This contributed to part of the challenges they encountered so far. The other has to be the availability of the raw ingredients particularly the unreliable supply of fresh coconuts and this has somewhat affected their daily operations. Although faced with these challenges, they still place a strong emphasis on the level of their customer satisfaction even ahead of making profits.
Bryan said, "We will keep trying to get this going."
KOKO ICE CREAM
7 Maxwell Road #02-104 Amoy Street Food Centre Singapore 069111
Operating Hours: 11.30 am to 2.00 pm (Monday to Friday)