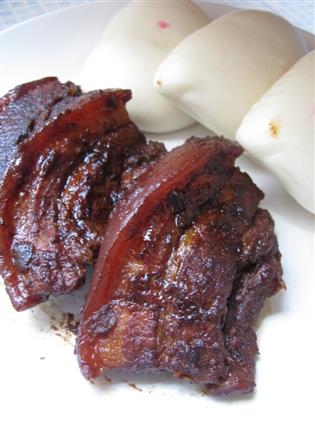 Kong Ba Bao With Red Apples
By Sheere Ng - Thursday, Jun 21, 2012
Kong Ba Bao, or Chinese Braised Pork Buns, is my dad's pride. He makes an impressive one, with stamps of approval from all friends and families. "Did your dad cook Kong Ba?" I get this question rather than "how are you" when the aunties and uncles knock on our door.
Annoyed as I was to be given such little importance compared to pot of fatty meat, I am proud to be the daughter of the man who cooks a Kong Ba they all described as "tok kong", which means superb in Hokkien.
I am also his fan. The Kong Ba that he cooks has more soy bean flavour and less of the strong spice taste. (it is frequently how restaurants approach this dish) In my opinion, way better than the many restaurants that claim to specialise in the dish. Yet, his recipe can't be any simpler – straightforward marinating and then slow cooking till the meat is tender.
But I wanted to contribute to this recipe, so I added a little something. A friend suggested apples to add a refreshing fruity touch to the heaviness to the dish. After experimenting, I noticed that it doesn't cloy like table sugar.
Having said that, some of you may, like my dad, think that adding apples is bastardising this traditional dish. If you don't like fruitiness with porkness, then in that case, you could leave out the fruit in the recipe and still get a very tok kong Kong Ba Bao.
Ingredients: 1kg Pork Belly, 120g Galangal, sliced, 1 tbsp Soy bean paste (tau cheo), 2 tbsp Dark soy sauce (add more if you think the colour is too light), 1 tbsp Light soy sauce, 1 tsp Sugar, 3 tbsp Shaoxing wine, 12 Cloves of garlic, smacked with skin still attached, 1 Clove, 2 Star anise, 1 Stick of cinnamon, 1 Red apple, cut into 8 pieces with core removed, 10 buns, steamed
Instructions: Cut the meat into pieces of 1 cm thick and 8 to 10 cm long. Marinate with all sauces and spices and garlic. Keep the meat in fridge for about 2 hours. Heat up a pot over low heat. Add marinated meat and apples into the pot.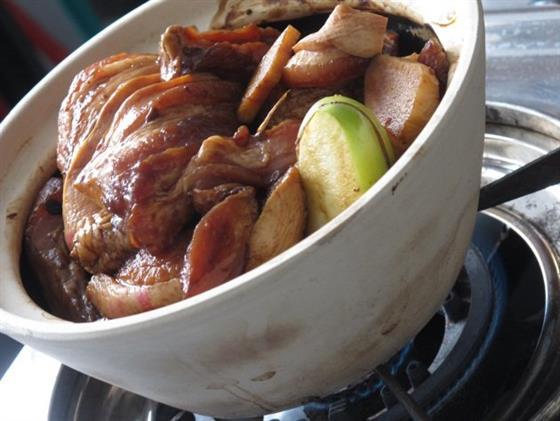 Stir the content once in while to prevent those at the bottom from getting burnt. The meat would release some water during the first half of the cooking time, after which it will be dehydrated. Simply add about 100ml of hot water and stir.
The meat will take between 2 and 2.5 hours to achieve a fork-tender texture. Alternatively, you could use a pressure cooker to quicken this process.
Turn off the fire, pick up a piece of meat and stuff it into a steamed bun and the Chinese burger is ready to be served.