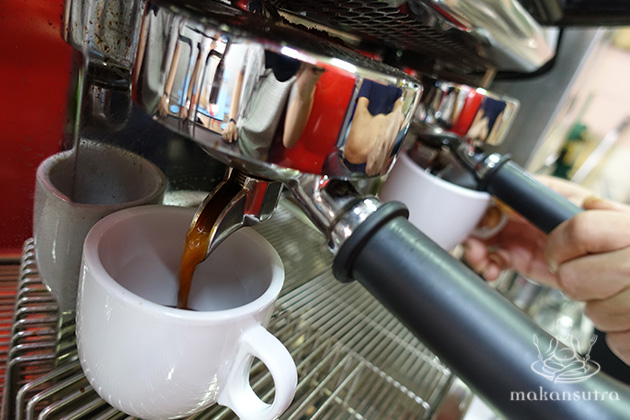 Kopi More: Barista Kopi in a Hawker Centre
By KF Seetoh - Friday, Mar 10, 2017
Order a cuppa at the hawkers and out comes the ubiquitous steel snout pot with a coffee sock. A local coffee powder mix is spooned in, and hot water is poured in to shock, some say cajole, the flavour and aroma of the powder. Then depending on your order, whether it's kopi-o kosong (black sugarless), kao (thicker) , siu dai (less sugar), ka dai (sweeter), C (with evaporated milk) , or peng (iced).. you'll get them in a minute. Satisfying. No questions asked, just pay that dollar or so, and go.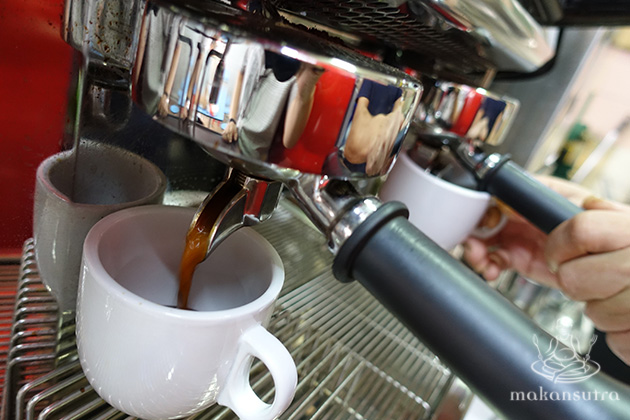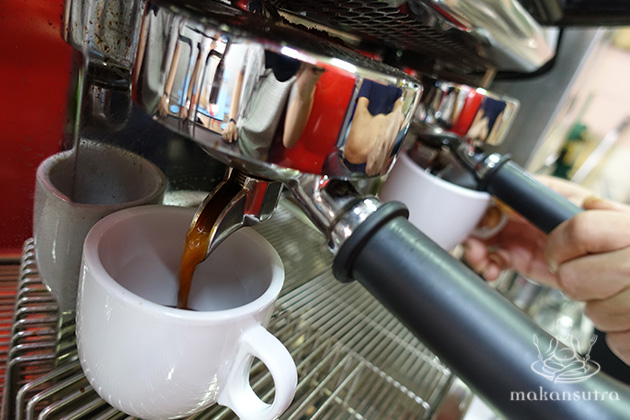 Scenario two. The barista cleans the European espresso machine, carefully pads the coffee mix hoder (or porta filter) and locks it onto the group head (where the hot water is forced through) and the aromatic brew is dripped onto a pretty cup. Fresh cream is added and sugar, is a DIY thing. This is what you would expect from a fancy or hipster coffee joint or chain outlet.. like Starbucks. But take a closer look today. Scenario two actually comes from a hawker near town, next to clang-y cha kway teow and steamy fish ball noodle hawkers. " I was retrenched over a year ago and at my age, it's hard to get back into my old petroleum broker business" so Lawrence Tan took a few months to research and decided to set up this barista station in the hawker centre. He gets a few stares from the hawker food regulars initially (because they think it may be overpriced) but at a mere $1.50 for barista quality coffee, he now have a few familiar faces that shows up often.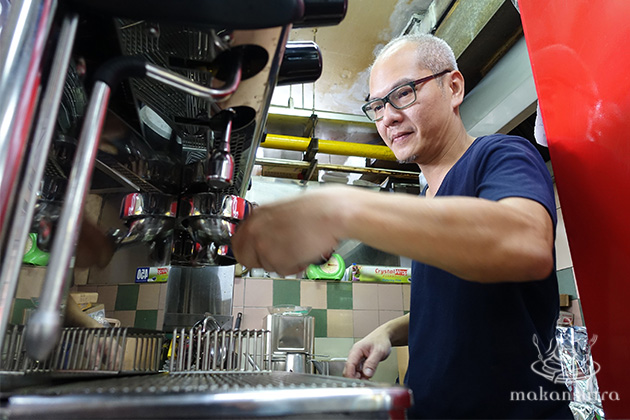 He uses a Robusta and Arabica powder mix and there isn't the usual condensed or evaporated milk tones in his brew. Instead fresh cream is poured in or you can simply have it long black (kopi-o). The taste is rich and if you close your eyes and get a breeze from the streets, and with some imagination, it's like a sipping a cuppa at an alfresco coffee joint in a fancier part of town. I kid you not.
"I had to go into this business or practical reasons but coffee is something many drink on a daily basis" this former white collar professional tells me. And at that price, and using beans that are a few notches better than the nearby "kopi soh" stall, one would wonder about viability, " My thinking is although my margins are thin, this is about the maximum price point for kopi in a hawker centre. I am targeting regulars who will hit me for two cups at a go".
Speed wise, I was surprised how fast a cup was made- as fast as the kopitiam folks. He makes them one or two at a time and each cup is done individually, unlike the mass coffee socks methods. Hot water almost immediately rushes out the group head, through the porta filter and onto the kopitam cup he uses (something you don't usually see up front and this personal at coffee joints, unlike here).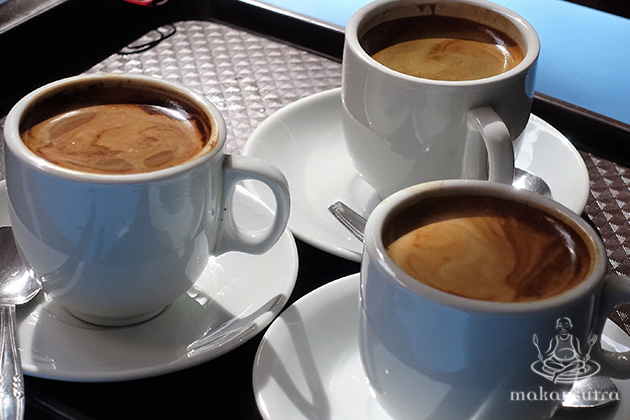 I had to check out Lawrence's stall because how can it not, when two older retirees, they ones that spend half a day , three times a week to go food crawling, told me about this on two separate occasions. Their views, I have respected over the decades and they hardly failed me.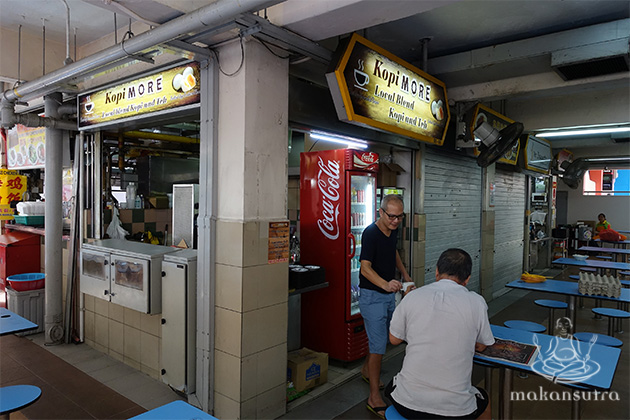 Kopi More
Golden Mile Hawker Centre, Beach Road
B1-49, 10am-10pm daily.