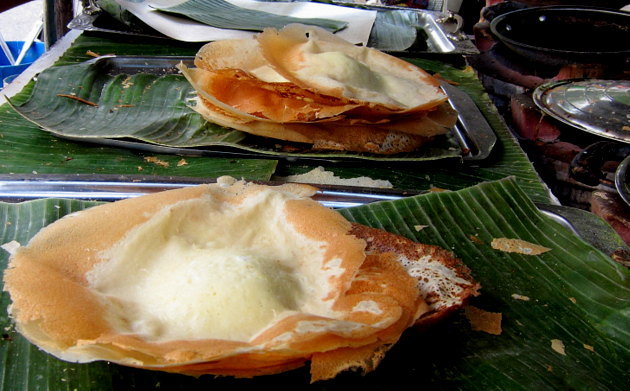 Kopi-o breakfast in Penang
By CK Lam - Monday, Jan 28, 2013
New Cathay coffee shop is one of the decent places to sample a plethora of Penang's palate. Located along Burmah Road right in the bustling neighbourhood of Pulau Tikus, this place is packed from morning right through lunch hour.
For those opting for a light start to the day, do check out the apom manis (Indian-style sweet pancake) stall. Interestingly, the owner of this roadside stall still maintains the tradition of cooking the apom in small kuali over charcoal fire.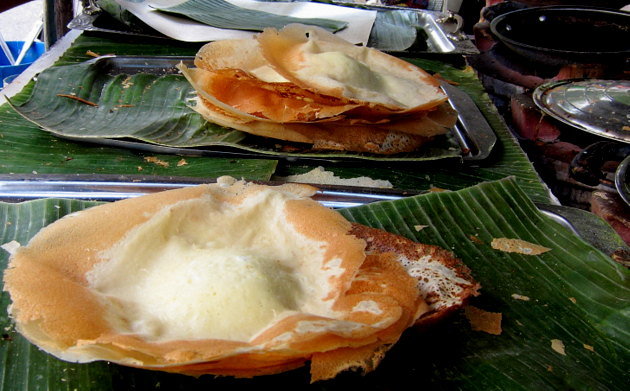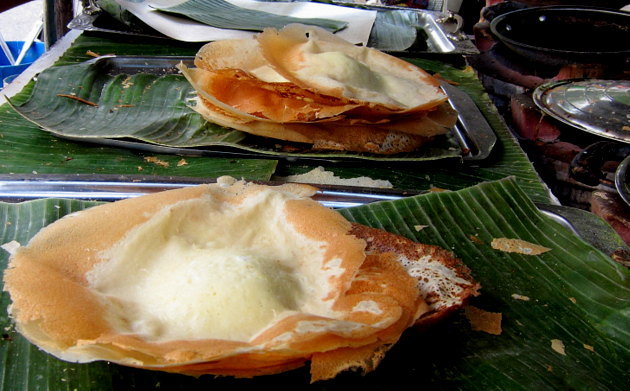 Watching him making the apom is akin to watching poetry in motion, as he constantly juggles among the stoves while swirling the pots. The outcome is a piece of apom with thin crispy edges and puffy moist center. The freshly made apom is a bargain at RM3 for six pieces. Be sure to pair this delicacy with a cup of kopi-o (local black coffee).
The bowl of curry mee comes with yellow noodles and bee hoon (rice vermicelli), and is served in a spicy coconut milk curry broth accompanied with a spoon of appetizing chili paste. Besides the common ingredients of prawns, cuttlefish and bean sprouts, there is also the coagulated pig's blood, cockles and long beans.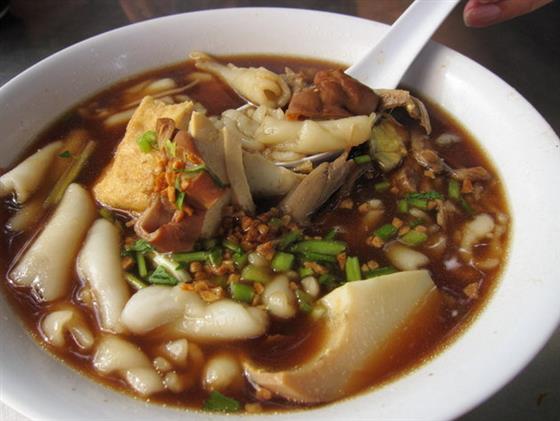 The koay chiap stall operated by the Liew family offers koay chiap (white flat rice noodles) with brownish broth and lots of ingredients. Besides bean curd, the noodle sheets comes with strips of duck meat, coagulated pig's blood, braised egg and braised offals. The flavour of the broth is finely balanced between spices and duck.
Another food stall that never fails to attract the crowd is the wantan mee. A basic plate of noodle garnished with fried and boiled wanton (meat dumpling), roast lean pork, black mushroom and green leafy vegetable is accompanied with pickled green chili. The draw of the noodle is its texture, while the dumplings are equally tasty with generous filling of minced meat.
This neighbourhood coffee shop also offers half-boiled eggs as well as toast bread to the breakfast crowd. Business hours are from 7am till 2pm and the closing day is on Sundays.
As parking is limited along Burmah Road and the side road of Lorong Kuching, diners can seek parking places in the adjacent Belissa Row car park.
New Cathay Coffee Shop
425E Burmah Road 10350 Penang
Tel: 04-8282721