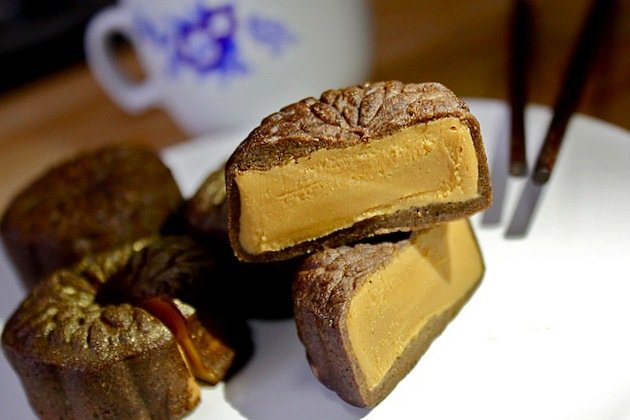 Kopi Teh Mooncake
By Stefanie Chao (Images by Tris Marlis) - Thursday, Aug 29, 2013
With the Mid-Autumn Festival just around the corner, the mooncake craze has started. Mooncakes are traditionally best enjoyed with tea or coffee (whatever floats your boat) but how about having – get this… coffee and teh tarek mooncakes. Better still, make them yourself with the gutsy flavours of local kopi and teh. You only need to introduce more kopi powder or flavouring to counter the starchy skin. Nothing complicated.
Coffee aficionados will love this true blue Singapore style (yes, you first read about it here) Yuan Yang (coffee and tea) combination mooncake, with the coffee grounds adding a contrasting texture and flavour to the smooth tea spiked lotus paste (would you believe, store bought). Give the Hong Kong cafes or cha chan teng a run for their Yuan Yang beverage money
Kopi Teh Mooncake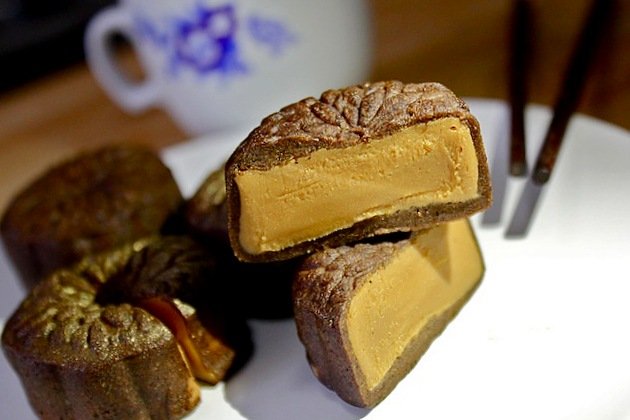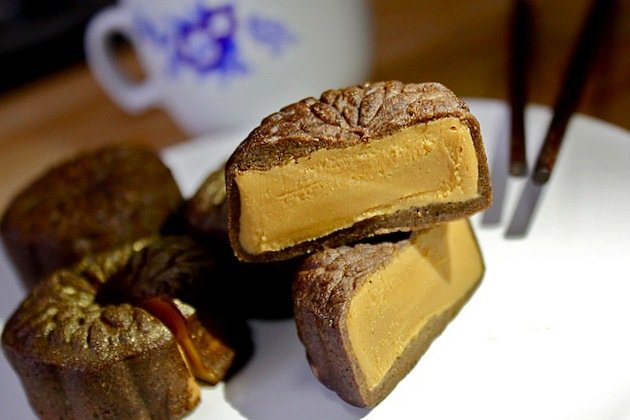 Ingredients:
90g fried glutinous rice flour (kou fen)
10g wheat starch flour (deng mian fen)
30g shortening
200g Royal Milk Tea lotus paste (see below on where to buy)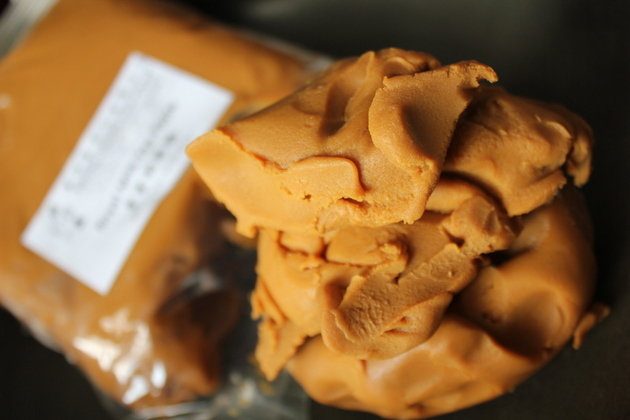 Coffee syrup:
180g boiling water
3 tbsp local coffee beans, ground very finely(add a spoon more if you like it stronger)
5 tbsp tablespoons sugar (or more if you like it sweeter)
Methods:
1) Add the ground coffee to the boiling water, along with the sugar and stir till the sugar is dissolved. Leave to cool till room temperature and then strain it through a sieve. (It's okay to leave some coffee ground bits in the mixture for texture. Skip the sugar if you want the pure bitter kopi fragrance to shine on the skin).
2) In a mixing bowl, combine the fried glutinous rice flour and the wheat starch. Rub the shortening into the flours, until you get a mixture resembling bread crumbs.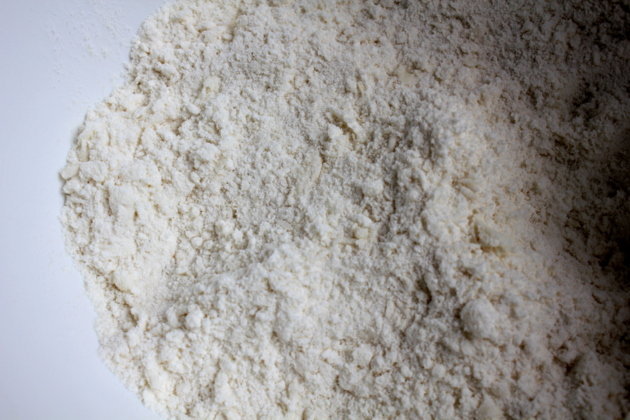 3) Add the cooled coffee and mix lightly and knead until smooth dough is formed.
4) Take a scant tablespoonful of dough and flatten out to fit your palm, like a wanton wrap.
5) Take a tablespoon of milk tea lotus paste and roll it to form a round sphere (fish ball size).
6) Place the ball of milk tea lotus paste on top of the flattened coffee dough. Wrap it up and pinch out excess dough.
7) Pop into the mooncake mould to be shaped.
8) Repeat until all the dough is used up, chill the mooncakes for one hour. Enjoy!
9) You might want to sprinkle some edible gold dust atop for presentation effect.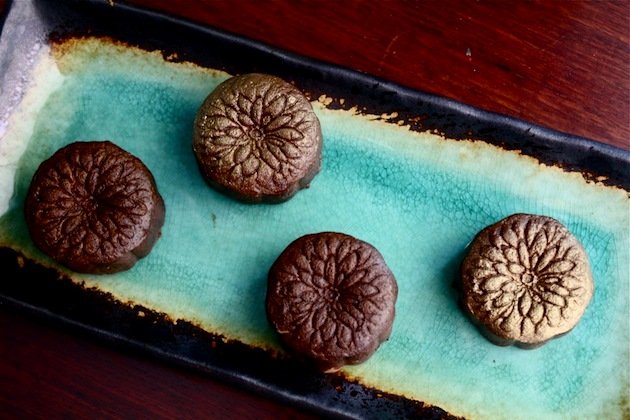 Some important notes: the addition of the wheat starch flour yields softer dough. You can steam it for four to five minutes to cook off the starchiness of the flour, but that is optional. The coffee must be cooled to room temperature before adding it to the starches, for hot liquid will result in seized dough that is hard to salvage. Lastly, once the dough comes together, avoid over-mixing or over-kneading to have a softer snowskin that will last a good three to five days in the fridge. You might want to check out Kwong Cheong Thye (61, Lorong 27, Geylang, Tel: 67480128), a one-stop shop for everything mooncake, five minuted walk from Aljunied MRT station, including the teh tarek lotus paste.
Basic snowskin recipe adapted from Lucy Yochana's Snowskin Lotus Mooncakes.