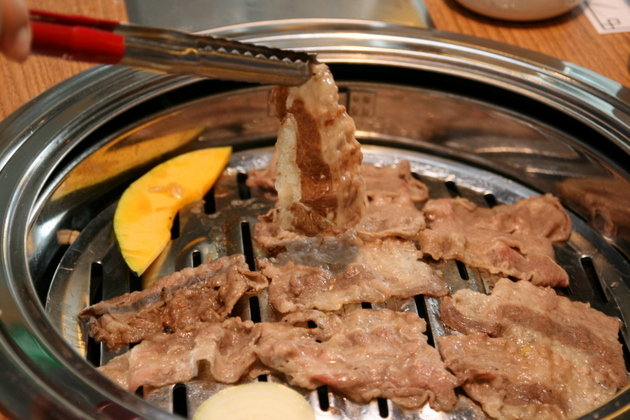 Korean BBQ's Unique "Pork Belly" Beef is Here
By Catherine Ling - Wednesday, Jan 02, 2013
Yet another Korean BBQ restaurant? It looks like our demand for Korean food is still sizzling hot, and it's not just K-pop mania that's fueling it. There's a sizeable Korean community here, and some of them were pretty excited when Bornga (本家) opened an outlet in Singapore.
Bornga is a well-known chain from South Korea by celebrity chef Paik Jong Won. Well, Mr Paik's name may not ring a bell with most Singaporeans, but they are flocking to the restaurant nonetheless for his patented signature creation – the Woo Samgyup (S$22, double portion shown in photo above). This platter of what looks like thinly sliced fatty pork belly is actually beef. And strangely, it's beef brisket, a part that is normally reserved for braising or stewing.
The other thing that makes it different from other Korean BBQ meats is the marinade. The meat doesn't sit in some thick, dark and overpowering sauce for hours. It's simply doused upon order with a light-coloured secret dressing, and the meat retains its natural colour but you still get that traditional 'bulgogi' taste.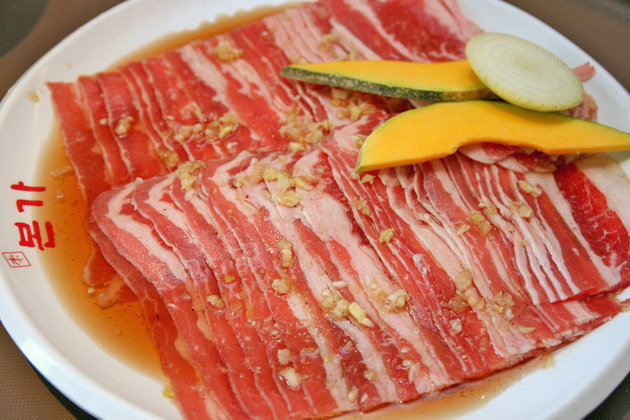 There's a neat trick to grilling Woo Samgyup too. Instead of doing it tediously slice by slice (which is fiddly and time-consuming), take a small stack and put that on the grill. Let it cook a while, and then peel off the semi-done slices on top, and let those have a quick sizzle on the oiled grate.
The result? Juicy pieces that don't all get stuck and torn on the grill plate. These slices are pretty tasty on their own, but get another flavour dimension when dipped in their inhouse Woo Samgyup sauce (yet another patented creation), which is imported from Korea.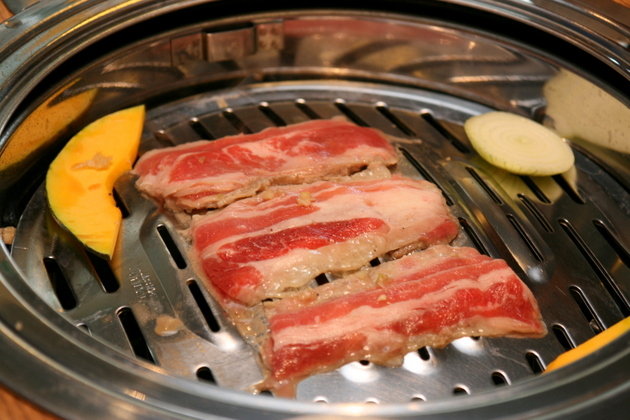 Along with the BBQ, you get a very long tray of lettuce and assorted vegetables for you to wrap the meat in, and various banchan (side dishes, such as the pickled radish kimchi used above) you can also use to assemble your own veggie "taco". It's a great way to incorporate your daily serving of vegetables!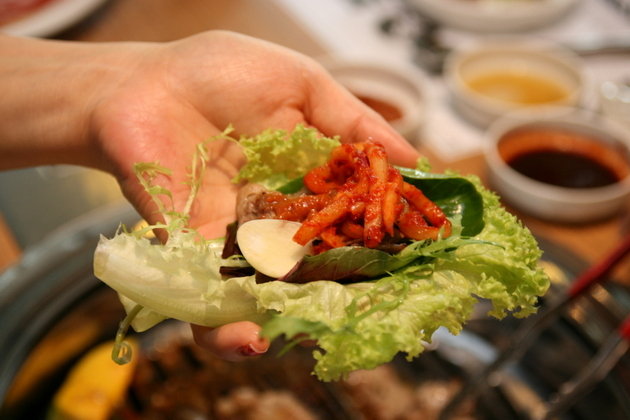 The Bornga menu is small but thoughtfully curated to provide just enough variety. The other popular meat is the Ggot Sal (prime cut and very tender unmarinated beef; $38). There are various Naeng Myun (cold noodles) and spicy stews. Their specialty stew is the Chadol Duenjang Jjigae (a traditional Korean soybean paste stew with beef; $16), served over rice and mixed in like a bibimbap. Kids will probably like the Tteokgalbi (ground rib meat patties mixed with a soy sauce seasoning, flattened pancake style, and then grilled; $20).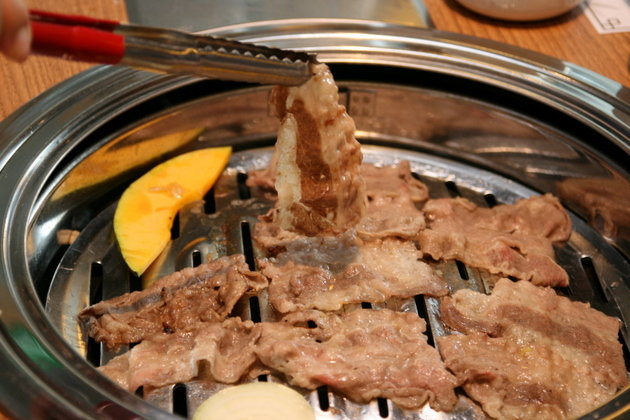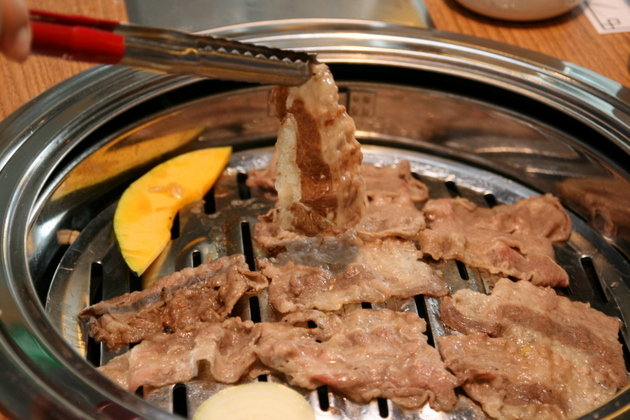 And one of the best parts of the meal is free – the omija tea, or five-flavoured tea – a shaved ice dessert flavoured with dried omija fruit. It tastes like a citrusy hawthorn. The sweet, tart, savoury, bitter and spicy aspects combine to give a refreshing palate-cleansing sensation. Just the thing to have after all the grilled meats and spicy items.
BORNGA
1 Vista Exchange Green #02-24, The Star Vista Singapore 138617
Open: 11.30am to 10pm daily