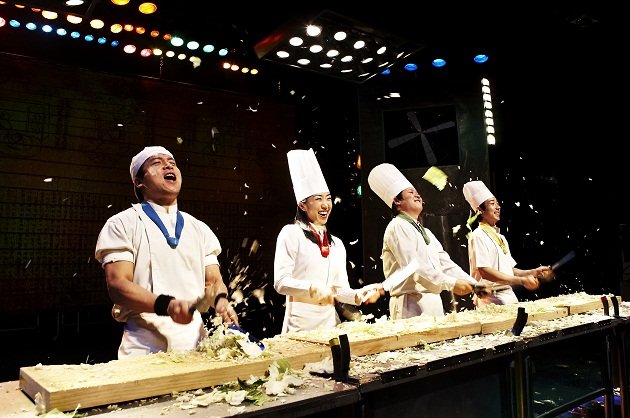 Korean chefs cook up a musical storm
By Joanne Yeo - Monday, Sep 17, 2012
Have you ever paused to listen to the sounds in a kitchen? The all too familiar uncoordinated 'noise' of sizzling hot pans and clanking when wok meets ladle naturally becomes white noise that often goes unnoticed. But in the hands of these musical chefs – it becomes symphony.
The kitchen springs to life as off-broadway Korean comedy-musical, NANTA (COOKIN') heads to Marina Bay Sands in Singapore for the second time this September. Hailing from Korea, NANTA, which literally means 'random drum-beats' in Korean, is an award-winning, non-verbal acrobatic-style performance that has entertained millions in more than 250 cities worldwide for the past 15 years.
This 90-minute performance integrates Korea's traditional rhythm with drama and comedy, turning the kitchen upside-down in the process. Chefs and kitchen utensils take on a double life and become overnight musicians and percussion instruments, like a section when a last-minute Korean wedding banquet request by the manager sends them into afrenzy of uncontrolled music cranking in the kitchen.
Like how STOMP has shown how random domestic items like brooms and dustbins that we often overlook can be used to make music, NANTA has turned the uncoordinated clanking sounds of wok and kitchen utensils into well harmonised music.
For more information on NANTA (COOKIN'), visit the official site at www.nanta.co.kr
NANTA (COOKIN')
 Date: 25 to 30 September 2012 Venue: Sands Theater, Marina Bay Sands Ticket prices: $108, $88, $68, $48 Booking Information: www.marinabaysands.com/ticketing or http://www.sistic.com.sg/