Kueh Ho Jiak: Kueh Very Good…
By KF Seetoh - Friday, Jul 07, 2017
Firstly, their catchy name was a smart marketing ploy, the use of Hokkien term positioned in a prettily designed sweet stall (literally) was very curious. Then I was told they had never been in the business before and that they collected recipes from the internet and tweaked them on the fly. Lastly, the menu touts traditional stuff like ang ku kueh but nothing on the kueh shelf looks anything traditional. All these three nugget of facts can amount to nothing- if the steamed pastries they offer are not up to scratch, but do read on.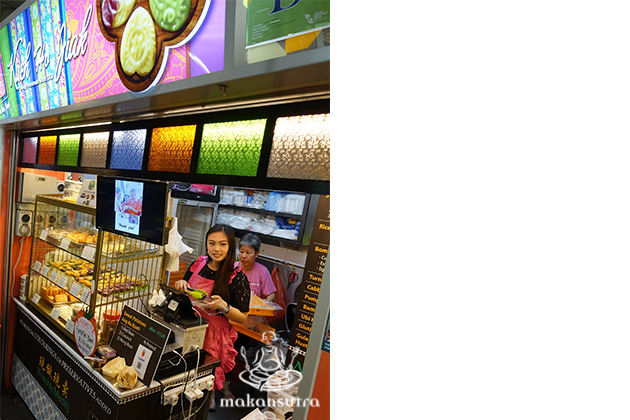 Elizabeth Chan and her mother Sandy Hannah Tan both had with no prior professional experience in selling cakes and sweets. But they trawled the internet for various recipes over a few years, and listened to good intentioned advise from friends and customers at their first hawker stall in Hougang, "they almost doubled our rent after a year of operation, so we here moved a month ago.". The carefully Nyonya colour coordinated stall, was the first thing that attracted me (although they are Teochews), then it was the kuehs, little blobs of bright coloured flower, fruits, cute cartoon animal shaped steamed pastries. I didn't know what flavour the flower, fruit or animal came in until I peered at the little signs.
The black charcoal cartoon cat, had roasted crushed nuts and sugar- very traditional yet not so. The crunch of the hand made fillings was a delight in the mouth. The cute bear-faced kueh, a kid magnet, unfortunately, was stuffed with a bold and robust hae bi hiam but " thanks for alerting me, I will change it to a kid friendly flavour soon." Elizabeth promised. It did not matter to me though. Thier purple and orange flower shaped version had sweet mashed mung mean fillings which was easy on sugar. "Thank you," from me. One other bear faced "ang ku kueh" had gula Melaka grated coconut and it had a pleasant texture and richness. The traditional looking but purple coloured one hid a gorgeous orh nee (sweet yam paste) and the orange rendition had orange peel red bean paste beckoning inside.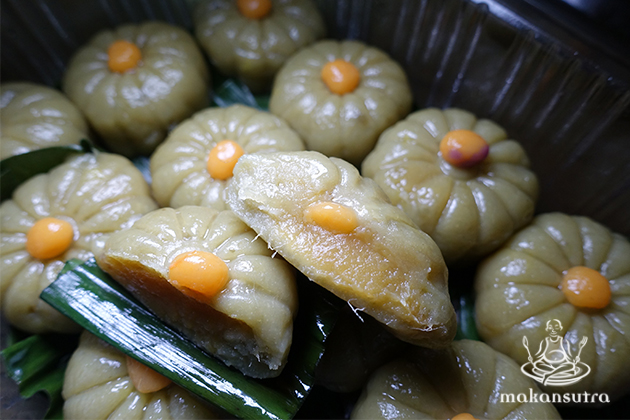 A green flower shaped creation was one of my favourites there (aside from the hae bi hiam)- this durian version, in one bite, reminded me of the durian dodols (soft and toffee like) that I usually get on market trips up Malaysia and Indonesia, except it was moreish and very soft all through.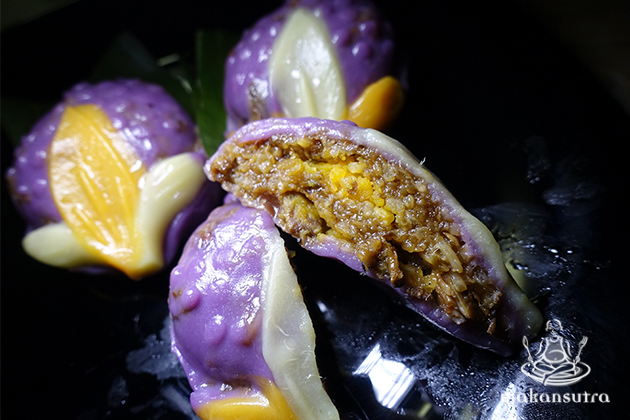 Yes, so far it all sounds and look very confusing but all's forgiven when you realised just how attractive and refreshing it all is. They let in that they use a lot of coloured yams and sweet potatoes for the skin colour, nothing unnatural, from purple to green and orange, then you understand just why it's so soft and smooth. I could hardly differentiate the texture of the pastry from the bean fillings. I had to take more bites to triple confirm the pleasure. Now, I save the best two for last.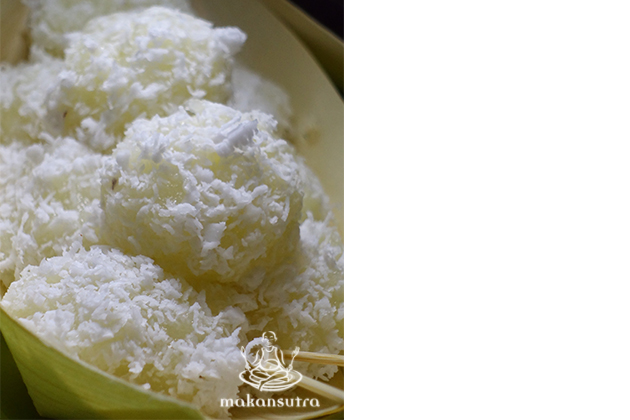 Their ubi kayu (tapioca) balls are one of the best I've had in a long time here- not too sweet, soft and with fresh grated coconut dusted through. If you are a fan, I doubt you will stop at two. Then their salted egg yolk png kueh, or steamed rice cakes, which come is the strange shape of some purple berry, had a high swoon factor in my books. The hae bi flavoured glutinous soft rice, with peanuts and bits of chicken cubes was elevated with a little chunk of salted egg yolk. I'll say no more, just bend your mind around the purple berry shape it came in.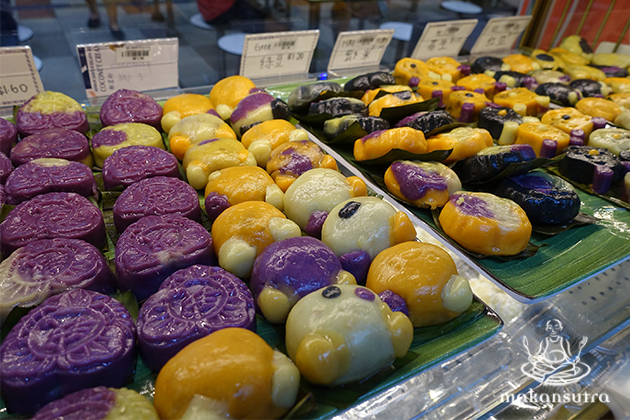 Keep the intrigue and that deliciously colourful twist in traditions going ladies.
Kueh Ho Jiak
6, Tanjong Pagar Food Centre, #02-2