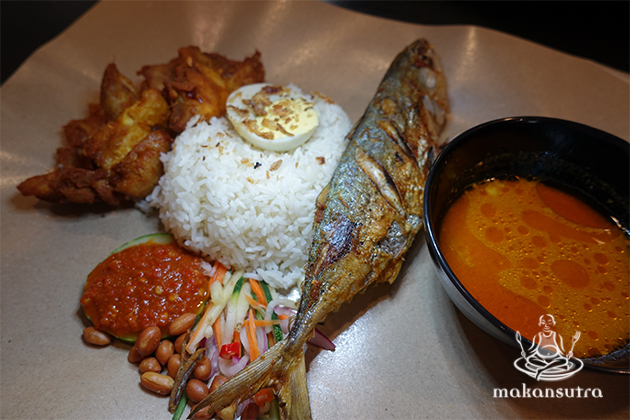 Laksaamana: KL Style Laksa and the Nasi Legend
By KF Seetoh - Friday, Feb 23, 2018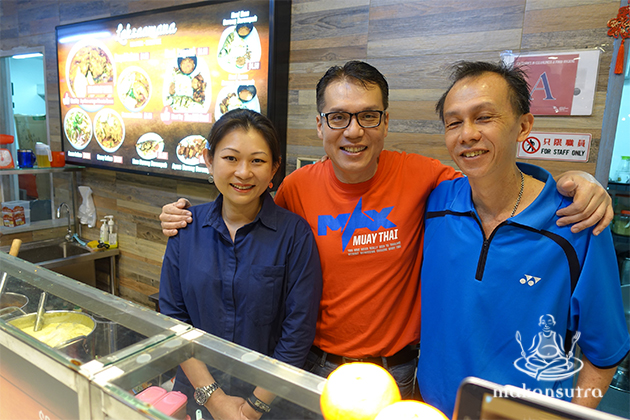 The Singapore folks met them at some event in Kuala Lumpur, hit it off, and only realised they are the owners of the famous Laksaamana group of cafes in Malaysia. One good thing led to another and now, Laksaamana is available in Singapore. I've many enjoyed their fare in Kuala Lumpur and although the menu spells things like laksa, prawn mee, soto ayam etc… it has a distinct Malaysian edge. A Singapore owner Derrick Chong "had never been in the F&B industry" but suddenly they are creating a wave of sorts just five months into the game and garnering a loyal following.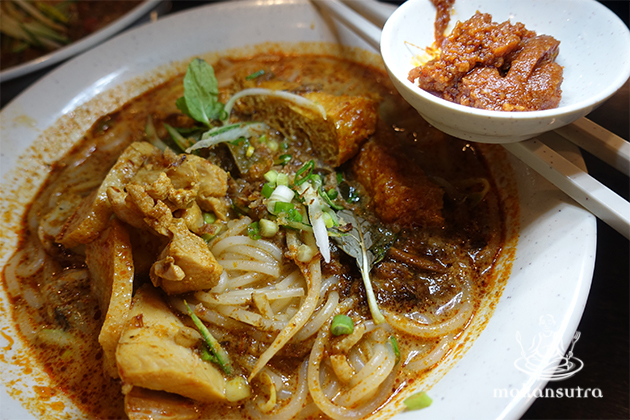 A couple of interesting dishes stood out. Interesting as in, if you've only known one type of laksa and rates it by the amount of coconut milk used, then this would be a palate awakener. Their Royal Laksa ($4.50) looks mean and isn't really about the toppings (chicken, taupok and some fishcakes). The first sensation to hit you is the hint of tangy tamarind accent in the laksa curry. Strange, or interesting at first, but it begins to crawl into your system and secures your loyalty, quite effortlessly. Lacking is that predictable sweet and coconutty flavour that perfumes local style laksa. Swirl their sambal in, and you will know the difference between Katong and Kuala Lumpur style laksa.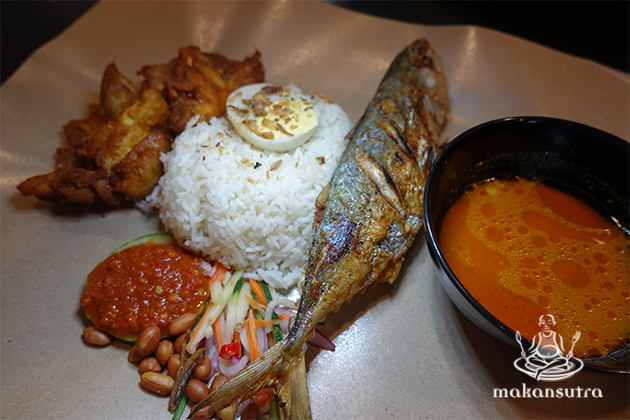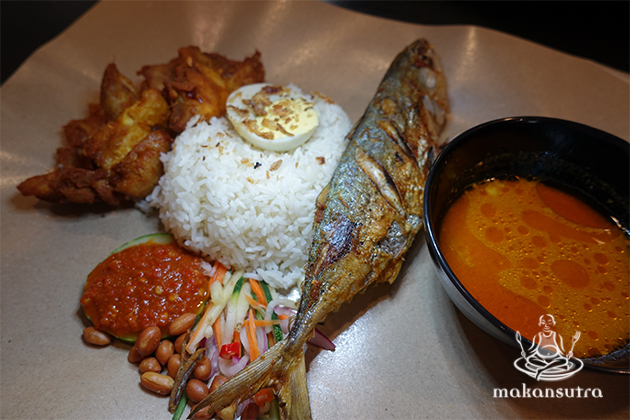 I had to order their Nasi Legend ($6.50), it just felt good with a name like that. It looks like nasi lemak- with that bowl of rice, sambal, fried chicken, half an egg, achar (pickles), a whole 10 inches ikan selar with nuts and cucumbers. But oddly, there was a bowl of curry alongside it. I realised the rice was plain-jane normal but transformed when you pour the mild masala gravy or curry over. You of course have to blend the blob of sambal in to maximise the "kick" and devour the fish with the ayam goreng berempah (fried chicken with a rempah laced batter). I will be back for this one. It kind of reminds me of Damian De Silva's full sized ikan selar Nasi Lemak at his defunct Big D's in Ayer Rajah, yet not quite.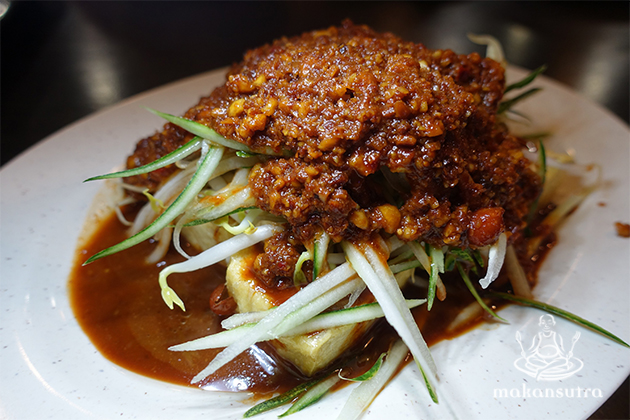 They prompted us to try the Tahu Goreng ($4). Two things about this dish often turn me off- one is the used of low grade tahu, fermented at higher temperature (because it's faster to make) and has a uncomfortable sourish tinge. The other is the overuse of tamarind in the peanut sauce. Two sours make a dour me. But this version hits the spot for me. The nutty peanut sauce was pleasantly spicy and sweet and the tofu- was like…tofu, well fried and soft inside.
I also had a go at their Assam Laksa. Frankly, I think this one missed the target. The kick of tamarind in the curry broth was just short of eye-blinking sour (which is a yardstick for me, especially in Penang) and weak on the fish flakes, rojak of torch ginger flower bits, and the dollop of hae ko, was too light for my liking.
"We bring all the sauces and spice pastes from their headquarters in Kuala Lumpur so we don't have to worry much about the kitchen issues." , and Derrick also adds that there's a lot more dishes in the original menu but due to non-competition clauses in the food court, they have to put them aside. I look forward to their Dry Spicy Laksa and their Yong Tau Foo.
Laksaamana
#01-25,Viva Business Park,
Blk 750 Chai Chee Road,
8am-9pm daily