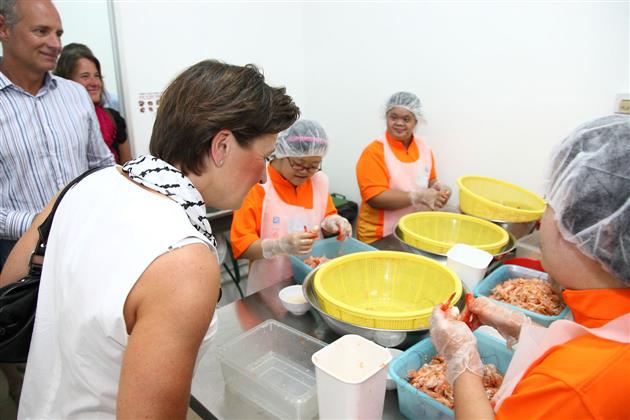 Laksania serves hope and fabulous laksa
By Catherine Ling - Wednesday, Jun 11, 2014
"I don't understand why my papa won't work," says a disabled young adult who preps ingredients at the Laksania central kitchen. He has a problem understanding that his father has a certain disability and cannot find work. This young man is the breadwinner in his family, but he is not the only one.
Laksania founder Madam Sim Sin Sin has been moved by many of these individuals who are marginalised not by choice but by birth or circumstance. She strongly believes they have a right to social integration, and she has seen how they can contribute. Laksania was set up to not only train and help the disabled stand on their feet, but also to serve seriously good food.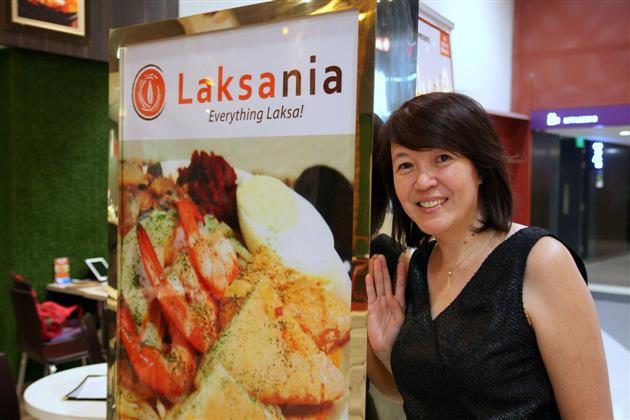 "I wanted to serve really authentic laksa like the kind I had when I was growing up in Kelantan. You may not see a lot of ingredients but there's lots of fish meat in the broth. My husband is from Sarawak and that laksa is different, almost herbal," she says.
Good laksa requires a finely balanced spice mix made by freshly prepared ingredients. And at Laksania, there are different varieties of laksa – from Kelantan, Sarawak, Singapore, and Penang – each with a unique taste requiring their own paste mix.
Madam Sim is fiercely adamant about not using pre-processed ingredients even though they are cheaper. "A bag of pre-chopped onions ironically costs half that of fresh onions, but taste is compromised. We'll do it from scratch. Unfortunately, that means my pastes are very expensive!"
"There are a few common ingredients like onions and garlic," says Madam Sin. "I have broken down the production process, and found that the disabled can be incredibly good at single focused tasks like chopping onions. They are quite happy to focus on that."
"Don't look at their disability. Look at what they can do. These are young adults who won't be staring at their mobile phones, or thinking of jumping ship for a S$20 increment. They are a very stable workforce," she emphasises.
Madam Sim may have hit on a small solution for the serious labour crunch in the F&B industry. There are 30,000 members of the disabled community who have gone through special education, but many of whom languish idly after their school years are over. There is an even larger number of mentally ill who can work but can't find jobs because of the social stigma.
"These people can be trained, best to custom specifications and not a whole slew of general functions. Train them to do one task, and one task well."
Some disabled are in sheltered workshops, which are little more than daycare centres, and earn less than S$70 a month. Madam Sim has brought some of these to her kitchen for half shifts where they can be paid at least S$500 a month.
With her wealth of experience in the past seven years working with the marginalised, Madam Sim is poised to develop training programs for companies interested in a share of the social enterprise pie. "It's not lip service or taking advantage of the six-month government subsidy. These kids can be valuable to employers. I always tell others that I cannot run Laksania without them."
The Impact Investment Exchange has assessed Laksania's social impact as "very high". Today, among the team at Laksania is a girl with autism once extremely quiet and withdrawn, but is now one of their best service staff. A Japanese girl with Down Syndrome is always cheery in the kitchen (her mother had brought her to Singapore so she could find better acceptance). Providing opportunities for these people has brought cascading benefits for their families – their parents can go to work, for example.
It's not been a smooth road though.
Madam Sim has put more than her heart into running Laksania. She gave up a cushy CEO job, sunk almost S$2m into the R&D, training, set up and operations. And when setbacks befell the business, she sold her landed home to help prop it up, all to ensure the disadvantaged folks behind the enterprise would not lose their jobs. But still, she had to close two of four outlets last year.
The warm-hearted lady is unusually candid about her early mistakes – no marketing, a central kitchen with no outlet for years, and inexperience with outlet design at her first cafe in NEX. But that's all in the past. She now has a solid product, but her expensive central kitchen is still underutilised.
One option that has opened up for making better use of the kitchen is supplying food for homes. She is setting up Social Bite with the motto "Good Food for a Good Cause", which will provide meals for places such as the Simei Care Centre which is also open to the public. No, laksa won't be on the daily menu there (it's a tad too rich and indulgent!), but there will be simple and healthy meals, designed with the help of a doctor who kindly volunteered nutritional advice.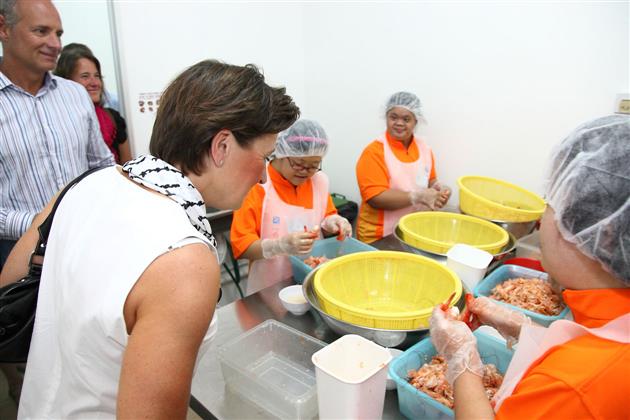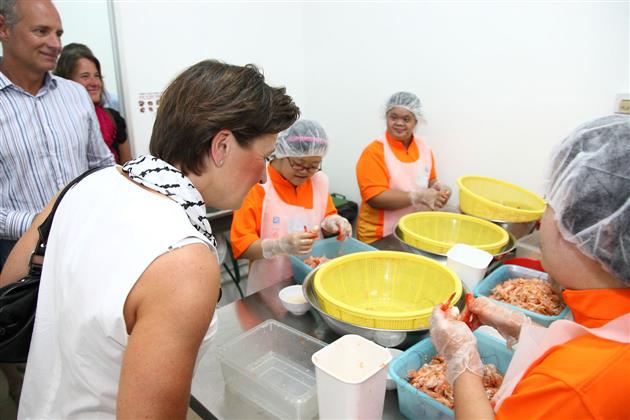 She has also been approached by NTUC to start bottling and selling her laksa pastes. But she is hesitant as she does not believe in buying readymade pastes in the market. The preservatives and additives required put her off. But she may consider selling her fresh chilled pastes by weight, perhaps as part of the deli. The pastes can easily be customised for other dishes like sayur lodeh.
Because of the financial pressure, many have advised Madam Sim to give up the social enterprise part of her business. But she is adamant and refuses to cave in to that heart-breaking suggestion. "It has been good for the soul. Life has become so much more meaningful when you can help these people. It's like a calling."
Perhaps it will all work out, with the new training and catering developments on the horizon, and more business expected at the JEM outlet when bigger office tenants move in this year. Laksania may be serving a bit of hope to the industry as well as the disadvantaged.