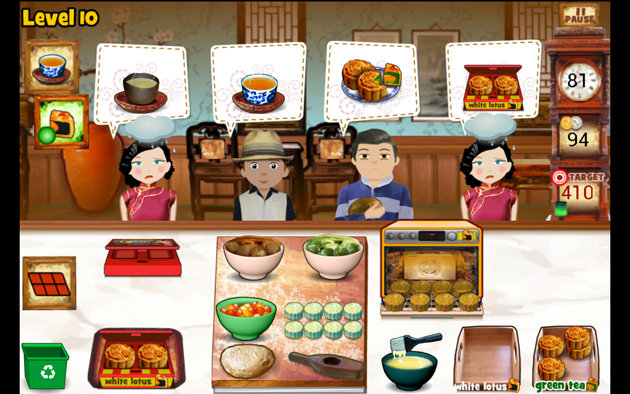 Lessons from Asian cooking game apps
By Joanne Yeo - Wednesday, Oct 31, 2012
As kids, masak-masak (playing cooking) has been one of our favourite past times. But times have changed and people have grown up and many are staying away from the kitchen and missing out the humble pleasure of play cooking. Enter technology, especially Asian cooking applications on your smart devices. Did you know that some of the Asian cooking game apps can give us a peek into the trials and tribulations of our F&B industry? Below are the three apps that can provide you with knowledge of our local food and festive culture and also learn some skills on how to operate a restaurant while having fun :

Food culture education: Kopi Tiam ( S$1.28 available on both iOS & Android) Developed by a local developer, this time management game allows users to run their own 'kopitiam' in three different themes (China Town, Malay Village and Little India) that reflect the three main ethnic cultures in Singapore. In Malay Village for instance, players can learn how to whip up traditional Malay cuisines such as satay, nasi lemak and mee rebus while in China town, a different menu of dim sum, Hainanese chicken rice and chilli crab awaits! As the customer queue gets longer, the players have to serve up the correct order before the customers flare up from the long waiting time and leaves.
The graphics are colourful and detailed, making the food very easily recognisable (and visually appetising!). What sets this cooking app game apart from the rest is the additional 'Food Alley' section that introduces players to the local food culture through images and description of the foods and drinks that are encountered while playing the game. Players can learn more about history of the foods and how they are eaten. For children and foreigners especially, this is definitely one fun way that to learn and understand the food culture in Singapore.
Food cooking: Mooncake Shop (S$1.28 available on both iOS & Android) Mid-Autumn Festival might have been over, but this definitely doesn't stop us from getting our hands virtually dirty by making mooncakes at the virtual mooncake shop. As the game levels up, more traditional mid autumn foods such as pomelo and snowskin mooncakes of different fillings are added on to the menu to increase the difficulty level. But amidst all these challenges, players can also learn about the different traditional foods that are consumed during this Chinese festival.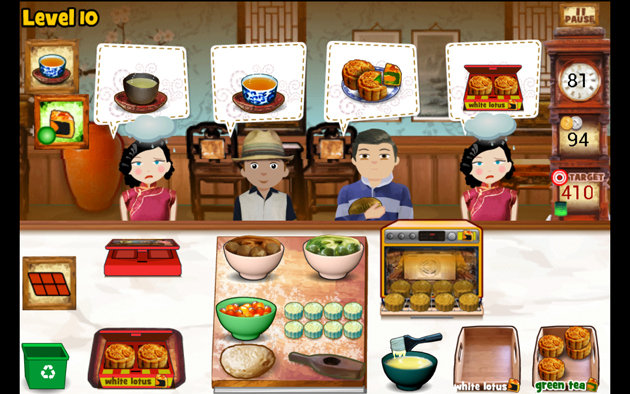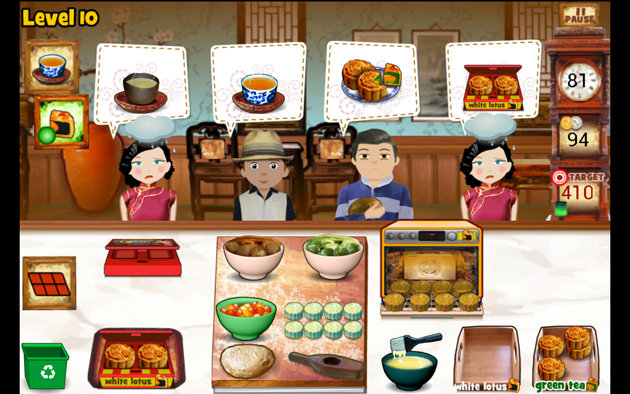 Created by the same developer behind Kopi Tiam, the Mooncake Shop app is also a time management game that challenges the player to prepare the various Mid-Autumn specials foods. Most cooking games in the app stores only require players to tap at the relevant ingredients needed and wait for them to magically assemble together. At Mooncake Shop, players can learn the step-by-step making, baking and finally, the packaging of these delicate mooncakes. This makes it a good educational tool to teach kids how mooncakes are made without all that kitchen mess. Coming from the same developer, we were expecting some form of brief history and introduction into the meaning of the Mid-Autumn foods, like what they had done for Kopi Tiam. But, this was sadly excluded in Mooncake Shop.
Restaurant operations: Sushi Bar (Free, available on Android) As the name suggests, players have to run a sushi restaurant to play. More than just a game of time management, players are also required to manage the sushi bar's operations from learning the recipes of the various sushi types, making orders when ingredients supply run low to appeasing customers for the long waiting time.
In terms of the time and amount of tasks given to complete at each stage, Sushi bar is more challenging than both Kopi Tiam and Mooncake who have relatively more patient customers (i,e. a longer time allowance). However, the game can be made clearer if players are given an introduction on how to make the different sushi types (like most cooking games) instead of being thrown into the restaurant as a clueless chef. Perhaps this is also where the game challenge lies!