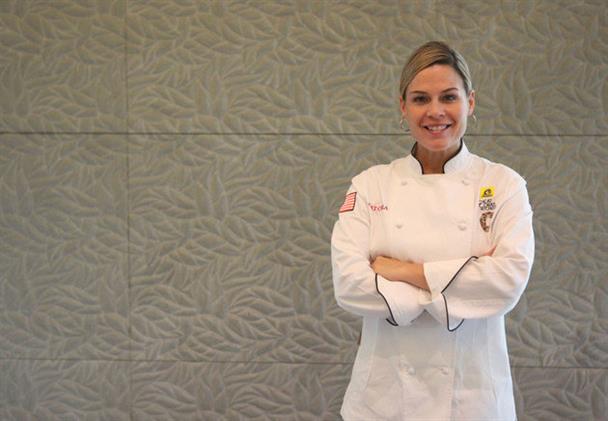 Let's Talk about Cat and Fish
By Tris Marlis - Monday, Feb 11, 2013
By now, you probably have heard– Iron Chef, Cat Cora officially joined in Resort World Sentosa's impressive line-up with her Ocean Restaurant, her first venture in Asia. When Sentosa opened the largest S.E.A Ocenarium in November, they knew they needed a chef with a name as majestic as their aquarium, and Iron Chef Cat Cora was a perfect fit.

The media is flooded with news about the new addition to the ever growing number of celebrity chefs in Singapore and the magnificent aquarium view that Ocean Restaurant offers is not off their radar either. But stardom is not what the restaurant is all about.

Iron Chef Cora is not your regular celebrity chef, she is a humanitarian who founded Chefs for Humanity to fight against hunger worldwide, she is UNICEF's nutritional spokesperson and in June 2010, Cat joined Michelle Obama in her campaign to provide nutritional guidance and education to schools nationwide.

When you step in Ocean Restaurant, you are in for a light, simple and healthy meal, using sustainable sources. Not avant garde, just a nice meal, partly for a good cause.

Along with RWS Executive Chef Alan Orreal, the restaurant is aiming to promote sustainable cuisine. Their seafood products are labelled by the Marine Stewardship Council, which recognises and rewards sustainable fishing.

Why sustainable seafood matter? Chef Alan Orreal explains: "For a very long time, we thought that the ocean is an endless supply of food that we could just take. Did you know that trolling from the bottom of the ocean is 70% by catch? That is unsustainable in any language, the ocean can't take it. If it continues like this, there will just be no more Red Groupa to eat."

According to World Wide Fund for Nature (WWF), Singapore is one of the biggest seafood consumers in Asia-Pacific with an average of 100,000 tonnes seafood consumed every year.

Now onto the food, the Cat Cora menu is a mix of Mediterranean, Californian and Asian cuisine. Cat Cora's signature dish, Coq Au Vin Asia—Lemongrass-Sake Braised Spring Chicken with Roasted Ginger accompanied with Thai Chilli and Young Bok Choy, is a mix of Thai, Japanese, Chinese and French.

"I am not gonna come in and re-create Chilli Crab. I am bringing what I think is unique, I am gonna come in and do Cat Cora's cuisine by embracing the Mediterranean flavours using local ingredients," says Chef Cora. The restaurant aims to acquire 70 per cent of their ingredients regionally, no further than 180km away.

From now until 28th of February, guests get to enjoy a 5-course set dinner promotion ($158++), with starters like Sous Vide King Salmon with Sustainable Caviar, and Vongole of Manila Clams with Spicy Fennel Sausage. For entrée, pick between Grilled Basque WagyuStirloin with Leek Bread Pudding or Artic Char Mandarin with Harbanero Glaze with Meyer lemon couscous.

Ocean Restaurant by Cat Cora opens daily for lunch and dinner from 11am-10.30pm For details and reservation, please call 6577 6869.