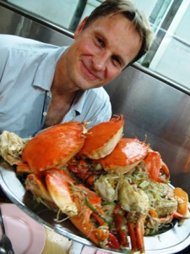 Like being "Caressed by God"
By KF Seetoh - Sunday, Sep 04, 2011
Halfway through devouring his chicken rice meal, he said it felt like he was being "caressed by God." If he was some high profile food reviewer or TV show personality, that would merely be colourful prose, the type that would be considered very quotable and entertaining. But he is Claus Meyer, the owner of Noma restaurant in Denmark, listed as the number one restaurant by the respectable S. Pellegrino list of top eateries in the world. That same list also recognise two Singapore restaurants- Iggy's and Andre. Claus runs Noma with his partner and executive chef Rene Redzepi.
Claus and his family, with their restaurant designer in tow, made a makan research trip to Singapore in late July with the assistance of the Singapore Tourism Board with one objective- to get a better feel for the Peranakan and local hawker food inspired restaurant he plans to set up in Copenhagen, tentatively named "Namnam". And over two evenings with Claus, I realise why he named his flagship restaurant Noma- short for Nordic and Mad, the exact kind of energy and passion I felt this man exuded over two evenings of dinner with him, the same kind that borders on madness or genius. I took him to three places for a taste "dissertation."
Wee Nam Kee Chicken Rice 275 Thomson Rd, 01-05 Novena Ville 10am-2am daily
They have been decreed a "die die must try" in our Makansutra food guide for a long time and it was one of those fail safe, no-brainer meals I felt he must have, despite him having another unmemorable version earlier on at the recently ended Singapore Food Festival. First thing he did was fiddle , smell and touch the chilli sauce, like a culinary maestro and madman. When the rice came with a platter of a whole chopped up chicken, he tore into the rice and then followed up on my suggestion that he have if with a few drops of thick soy sauce. That he did, with a huge chunk of boneless leg meat dunked in chilli with ginger puree. "This is bloody good.", he declared and went on to demolish the rest of it. Then a few cze cha dishes came- salted egg yolk prawns, fish head curry and fried yu tiao(dough fritters) with fish paste. The yu tiao was the first to go, followed by the prawns and he even gulped the fish eyes, at my behest as "it's sort of a induction ritual for fish head curry virgins" I remember extoling. At meal's end, he categorically declared- "every dish here can go into my new menu."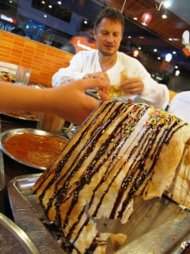 Casuarrina Roti Prata 136-138 Casuarina Road 7am-12am daily
He specifically asked for a prata meal and at that late hour, and our safest bet was this ride to Upper Thomson Road. They plied him with the works- regular, egg, crispy, banana, mushroom cheese and their signature chocolate chip prata. Their thick and rich chicken and mutton curry was ever-standby to seal the meal. He has seen and eaten at regular prata places but was intrigued by how the folks here took it a few notches up as he was tearing into the crispy chocolate prata. Like a honest and direct businessman, he asked boss Elangor if there was a young prata flipper he could hire for a six month gig at his new eatery in Copenhagen. "I could even work out some exchange program if you like" he offered as he washed the meal down with teh tarek halia (pulled ginger tea).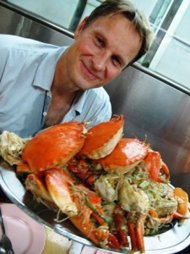 Sin Huat Seafood Resturant 659-661 Geylang Rd (junction of Lor 35) 6.30pm-12am daily
He had heard so much about this much loved and hated little coffeeshop seafood joint in Geylang and asked if I could present a meal there. 12 dishes and almost $800 later (if you knew had eaten here before, you will know that it's the regular price here), and like most first timers there, they gushed over the crab beehoon and adored the black pepper crayfish. He knew the crab beehoon was a tad complicated to make and immediately asked it I have the recipe for Danny's (Sin Huat's boss) crayfish dish. Of course I don't have the exact recipe nor usually cook mine over high fire cze cha woks but if he could make something even better of the version I offered, then it's a dish we all can look forward to at his new eatery.