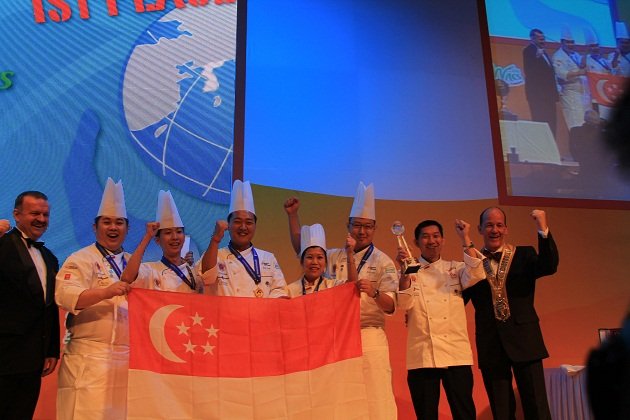 Local Chefs Strike Gold Overseas But Who's Listening?
By Lorraine Koh - Wednesday, Jun 13, 2012
The Singapore National Culinary Team brings home another gold medal, beating 14 other countries to take home the title at the International Food Fair 2012 but does it matter if you haven't heard about it?
"Unfortunately, the local media does not give as much attention to a win from the Singapore National Culinary Team as they do other food news," says Chef Tony Khoo, team manager for this year's Culinary Team.
Held in Korea, this is the first time that the Singapore National Culinary team is winning gold in the Restaurant of the Provinces category. This award is one of the many top place winnings that teams comprising of local chefs from Singapore restaurants have won in recent years.
Some examples include the Team winning gold at the Expogast Culinary World Cup 2010, an industry event held in Luxembourg.
There is also the once-in-every-six-year Salon Culinaire Mondial event held in Basel, Switzerland. Our national team was crowned overall champions at this prestigious event beating traditional giants such as Switzerland, Canada and France in the overall rankings.
Over the years, it has resulted in some recognition among international peers at industry competitions.
"Whenever the Singapore team are in an overseas competition, more of the spotlight and media attention is focused on us these days because they know that we will usually deliver above average results," says Chef Tony.
Unfortunately bringing in Michelin Star chefs into Singapore seem to create more buzz that our culinary national teams winning the big time. A stark contrast to the excitement generated by Singapore sports national teams like badminton, table tennis and football.
But Chef Tony is not sour. He is happy with Michelin Star chefs because they add to the vibrancy of the culinary scene in Singapore.
Eric Chua, Sous Chef of Unilever Food Solutions and one of the Culinary Team this year feels that these competitions help elevate Singapore, a little island, to greater heights in the eyes of the global culinary scene.
"Even in Singapore, being the winner means you get more people and fans coming to your restaurant. In competitions, competitors will start to keep a look out for you and this will make you work even harder creating exciting new dishes for competitions which in turn inspire dishes in our own restaurants," he added.
Prior to 2012's International Food Fair, the team trained for six months, to refine their culinary prowess and innovation.
Team captain Chan Tuck Wai said that they decided to cook pork, instead of the usual beef or lamb in order to show a real contrast of textures caused by braising but then also roasting the meat to get the perfect crunchy crackling.
The winning menu included an appetiser of scallop flan with shellfish emulsion, lychee-crab beignet (fritter), seared king crab on leek fondue and smoked milk foam.
The main course that the team presented was roasted pork loin, glazed pork rack, braised pork cheek and belly croquette, apple-celeriac gratin, horseradish espuma (foam) and sauce porto (a sauce flavoured with port wine).
It was finished off with a wild strawberry consommé jelly and a yuzu (citrus fruit) in a crispy meringue dome.
The food they presented is not something Singaporeans typically consume, which begs the question, why not local dishes?
"We do incorporate some local elements in certain competitions if the criteria allowed it. However, we normally try to incorporate the local produce in whichever country we compete in so that limits our choices," says Chef Eric.
Chef Tony adds, "A good majority of us are trained in western food so we do what is best, and I think that's what's important, doing our best."