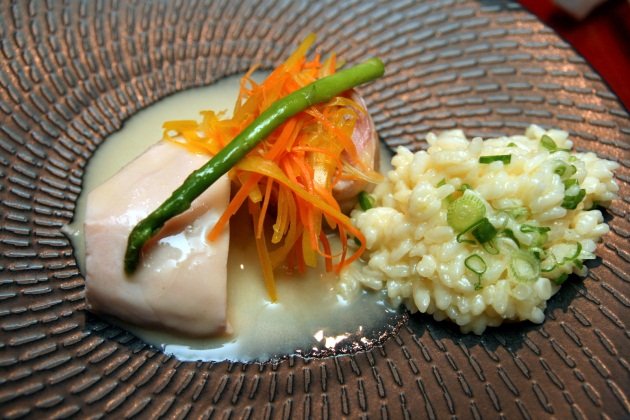 Local Dishes Reinvented
By Catherine Ling - Monday, Jul 23, 2012
Hong Kong chef Alvin Leung made a name playing with food, turning revered traditions on their head and creating totally unexpected interpretations of classic dishes. The chef of Hong Kong's Bo Innovation – which was the 65th best restaurant in the San Pellegrino Best 50 Best Restaurant list in 2010 – calls his food "X-treme Chinese cuisine" and aims to not only shock but delight whoever tries it.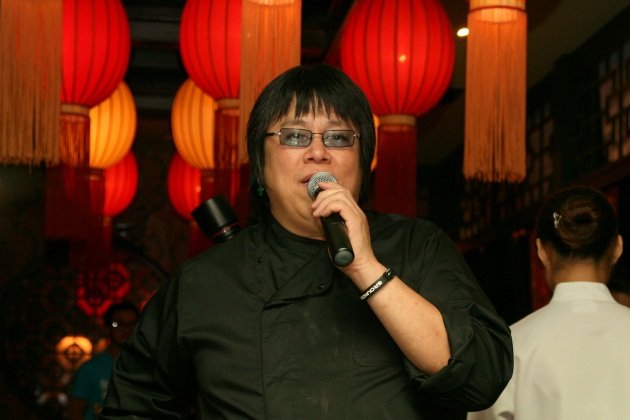 DBS flew him in for their Underground Supperclub in July to give his version of "Food for the Soul". Alvin who has been to Singapore many times, took the opportunity infuse flavours from local dishes into his some of his food. Take a look at the results.
We started with a trio of amuse bouche teasers.
The first one is Laksa. Like no laksa you have ever seen, no doubt. An spongy coconut foam with "hae bee hiam" (spicy dried prawn) inside, with two cockles on calamansi lime slices, all sprayed with "essence of laksa", a colourless liquid that bore the aroma of laksa.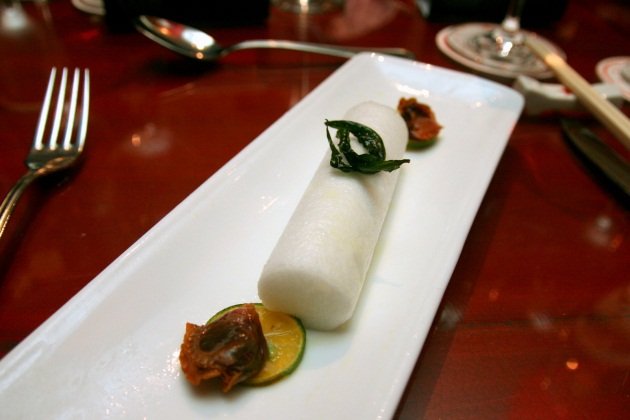 The second amuse bouche is "bak kut teh" or pork rib tea. Alvin was fascinated with the two kinds of bak kut teh we have – the clear Teochew variety and the dark, herbal Hokkien version. He reduced the stock into gelatin-like cubes which captured the flavour of each.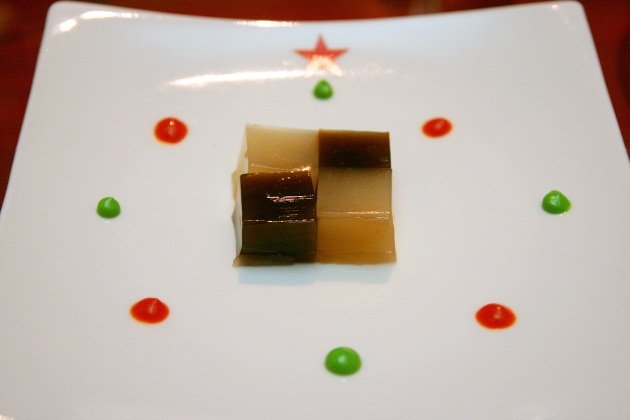 Can you guess what this last amuse bouche is based on? Believe it or not, oyster omelette. It's a poached egg with oyster-flavoured puree, topped with shaved bottarga, caviar and crispy Indonesian fish crackers. Most of the diners around me liked this one the best, although one of the chef's friends was forlornly looking for a physical oyster.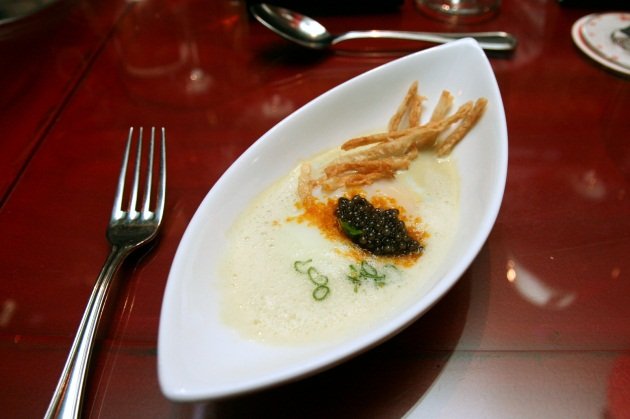 This next dish while not specifically Singaporean drew raves. "Mui choy" (preserved mustard greens) ice cream and "kau yuk" (stewed pork) foie gras. Preserved vegetables is probably a flavour you'd never think to attempt as an ice cream, but it is oddly delicious. Paired with the warm foie gras, the salty cold confection goes down a treat. Alvin credits his Hakka mother-in-law for inspiring this dish as she often used to cook mui choy kau yuk as comfort food.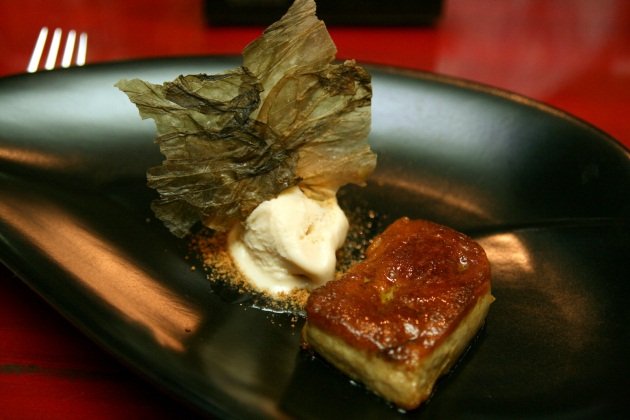 Of course, no Alvin Leung meal would be complete without his signature Xiao Long Bao, done the molecular gastronomy way. It's all the flavours of the soup dumpling encased in a jellified sphere. Familiar taste, unusual presentation.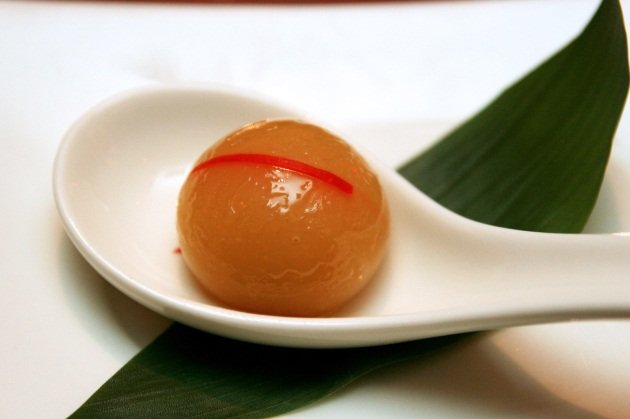 Chili crab in a souffle form with lots of crab meat at the bottom. Chef Alvin says he loves chili crab but hates the fiddly task of getting the meat out of the shell, so he decided to make this easy-to-eat version. It's a potent little pot, with incredibly rich flavours.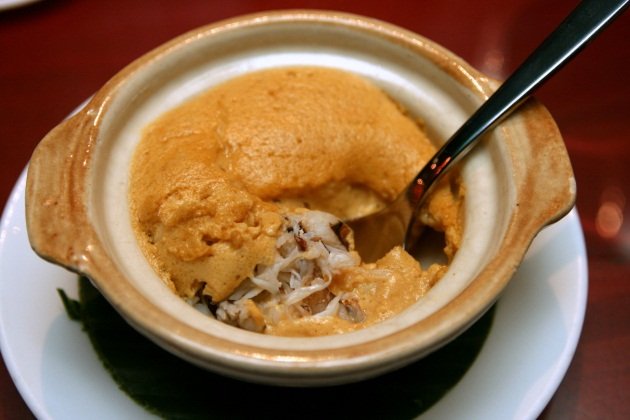 Chicken rice – organic chicken in ginger sauce, with a special rice that's been aged for seven years! This seems to be how Europeans would do chicken rice. One lady diner said she preferred our local chicken rice, but the Caucasian diners did not seem to mind this version.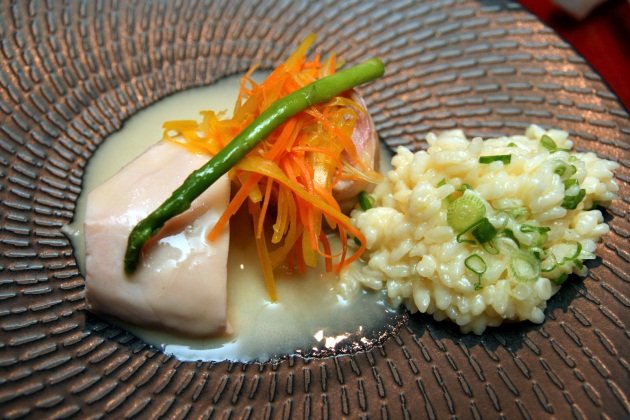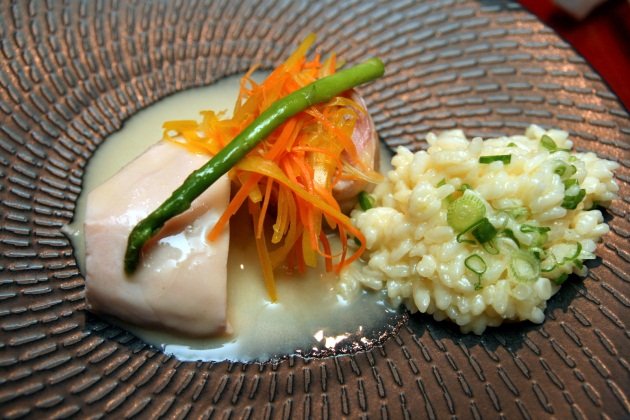 Some of these are mind-boggling departures from the original dishes. A few diners actually felt that the dishes were great on their own if they'd been served without any reference to the local dishes. Some confusion arises when the dish is nothing like the original, even though similar ingredients are used. But no matter what, the Demon Chef's rendition certainly jolts the mind and makes you think about how we often take for granted the dishes we are so familiar with.