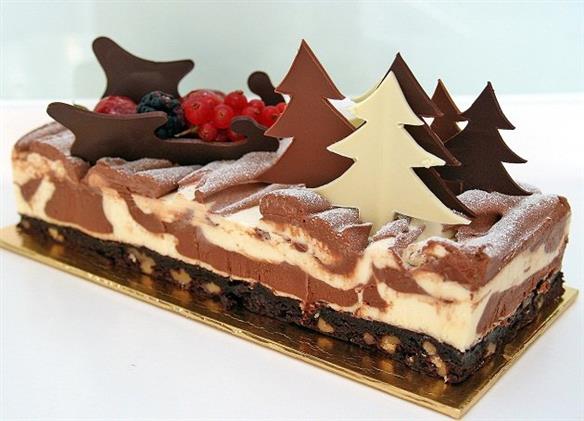 Log Cakes Yet Not Quite
By Catherine Ling - Friday, Dec 21, 2012
Log cakes are very much a Christmas tradition, and the log-like image will bring meaning to those in cold countries who really burn yule logs in the hearth for warmth and light. But after years and years of seeing the same thing, we're more than ready to take on log cake designs that aren't the tired, old, literal log facsimiles. Here are four log cakes that are much more chic and contemporary.

Goodwood Park Hotel  White chocolate-coffee log cake with kahlua profiteroles and espresso génoise (S$62++ for 1 kg) This elegant white and gold creation by Pastry Chef Joe Tan is such a departure from normal log cakes. It's not even cylindrical! This chic "log" is a blend of assertive coffee flavours and creamy white chocolate. When you cut into it, you'll find Kahlua mousse-filled profiteroles surrounded by a light sponge cake (génoise).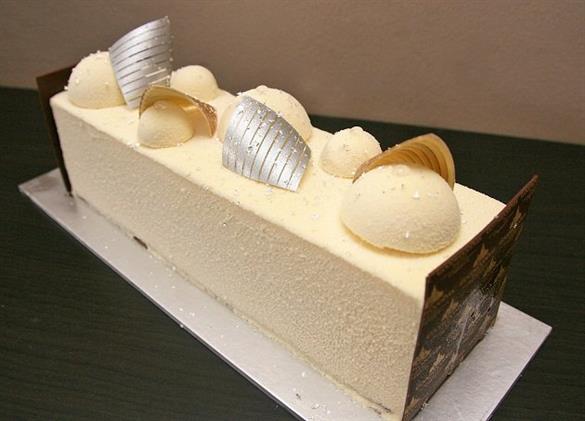 Four Seasons Hotel  Cherry Chocolate Yule Log (S$61++ for 800g) For the festive season, Pastry Chef Audrey Yee has created a sophisticated chocolate swiss roll with chocolate cream and a delicious cherry centre. The exterior is gleamingly glamorous, dusted with gold powder and topped with raspberries. You'll be quite happy to cut into this one.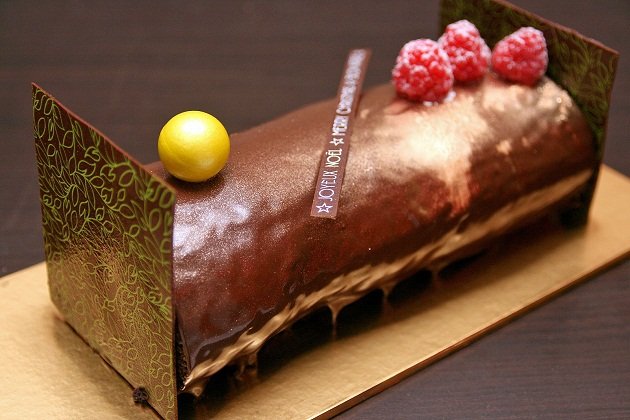 InterContinental Singapore  Peranakan Style Gula Melaka "Chendol" Log Cake (S$72++ for 1kg) As a nod to the hotel's Peranakan heritage, the InterContinenal designed a Gula Melaka "Chendol" Logcake. It is a luscious treat of fluffy Gula Melaka sponge with sweet red beans enveloped in rich coconut cream.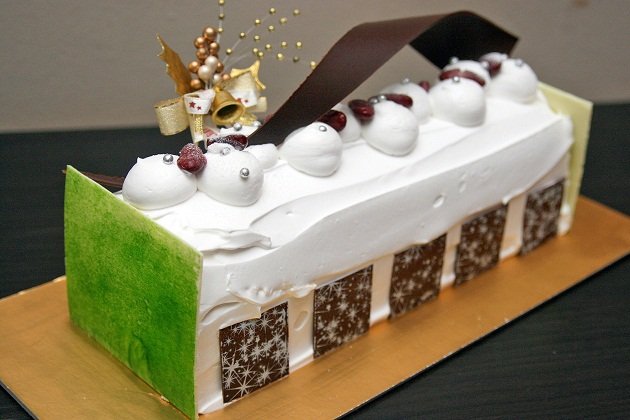 The Ritz-Carlton Millenia Singapore
  Marble Cheese Cake with Chocolate Brownie (S$58++) If you still like some semblance of a Christmas forest scene, the Ritz-Carlton's frosty creation comes complete with a chocolate sleigh filled with berries. It measures 26cm x 10cm which serves about 10 people.