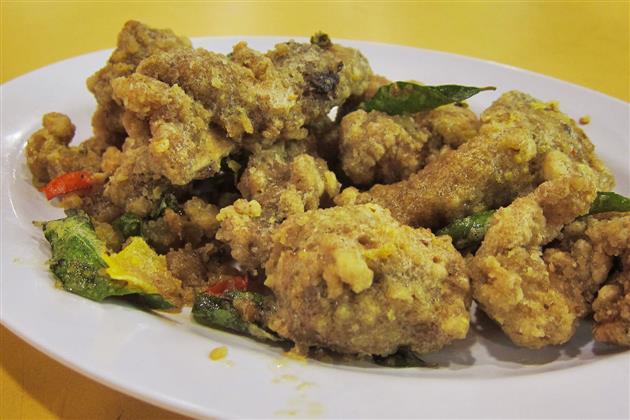 Long Ji Da Pai Dang: Salted Egg Yolk Pork Ribs to Die For
By TianTianChi - Tuesday, May 06, 2014
The customer in front was placing his order of crab bee hoon and enquired about the size. There were 3 in the group. When told the size ranges from 800g to 900g, he appeared shocked. "Why so big! I don't want to pay so much! Get me a smaller one and give me more beehoon".
I wrote about the restaurant one and a half years ago but was told recently the main chef Mac left to strike out on his own and the restaurant since had a change of ownership. I tracked him down with some effort and traced him to a tiny hawker stall on a buzzing Sunday evening. The menu is a heavily diluted version of what he used to offer at Golden Spoon Seafood Restaurant with some ubiquitous cze cha dishes and dish meals. I was more curious about how his old signatures fared.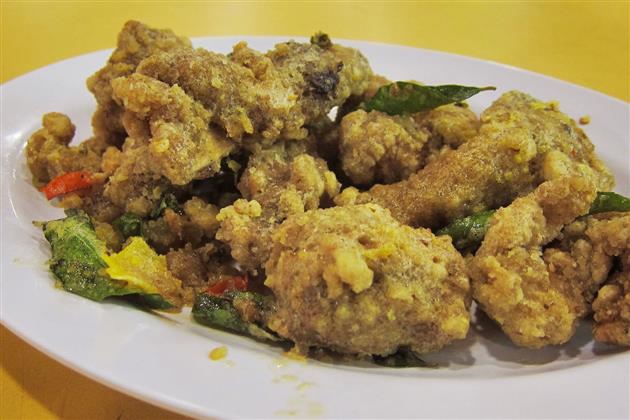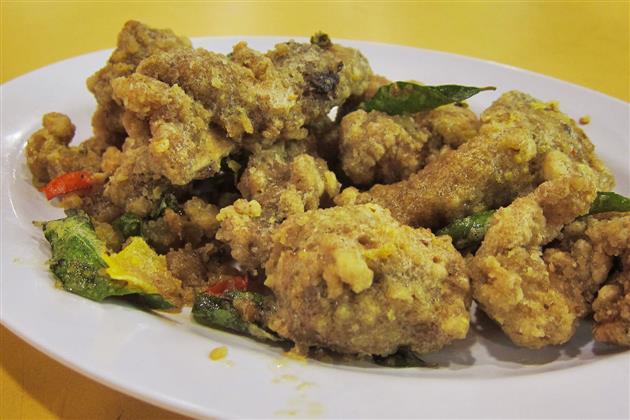 There were salted egg yolk and pumpkin sauce dishes done with literally anything there… and it's a bit boring. I didn't compliment the Salted Egg Yolk Pork Ribs ($10) before but ordered it again anyway. It was just a nagging feeling that I should, and this time I was totally blown away despite how it came looking like small mildew covered rocks. It was an ecstasy biting through the crispy battered crust, sinking the teeth into the well marinated and juicy pork rib enveloped by a layer of rich, buttery and saucy salted egg yolk. I take back what I initially said about boring salted egg yolk dishes.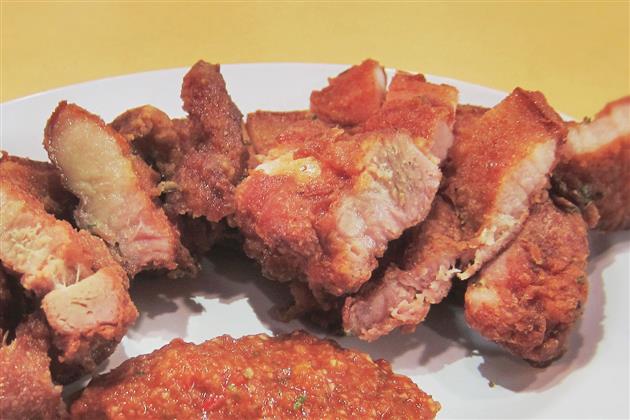 Nam Yu (fermented beancurd) Pork Belly had a mild but alluring scent of rose wine typical of the fermented beancurd and the sweet savoury flavour was well absorbed by the tender and not overly fat meat. I wasn't convinced about the slightly tangy chilli sauce that comes with it. It does nothing to enhance the sensation or the taste. The belachan chilli he serves as standard condiment did a better job.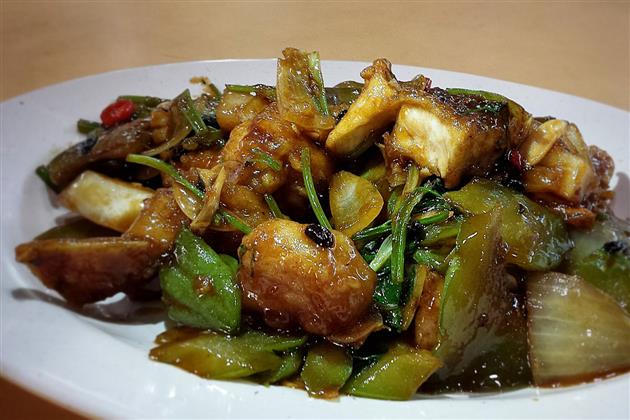 One of my favourites, the Fried Fish Head with Bitter Gourd ($20 per fish head) scaled new heights for me. The meaty and fresh red snapper head cut in chunks and patted lightly with flour was first deep fried . This seals in the freshness and juiciness of the fish meat and the mildly spicy black bean sauce clings to the slightly starchy and crisp coating. Of course the bits of pork lard made desecrating this dish even more delightful. I couldn't resist ordering a bowl of rice to go with this despite knowing the crab bee hoon was coming.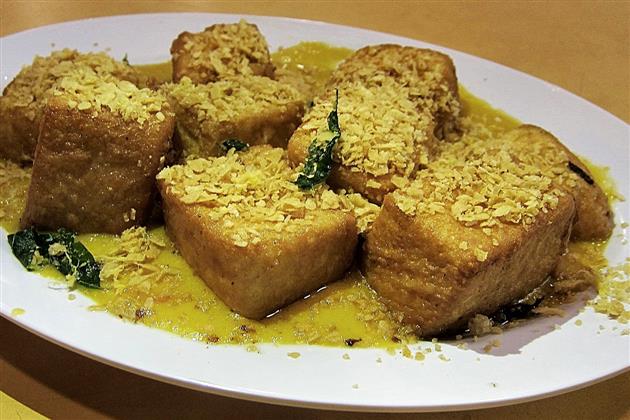 While I felt there was a good balance of sweet, savory and milky flavours, many chefs could do as good a Deep Fried Beancurd with Pumpkin Sauce ($8) too. It was the twist Mac gave with the generous sprinkling of cereal bits that made the difference. It added an addictive crunch to the soggy yet moreish beancurd (for soaking in the sauce) and also thickened the gravy. I resisted another bowl of starchy rice to complete the equation.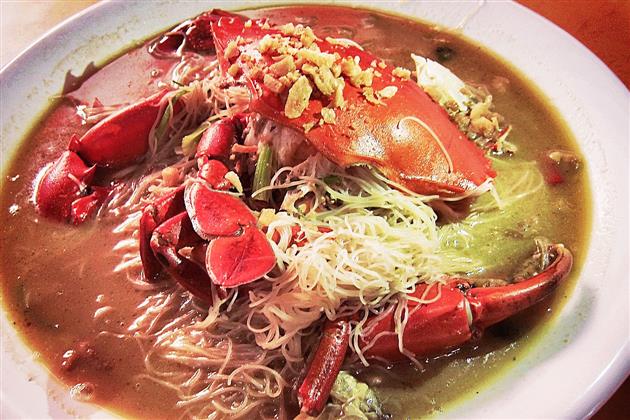 I had high expectations for the Crab Bee Hoon ($50 per kg). This is, after all, once the signature at Golden Spoon. I was advised when placing order that their crabs are the smaller ones weighing no more than 900g. While this is a decent size, I was concerned that it might not be sufficient to power up the flavour. I was even more surprised when the dish came with an ample amount of bee hoon. The more bee hoon, the more diluted the gravy is going to be and we all know that. But the flavour was still intact and so was the richness. There was however, a lack of depth. It felt like the crabs could do with a little more simmering to excavate its sweetness for the bee hoon.
"I am in a dilemma," chef Mac told me, "I am used to serving customers who demanded nothing but the best and they won't mind paying for it. This is a different ball game since I am now serving heartlanders. The expectations are different." Price and value are what these new customers are after and he has to cater to the needs, adjusting prices and increasing portions. Although many old customers have found him but they shy away due to the lack of seating space (the biggest hawker centre table there seats only 8) and there is no more air-conditioning comfort. His dream is to return to and start a restaurant. "This will keep my passion going, my skills constantly honed and most importantly to make my new customers happy."
Long Ji Da Pai Dang
Blk 115 Bukit Merah View #01-68
Hours: 5.30pm-10pm (closed alternate Wednesdays)
Tel: Chef Mac 97905682
Latest Update: Chef Mac is on sick leave, hence the eatery is closed till further notice.