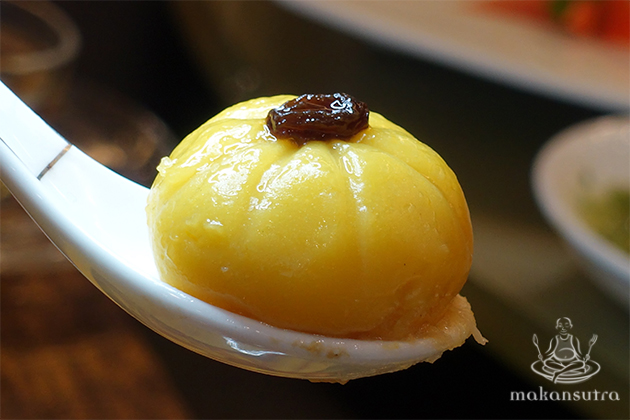 Lucky8 Restaurant: Lost Dim Sum
By KF Seetoh - Friday, Mar 31, 2017
If you don't often shuffle about this catacomb of a mall in the heart of Orchard Road, you won't realise there's this gem of a Chinese restaurant. Even if you do, it's hard to notice just what is so special about the menu. Flip the pages and it's the same old fancy delights, from roast duck to abalones and exquisite seafood, found in their leather bound, big picture menu. But there's a little A4 accordion fold menu that lists a few things you ought to try. Chinese food consultant and writer David Yip worked with them to introduce "forgotten and lost dim sum items", things he learnt from old Cantonese sifus in China adding "I told the boss, if you are just selling the usual ha kao, siu mai and baos, no one will come to this corner of the building just for it." So, restaurant owner Mr Legend Lin and head chef can co-owner Mr Tse Kit worked with David to introduce 12 rarely seen anymore little "snacks from the heart" late last year.
I was imaging just what can be so old and special that it became a "lost" dim sum item. I would believe these things get booted out of the menu because it is not popular as is the rule of evolution and progress in food culture.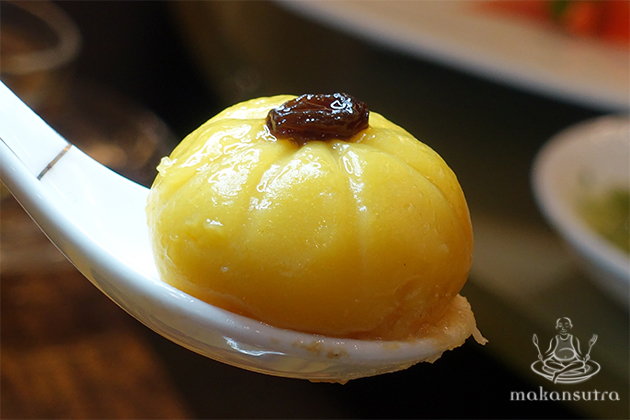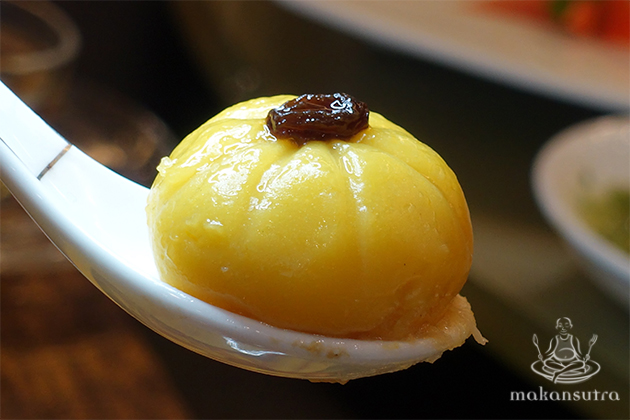 Then, the Seafood Pumpkin Dumpling ($6.20) came along, with a skin made with the flesh and flour and dressed in a pretty orange hue stuffed with minced seafood. The skin was soft and lightly gummy, resilient and sweetish and paired well with the savoury fillings. I wondered who on earth would let this "get lost". I thought the next item looked like it should remain lost.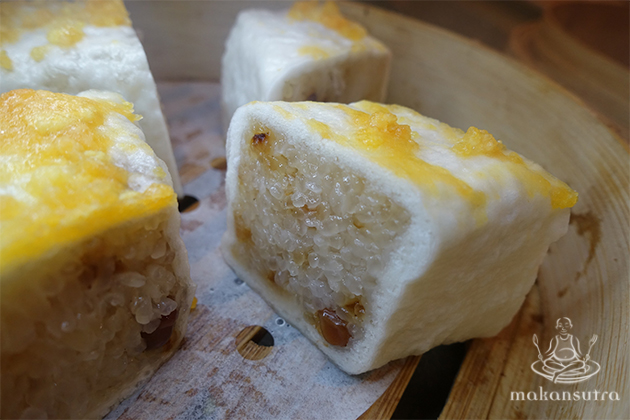 The Steamed Traditional Glutinous Roll ($5.20), was a chunk of that soft rice rolled in popiah skin and steamed. Then I took a bite, and realised this was all about flavour and texture. The grains was consistently soft and the bits of haebi hidden inside was delightfully held in place by the skin. At this stage is was thinking what else can they possibly surprise me with, a some sad looking Steamed Dumpling ($6.20) which was a soon kueh lookalike.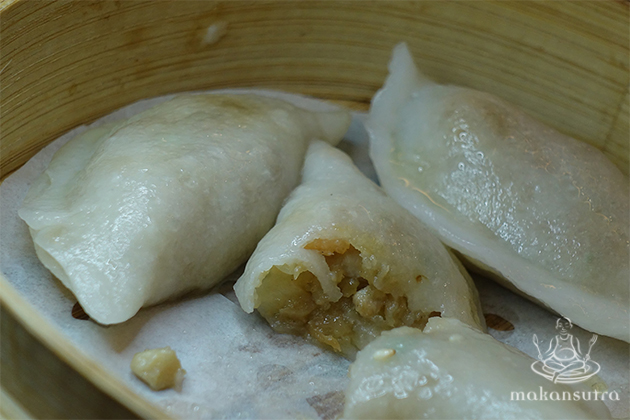 But in situations like this, I never let the eyes do the eating. The startling difference was the skin, David says it's made of cooked rice mash and it was that texture is was taken in with. It came sans the chewy bite and the softness of the skin partnered well with the chopped meat and greens filling.
The item I was particularly curious about was the fried ha kao or Crispy Fried Prawn Dumpling ($6.20). Again I was taken in by the skin- it was similar to the hum sui kok or salted dumplings, made with sweet potato starch and some baking flour, which when fried, has a textured and bubbly skin that was crispy yet gummy. I adored this one.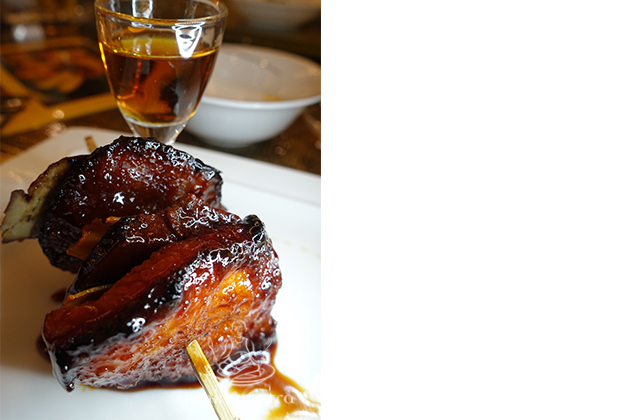 Then they brought out an "advance order only" Golden Coin Chicken as some customer ordered it earlier. Pieces of bbq bak kwa, chicken liver and fatty pork is skewered is roasted with cha siew sauce and served with a shot of brandy (believe me, it went well together). Such sins should be committed ever so often and in moderation.
Not all the 12 items are available everyday but a least six are offered any lunch time. Go ahead and have fun looking for this place, now that you know what gems reside in the menu and yes, they also offer the usual ha kao, siu mai and baos for the kiasu dim sum lovers.
Lucky8 Restaurant
Shaw Centre, I Scotts Road
#03-07/11
Tel: 68363070
Mon- Sat 11.30am-3pm/ 5.30pm-10pm
Sun..from 10am.