Makansutra Hawkers in Manila- Closed
By KF Seetoh - Monday, Sep 12, 2016
Updated on 7 August 2018- Closed
It had been a year coming, fraught with complex building issues, ingredients sourcing problems, lack of proper local equipments and expertise.. among others. But Makansutra Hawkers was eventually launched in Manila. So, with 11 stalls and a refreshment and snack station spread over about 14,000 sft of prime retail lifestyle space in their top SM Megamall. With great support from our technical advisors Anthony Kweh and Mr Y R Seow, we created one of the most modern but retro looking heritage food halls in Manila.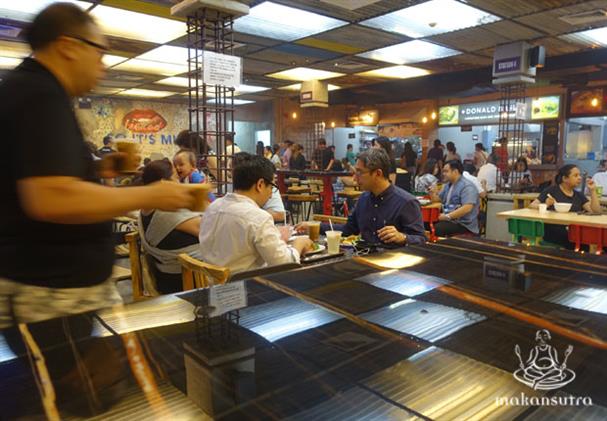 Five famous hawkers and street food restaurants from Singapore and Malaysia made their first international debut here- Geylang Claypot Rice, Alhambra Padang Satay, HK Street Old Chun Kee, Jin Ji Braised Duck and Kway Chap and the iconic Donald and Lily from Malacca. All, except for Geylang Claypot Rice which is a stall requested by show host Anthony Bourdain for his Bourdain Market in New York, were featured at the recent World Street Food Congress held in Manila. The other stalls were new hawkers licensed under Makansutra and trained by the hawkers in the team and myself. There's Mian Ji (fried Hokkien prawn mee and soup version), Baoji Xiang (Chicken rice and paper wrapped chicken), Ah Tee (oyster omelette and carrot cake), Adam's Ribs ( bak kut teh), and Curry Flurry (roti prata, fish head curry and nasi briyani).
At a press preview and tasting session, 50 food and lifestyle media folks came and many are familiar with Singapore food, including Ms Claudine Trillo from CNN Philippines. They were treated to a spread including salted egg yolk crabs, claypot rice, oyster omelette, bak kut teh, fried hokkien prawn mee, French beans with crispy minced haebi and more.. all, cooked by the Filipino chefs.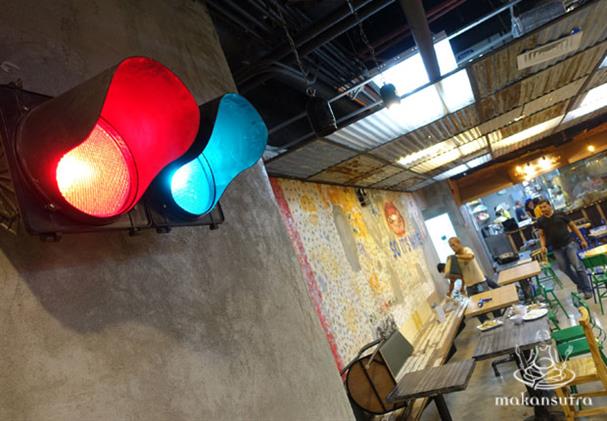 The design is a throwback to the era when street food was deriguer and was like a treat, back in the 60s and 70s. We used corrugated zinc sheets for a ceiling and plain polished concrete floor with graffiti on the walls, construction beams smack in the middle of the eatery and the furniture don't match. Here's a highlight of the food and place.
Paper Wrapped Chicken Noodles (from Baoji Xiang stall)- sesame oil and sambal wanton noodles with pieces of wine, ginger, pepper and soy sauce marinated chicken chunks.
Oyster Omelette..done crispy, eggy and starchy gooey with local oysters and a own made lime, vinegar and chilli sauce.
Claypot Rice.. they wood-fire bake it from the bottom and sideways so it has crispy roasty but not charred bits of rice topped with chicken, Chinese meat and liver sausage plus salted fish.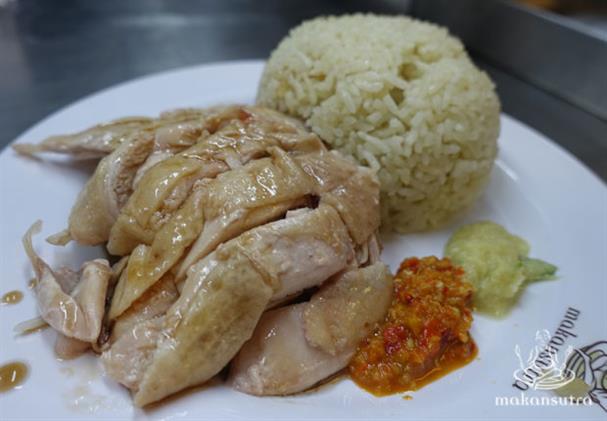 Chicken Rice.. I remember this the old fashion way and that's how I taught the team to do so. It all comes in one hearty plate with a mount of garlic, ginger and pandan laced rice, with the three dips of soy sauce, ginger and chilli sauce placed at the side.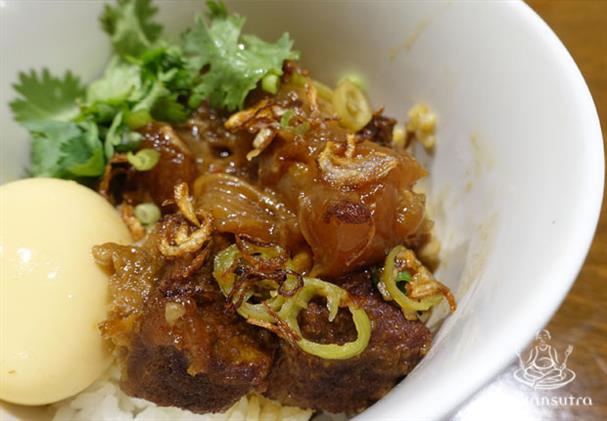 Beef Donburi.. this is a new dish created by our local partners, which is a spin off from their Pared braised beef. A bowl of rice is topped with slow cooked beef, tendons and tamago egg. Extremely hearty.
Jin Ji Kway Chap.. This was a hit at the recent World Street Food Congress in Manila and they the same eager response. All the Filippinos did not realise offals can tastes this good, especially with the tangy sambal.
Nachos with Salted Egg Yolk Sauce.. Just good old plain crispy nachos with a bowl of curry leaves and chilli laced salted egg yolk sauce dip.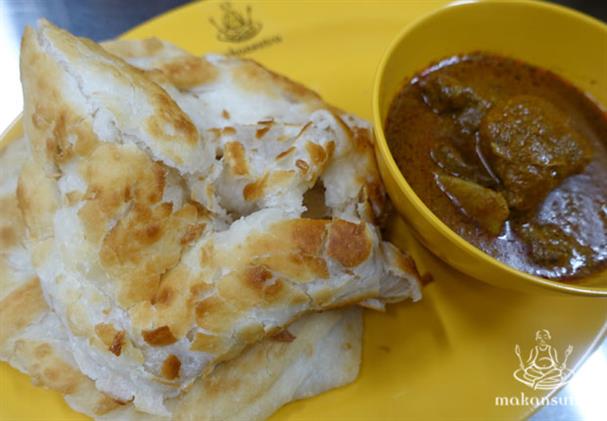 Makansutra Hawkers
2/F SM Megamall Building A,
Mandaluyong City, Manila, Philippines
10am-10pm daily