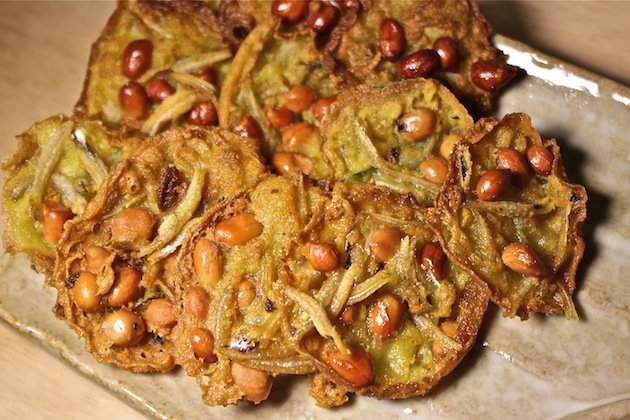 Making that peanut and anchovy cracker – Rempeyek
By Tris Marlis - Tuesday, Mar 12, 2013
Rempeyek is the savoury peanut/ anchovy cracker brittle. It is batter with rice flour and coconut milk, and its topping of dried anchovies and peanuts somehow reminds us of a deconstructed Nasi Lemak. With spices like coriander, turmeric, cumin and candlenut, plus a subtle citrus scent of kaffir lime leaves… This snack is complex yet so simple and easy to like.
The best time to savour Rempeyek is during the Hari Raya celebration when our Muslim friends would make this snack for guests. Although the pre-packed Rempeyek is available at the market all year long, it can't be compared with the freshly made ones, as the fragrance and crispiness of the former tend to diminish after a while.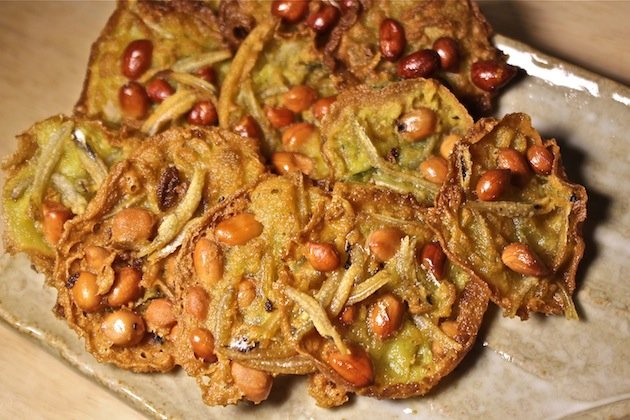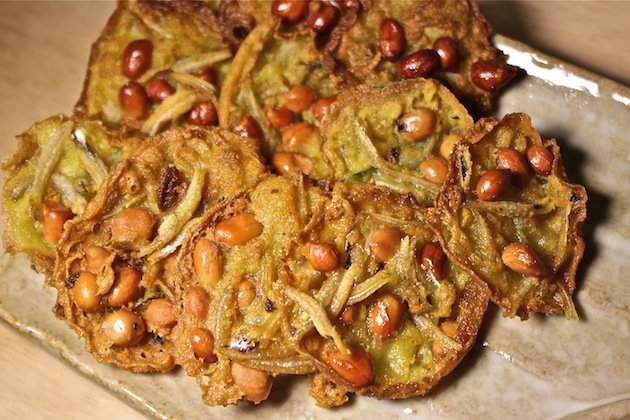 Fret not. We have a simple Rempeyek recipe so that you can make it at home.
Ingredients:
250g rice flour 500ml diluted coconut milk (300ml coconut milk with 200ml water) 1 tbsp of coriander 1 tsp of turmeric 1 tsp of cumin 1 tsp of fennel 6 cloves of garlic 5 kaffir lime leaves, julienned 1 tsp of salt or to taste 100g of peanuts 100g of dried anchovies 300ml vegetable oil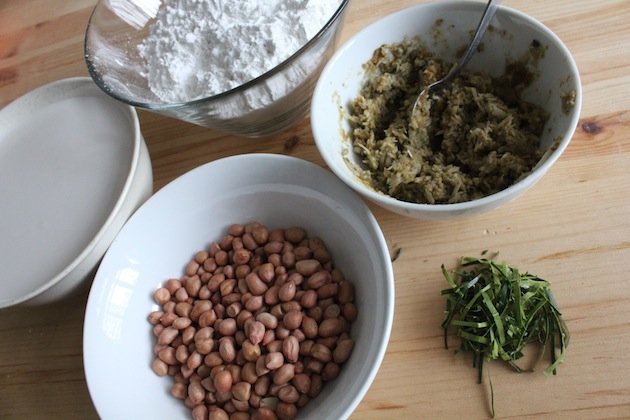 Method:
1. Ground garlic to form a fine paste. Mix it with coriander, turmeric, cumin and fennel.
2. Add in rice flour and coconut milk, and stir.
3. Add kaffir lime leaves into the dough batter. Keep stirring until the batter is smooth, runny but not overly thin. Set aside.
4. Pour oil into a wok and heat it up over medium-low heat.
(There are a few ways to fry Rempeyek. We prefer to keep it round, so we use a flat spatula (slightly hollow is fine) to hold the batter and then submerge it in the hot oil. If you don't mind irregular shapes, one way is to gently ladle the batter along the side of the wok, a little above the oil line. Then ladle hot oil over the Rempeyek to let it slip into the oil.)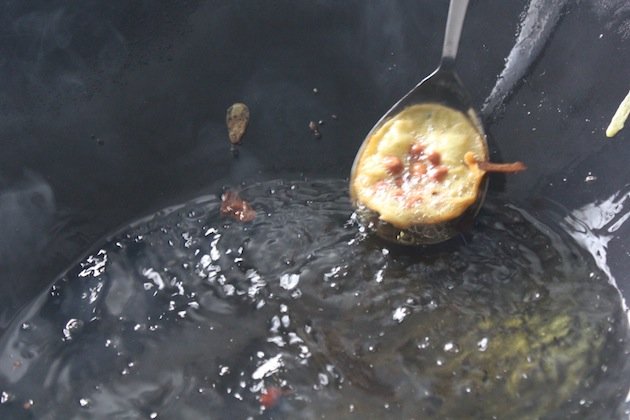 5. Take a spoonful of batter and spread it on a spatula. Top it with peanuts and dried anchovies, quantity according to your preference.
6. Submerge the spatula into the pool of hot oil to deep fry.
7. When the batter turns slightly brown, gently shake it off the spatula. Allow it to fry a little longer until it becomes lightly brown and crispy.
8. Remove the Rempeyek from the wok and place it on a kitchen towel to remove excess oil.
9. Repeat Step 5 to 8 until all the batter is cooked.
10. Store the Rempeyek in airtight container.
Note: Since the batter is made of coconut milk, it is recommended to fry it while it's fresh.