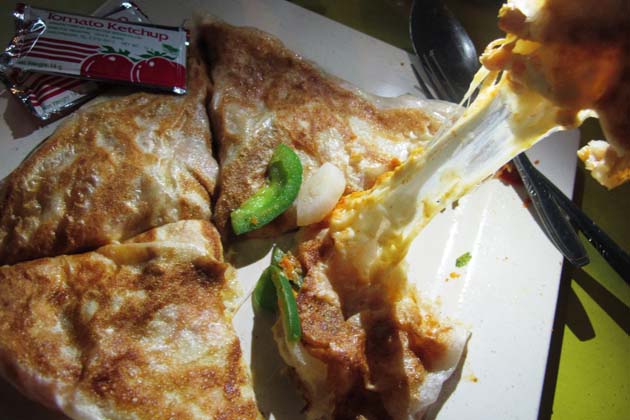 Making the Deen's List
By KF Seetoh - Monday, Sep 30, 2013
Teh tarek, mee goreng, nasi goreng, roti prata, murtabak, milo dinosaur, bandung, sup kambing, etc… Place them all in the food culture blender, hit the " spin" button, and out comes the mamak stall heritage. Mamak is an endearing Indian Tamil term for uncle.
Over the decades, mamak stalls have come to mean more than a place to tear into Singapore style Indian food. These are little spots where you hang out, eat and meld into warm conversations over hot beverages. It is something that's part and parcel of our makan heritage. If you think this was inherited from our Indian migrant pioneers, think again. Technically, a mamak stall is an Indian coffeeshop, but what makes them distinctly different is their menu.
For starters, they don't naturally or commonly offer roti kaya, and their coffee, uses a different blend of beans which tastes nothing like a Hainanese kopitiam version. Their range of refreshments and beverages are often mind boggling – kopi tarek, teh halia (pulled ginger tea), teh tarek, Milo dinosaur (think chocolate topped with coco powder), halia kosong (ginger water), teh cino and kopi cino(their version of cappuccino with tea and coffee), are the usual mainstays. Their cold drinks include lychee ice, blueberry (something more commonly seen of late), bandung (cold rose milk tea), ice limau (sweet calamansi lime) and even ice longan.
Naturally, a new migrant or tourist imported from India will find it hard to call this their own, for most of the food offered at mamak stalls are not common fare to them back home. You won't find mee goreng in India, safe for the Chindian (northern Chinese Indian fare largely influenced by Szechuan flavours) fried noodles.
There's also sup tulang, a mutton bone stew, done in a shockingly red sauce. You gnaw around it, suck on the marrow and dip bread into the moreish sauce, which leaves you with lipstick red mouth and fingers. This is a uniquely Singapore dish and experience.
The Deen of Sup Tulang
A few places in Singapore are known for its little confluence of mamak stalls. Drive along Bedok Simpang area and you'll see a row of these pack stalls where the customers spill out to the five foot way and even the edge of the street. Another enclave is the Jalan Sultan and Beach Road area. Because of its proximity to the Indian Muslim mosque, the area was once dotted with street side mamak stalls back in the day. Many have relocated to the Golden Mile food centre. At least four stalls have the "Deen" name in their brand in that area. So what's with Deen and who's the real McCoy, and does it matter.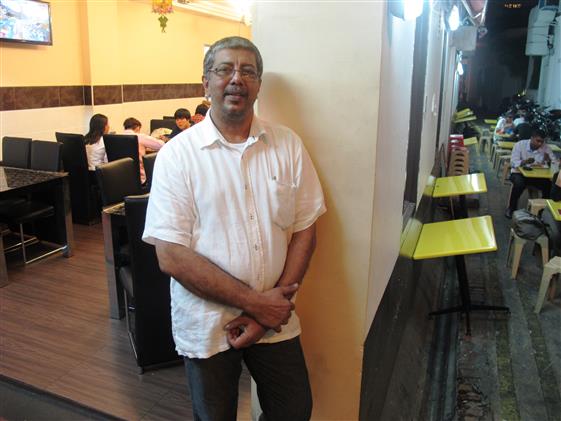 "Deen is a common name," say Ariff Abdul Jabbar, a third generation Indian Muslim hawker who runs his famous MA Deen Biasa mamak stall. "We did not have stall names and I started that brand in 1996," and informs me that it's now a registered business name entity. So "cannot anyhow copy." He sold his little hawker stall at Golden Mile food centre in 2000, because he says, "I had worker problems, cannot hire more as we were not a 'private limited' company." He later took a corner shop lot, with side lane alfresco seats, along Jalan Sultan that same year and expanded his head count, including the menu. "I cannot do anything about the similar shop names in the hawker centre, they sound the same, but it is not. Bo pian," Ariff tells me, and emphasised his helplessness in Hokkien, in true local Singapore style. Pop by the basement of that hawker centre and you'll see "MA Deen Rasa", "Deen Tiga Rasa" and "Deen Tulang Specialist." All of which matters nothing to Ariff as he now operates a "full fledge" mamak stall with "the works" menu, unlike his hawker stall counterparts.
Ariff recalls that it was at the behest and suggestion of late night supper customers decades ago that gave rise to the iconic and red sup tulang dish. "They came so late, asked what left and the cook dug deep into the mee kuah (a reddish mutton stock noodle dish) pot and dredged out some bones and served it with bread." It was a hit and the rest is Singapore makan history.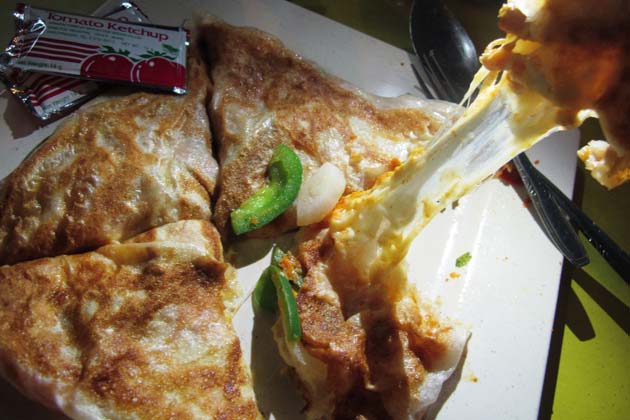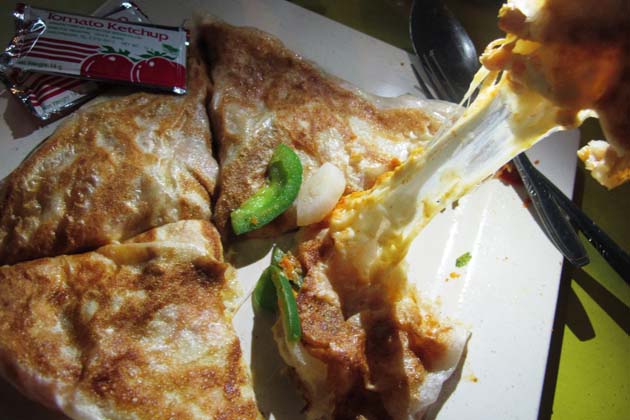 Although it is one of his best sellers, I found favour with a couple of his newer creations. I was curious about the chicken and mushroom mee goreng and it came looking bland and light brown. But I don't know what masala blend he buried in the wok, as it came out savoury with hints of white pepper. The button mushrooms gave it an unusual touch, an ingredient not common at mamak stalls. Then I was pleasantly surprised by his "pizza prata." Putting cheese into prata is nothing new, but Ariff went a notch further, he introduces julienned capsicums and offered tomato ketchup as a dip, not curry. Nice touch. His sup kambing (spicy mutton soup) is one of the best around, he carefully skims the fat and oils as he brews and the resultant broth is not so gamey yet rich.
M.A Deen Biasa
95-97 Jalan Sultan
Hours: 12pm-4am daily