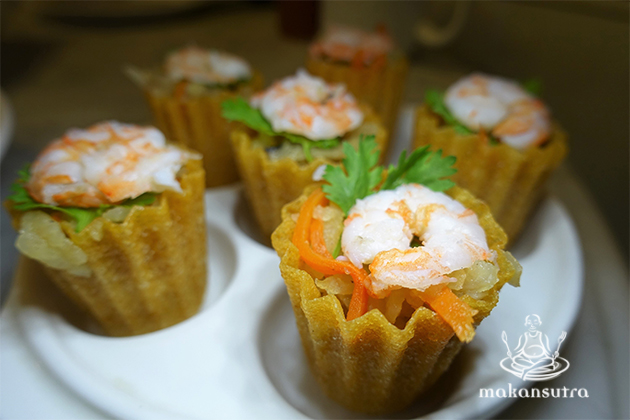 Makko Teck Neo Nonya Café: Mark this Nonya Makko
By KF Seetoh - Friday, Mar 09, 2018
The first thing that struck me here was the location, a cul-de-sac end of a HDB row of shop lots, framed by black and white bamboo curtains coloured with Nonya touches and lanterns. Push past the sliding glass doors and the cool interior reminded me of Nonya cafés I ate at, in Malacca- with a very loud counter be-decked with takeaway Nonya snack and kueh-kuehs. I thought they were related. Mdm Shreen Peck or Makko Teck Neo (aunty Teck Neo), 66, had been running this charming little corner café with her sister and son for nine years now and I wondered why had not been here before. It's a quietly lovable mini-HDB-village centre that has a little hawker centre and wet market. Everyone in the area is a resident or a regular visitor, no casual drop-by visitors around.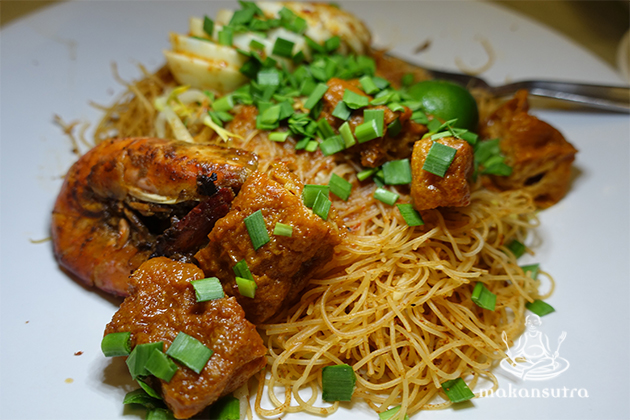 The menu was quite extensive and a few things stuck out. So, it was Dry Mee Siam ($5.80) for a start. The orangey beehoon was not too soft nor irritatingly stringy and tossed in a rich mee siam rempah with a couple of spoonful of sauce or kuah. Squeeze the lime in and it was the start of a promising meal. It came sweet and tangy and the sambal prawn, fried tau kua and boiled egg gave this the added edge.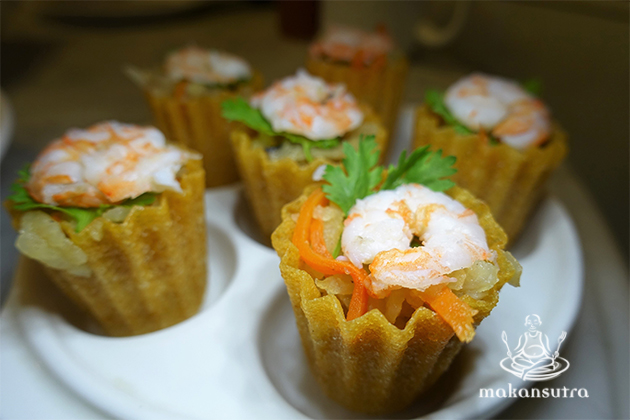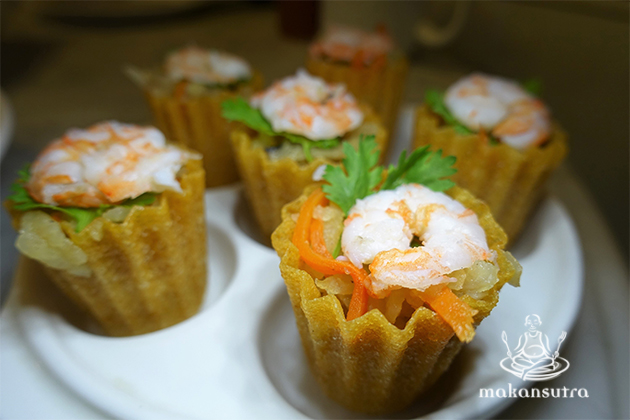 The Kueh Pieti ($9.90) was classic- with a half shrimp topped over the crunchy soft turnip and carrot stew in a crispy top-hat cup. Of course, it transforms when you put a drop of the tangy chilli over it. I ordered a rare and not totally Nonya dish- pork chops with a tomato sauce. It came battered and fried and was soft inside, but I had wished it came freshly fried to max the texture and intensity.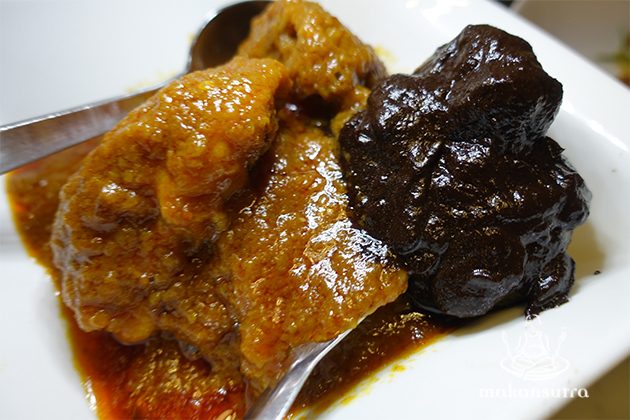 We had to order the yardstick-dish- Ayam Buah Keluak ($16.90). This one was memorable because they braised the chicken chunks in a thick rendang-like rempah and served a huge dollop of the keluak paste with the black nuts over it. You blend them as you wish and it was beautiful over nasi. They fried and blended the black nut paste before re-inserting back in the shell. This was washed in with the Kiam Chye Tng ($10.90) or salted vegetable pork ribs soup. The sour and umami balance was well controlled. I could tell they blanched, soaked and "de-salted" the mustard leaves before cooking it.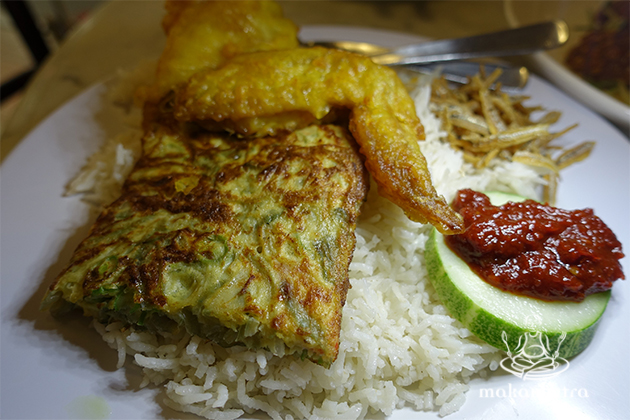 The Nasi Lemak ($5.80) had all the prerequisites (sans the ikan selar)- like a fried chicken wing, cucumbers, ikan bilis and sambal. But the outstanding touch was the chopped string beans omelette. It lend a sweet and added crunchy touch to the meal. Another anomaly was the Tahu Goreng ($6.80)– it was good because firstly, the tahu was of a good grade, devoid of sourish over-fermented hints and a crunchy thick and peanutty sauce sat over. It was done sans tamarind in the spice- something I like as the tanginess can mar my affinity for this dish.
The Bu Bur Cha Cha ($.4.90) was one of the best I've had in a while. They stewed the ingredients (tubers and jelly) softly and the rich coconut milk was nicely tempered with the gula Melaka. I also like their kuehs. The Rempah Udang ($2) spicy dried shrimps wrapped in glutinous rice was delightful with the grains coloured by blue pea flowers. Yes, there's a lot more dishes I will be back for, hang in there Laksa!
Makko Teck Neo Nonya Café
Blk 35, Telok Blangah Rise, #01-303
Tel- 6275 1330