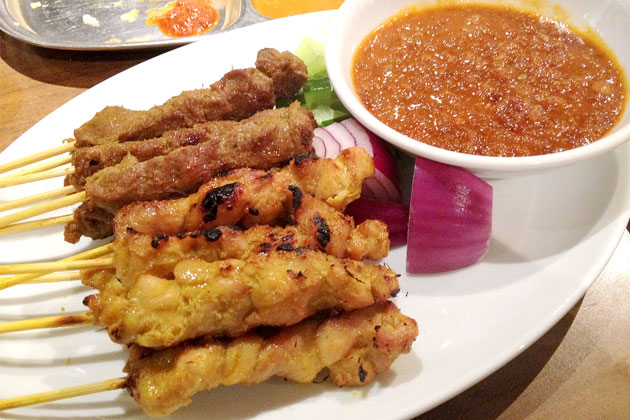 Mamak's Roti Succeeds in Australia
By Catherine Ling - Thursday, Jul 03, 2014
Would you pay S$6.50 for a roti canai or prata kosong? Yes, one single piece.
Oh, many people are queueing to do just that. Down in Sydney's Chinatown, this bustling little shop called Mamak draws tourists and locals alike for its roti canai (or prata) satay and other authentic Malaysian street food. It's ironic but it even attracts Malaysians who can get roti canai back home for a tenth of the price. Hey, we have to see if it meets the mark, right? Fortunately, this one does, and Mamak has earned a reputation for authentic Malaysian street food.
Mamak is almost a Sydney institution, but their beginnings were humble – in Chinatown's Friday night food market. Their roti-flipping demos and delicious food made them a highlight, and they soon had to open a proper sit-down eatery.
When they set up at Haymarket, long lines snaked around the block. Now seven years and two branches later, there are still queues – a testament to Mamak's consistency and popularity. The queues move quickly though, and there is the fascinating live entertainment by the skillful roti masters flipping the dough in the open kitchen windows, while you wait.
The noise in the restaurant is punctuated with comfortingly familiar Malaysian accents. The atmosphere remains casual, even after a renovation in 2009. They don't keep you waiting here. Within minutes of your order, dishes start crowding your little wooden table.
The roti canai (original, AU$5.50, photo above) comes expertly scrunched, along with two curry dips, one of which is a dhal, and a dollop of spicy sambal belachan. Crisp along the edges and yet soft and elastic inside, the roti is a joy to pull apart and devour.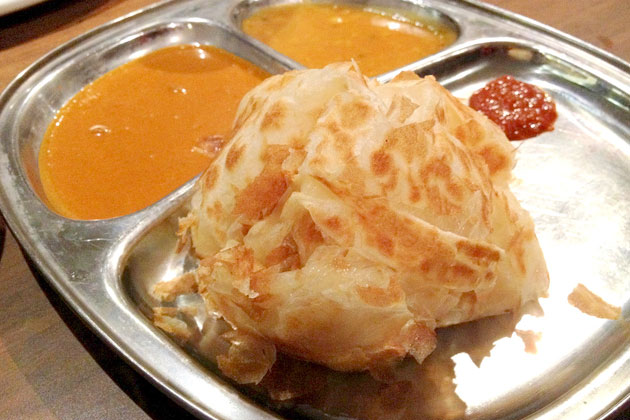 The satay here (AU$9 for half dozen; AU$16 for a dozen sticks) will make most of our local satay look anemic. Your eyes will first feast on the hearty chunks of chicken and beef that's easily 2-3 times the rapidly dwindling size we get in South East Asia. And when you bite into the tender, well-marinated meat that's been charcoal grilled, you'll be transported back to balmy Malaysian shores in your mind. The spices are spot on. The satay peanut sauce is equally well-made – thick, robust and sweetly savoury.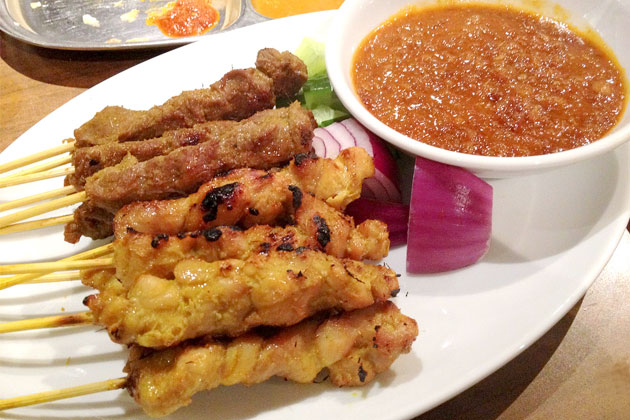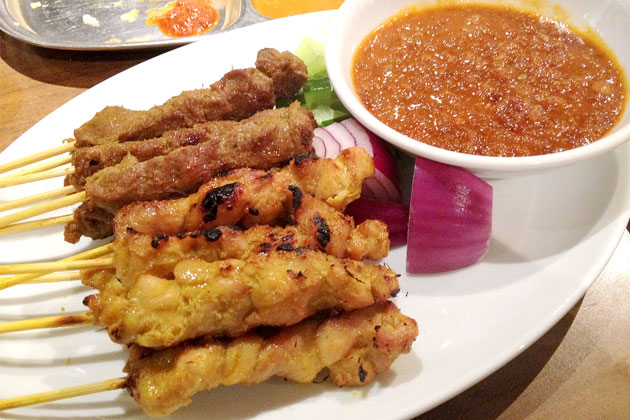 You get to pick from five kinds of savoury roti – original, egg, onions, planta, egg and onions together – as well as a chicken/lamb murtabak. They also make sweet versions of roti – with bananas, kaya, as roti bom and a paper thin roti tisu.
The names of the dishes on the menu are unapologetically Malay. You'll find familiar mains like kari ayam, sambal udang, ayam goreng and kangkung belachan. There's also nasi lemak, Maggi goreng and nasi goreng. Even the drinks (teh tarik, teh halia, kopi o, milo ais) stay true to Malaysian flavours, just not as sweet (thankfully).

The owner-chef trio of Alan Au, Clement Lee and Julian Lee dug into the business from the ground up. They left their corporate life in Sydney to learn how to cook in Malaysia. Authenticity was key and it paid off. Their success shows that you don't have to be overly clever or innovative to be successful. Stay true to what already works and bring it to places where it can be appreciated.
And they couldn't have chosen a better name. Mamak is a Tamil term meaning "uncle" and is often used to describe the Indian Muslims manning rickety makeshift street carts peddling late night treats from Maggi goreng (fried instant noodles) to teh tarik (pulled tea).
It's an instantly recognisable image that strikes a nostalgic chord with most Malaysians (and Singaporeans).
Folks who know what the food would cost back home at a real mamak stall may at first cringe at the prices, but by Sydney standards, this is considered a cheap eat. A cheap and very good eat.
Mamak is at three locations in Australia:
15 Goulburn Street, Haymarket, Sydney
Shop P9, 1-5 Railway Street, Chatswood 2067
266 Lonsdale Street, Melbourne 3000