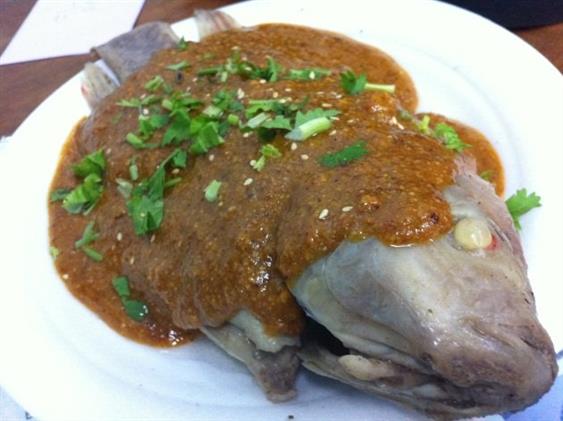 Mandalay Style BBQ: Chinese Myanmar Food
By Gregory Leow - Tuesday, Jul 17, 2012
You might have sampled Myanmar (formerly Burma) food before but have you tried Myanmar Mandalay food?
The cuisine is very different from the usual rice and curried dishes found in many Myanmar eateries in Singapore, as it has got strong Chinese influences.
The city of Mandalay in Myanmar – considered the economic hub of Upper Myanmar – has been attracting a large influx of Chinese immigrants since the 1990s from Yunan province – which borders Myanmar, Laos, and Vietnam. It has resulted in Myanmar and Chinese influences fusing into a unique cuisine of its own.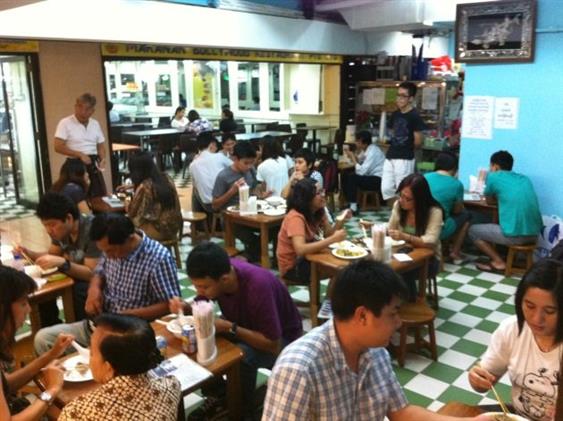 In Singapore, Mandalay Style BBQ, which opened in late 2009 in the basement of Excelsior Shopping Centre, is one of the rare places in Singapore where you can sample Mandalay Chinese cuisine. It has drawn a large clientele of Myanmar expatriates who are based in Singapore, who keep on coming back for its authentic Mandalay Chinese food.
One is PR consultant Wint Hnin Hket, 25, who has been based in Singapore ever since she was three but still keeps in contact with her extended family back in Myanmar. She comes here about once a month and says that the food is pretty authentic in comparison to the other Myanmar eateries in neighbouring Peninsula Plaza.
Another expatriate, Okkar Kyaw, has been based in Singapore since he was 14 and says that he used to go there once every other week for two years also because of the authenticity of the food.
"It is the only Myanmar restaurant serving Mandalay Chinese food to my knowledge," the 27 year-old manager says.
It is run by a Myanmar family who hail from Mandalay. 27 year-old Sui Thaung Lyan studied engineering at Temasek Polytechnic and after he graduated, he persuaded his father and mother to move to Singapore in 2009 to start a restaurant specialising in the cuisine.
57 year-old matriarch Kyaung Seng does the cooking and she is helped by Thaung Lyan who cooks as well and does backend operations. Her husband Mang Kulh, 59, helps to serve and take orders.
You might be expecting more barbeque with a restaurant name like "Mandalay Style BBQ", but when you open the menu, the barbeque section is crossed out. Thaung Lyan explains that they have a lack of manpower that forced them to close down that section of the menu.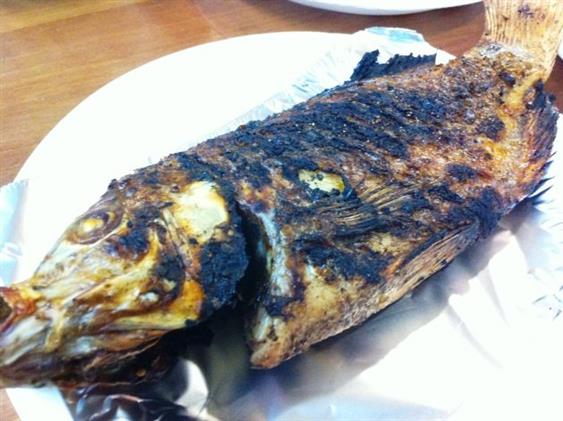 They do however have a single barbecued dish, the Nga Gin barbecued fish with preserved tea leaves, a popular dish in the restaurant.
"Maybe in the future when we can employ two more Myanmar helpers," says Thaung Lyan.
Also quaint are the low tables and chairs and Thaung Lyan says that it is typical of the Myanmar teahouses back in Myanmar.
If it is one dish you have to come back for, it is the Nga Gin ($18), the most popular dish as every table places an order for one. A large Tilapia fish is stuffed with preserved tea leaves and other spices and barbequed until well-charred. You can taste the natural sweetness of the fish and despite being charred ,the fish was still moist. The seasoning (with the flavour of tea, salted and with a hint of sourness) compliments the char-grilled smokiness and never overpowers the natural sweetness of the fish. It results in a relatively delicate taste.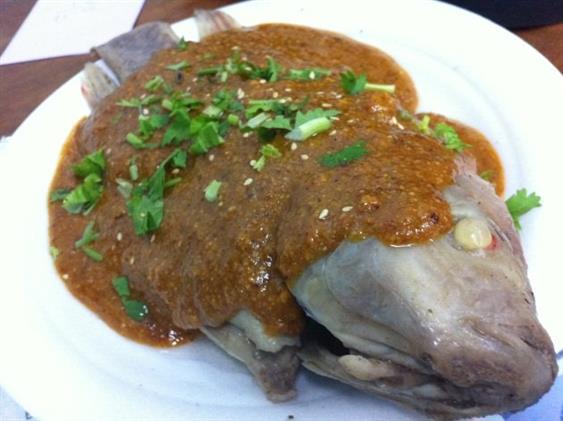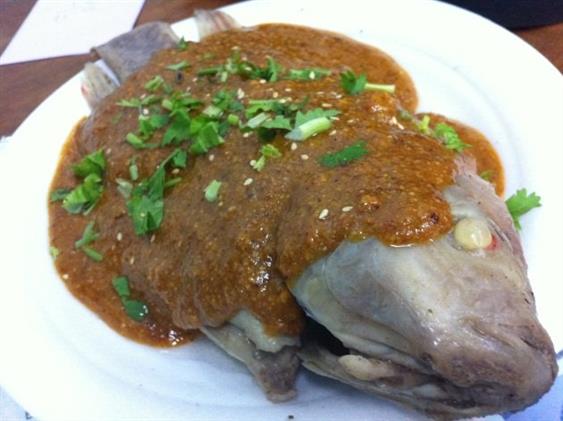 The other popular fish dish on offer is the Mala Nga ($12), a steamed tilapia fish topped with a fiery peanut sauce that chilli lovers would go crazy over. They call it mala sauce, but it didn't resemble the popular Sichuan sauce in any way. Thaung Lyan says that the Myanmar people have taken the basic concept of the mala sauce but has adapted it to suit their own tastes. Most restaurants who serve this dish in Mandalay have their own take in the dish.
"This is how our family do it," he says. Still, the not overly rich sauce tasted fantastic with perfectly steamed fish.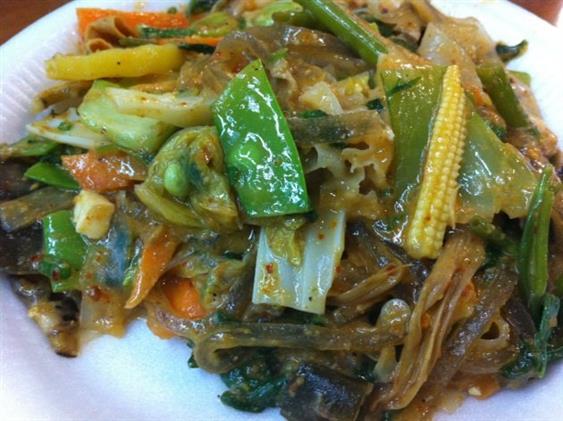 The same sauce is used in their Spicy Mixed Vegetables. ($6) Glass noodles and a variety of ingredients such as black fungus, beancurd skin, kang kong, cabbage, xiao bai chai, cauliflower, potatoes, tau kua, tau pok and corn. All these are stir-fried in the spicy mala peanut sauce. It results in a slightly creamy, subtly sweet and savoury version of Luo Han Chai (mixed vegetables) that goes great with rice.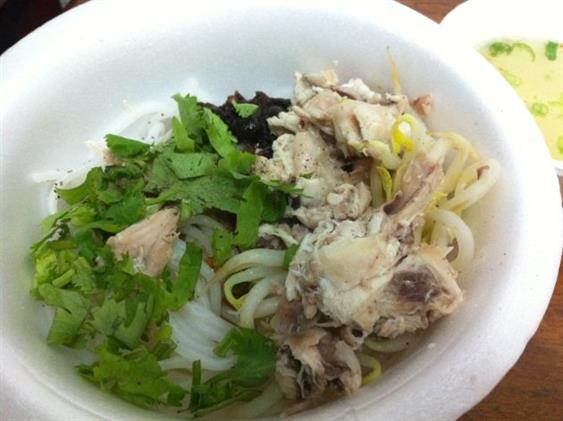 Also interesting is the Mandalay Mee Shay ($4.50), a warm dry rice noodle salad with coriander, fermented black beans and a sticky flour-based sauce on top. The noodles are cooked in chicken stock and come with chicken or pork pieces and bean sprouts. With bits of dried chilli and onion oil, it tastes like an approximate version of China's zha jiang mian minus the minced pork.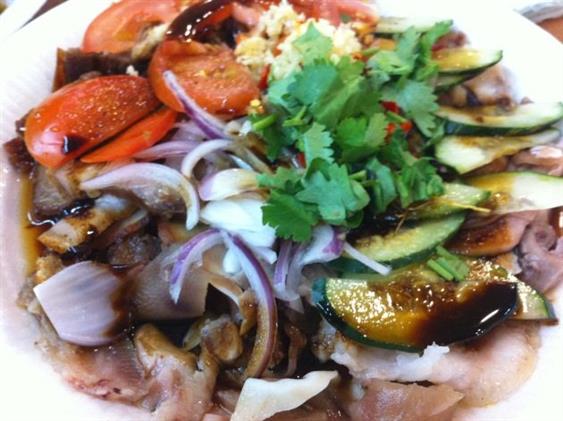 Also an intriguing dish not found on the menu is the Meat Salad ($6) which is a lot more complex than it sounds. Crispy siew yok (roast pork belly), pig's ears, skin and stomach – are drenched in a sweet soya sauce concoction and given a sprinkling of zesty lemon. It is then topped off with raw vegetables and spices like cucumber, tomatoes garlic, chili and red onions. As a result, every bite you take is has quite an intense pork flavour with powerful umami notes of sweet, sour, salt and spicy. The big deal pleasure here is the texturous feeling you get from the crispy siew yok, soft meat and the firm textures of the ears, skin and stomach which add to the whole bite experience of the dish.
Mandalay Style BBQ.
5 Coleman Street, #B1-29, Excelsior Shopping Centre.
Open every day 1-9pm