Mansaku: Real, Cheap Katsu Don
By Tris Marlis - Thursday, Sep 12, 2013
Japanese food is relatively expensive, and it is not hard to see why. The attention to details, from the porcelain plates, presentation, often over the top, to the use of fancy chopsticks, all come with an intangible price tag. Japanese cuisine is also exquisite in its own way– top grade short grain rice, fresh seafood imported from Tsukiji market in Tokyo, top grade beef and fresh grated wasabi, hence, another justification for their value.
But once in a while, we crave for that humble and simple bowl of Donburi, piping hot rice topped with fried pork cutlet and egg, or with a plate of Japanese curry. There are many Japanese set meal hawker stalls in our midst offering comforting and cheap Japanese meals like Donburi. One hearty version is offered up at, Mansaku.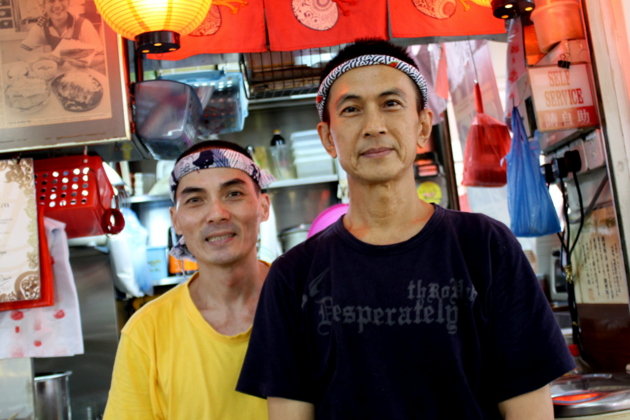 Mr Yap Peng Ruan has been operating this Japanese stall for almost 14 years now. He and his able assistant are both bandana-clad, sometimes clogs wearing hawkers, soft-spoken, uptight (like Jiro in the movie, "Jiro Dreams of Sushi"), but friendly. They do not try to greet their customers in Japanese language, but they carry the air of a Japanese chef – the way they flick when scooping rice, move swiftly in between cutting pork katsu and cooking curry sauce. We later found out that Mr Yap was trained in culinary school in Tokyo and had worked for 10 years in a Japanese restaurant located in Takashimaya prior to setting up his own business.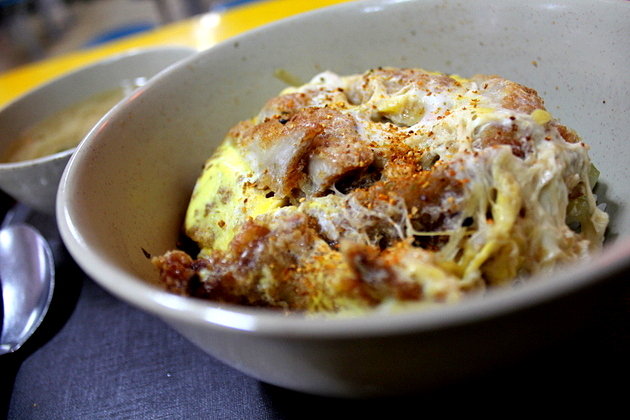 The menu is simple here – Teriyaki plates, Donburi and Japanese curry rice, with prices range from $4 to $8. One of our favourites is the Katsu Don, with crispy and juicy fried pork cutlet that's been breaded, fried and flash cooked in a bed of egg and light dashi (stock) flavoured with light and dark soy sauce, sugar and a dash of Japanese rice wine. He does it quickly, so that the bowl of rice comes moist, and at the same time retains the crispiness of the fried pork cutlet. The egg is cooked perfectly – it's not runny, not overly cooked and it covers the rice and pork without turning them soggy.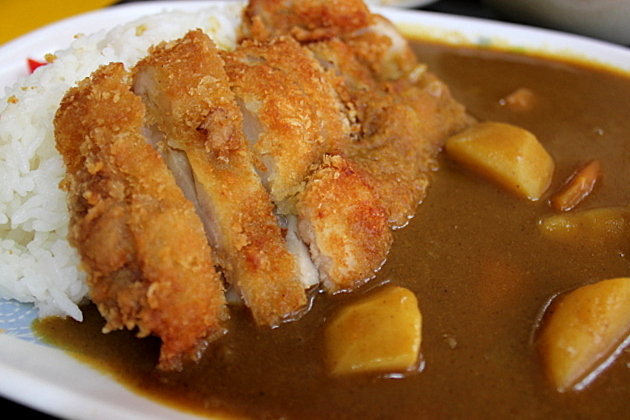 Their Japanese curry is peppery, but not overly so. It has that nice consistency, slightly thickened with chunks of potatoes and sweetness from the carrots. The temperature is right, sauce and rice are both piping hot, and the fried cutlets that is served on top remain crispy. Their fried pork cutlet is thinner compared to other commercialised Japanese restaurants, but the curry sauce is as good as the $20 ones out there.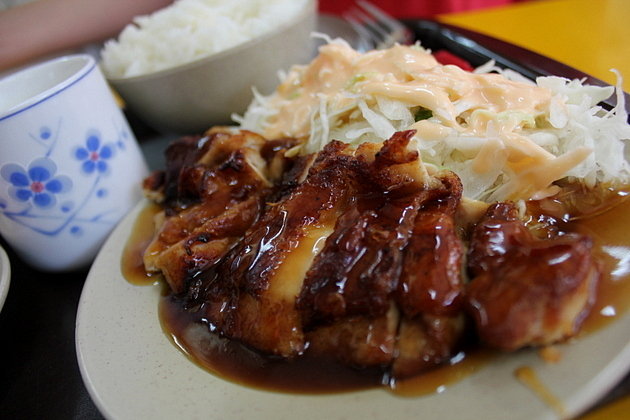 Even their sides of miso soup and chawanmushi are done right. The miso soup is dense with flavour, and not oily. The chawanmushi is steamed just slightly done to maintain its silkiness. Other than that, they also offer Chicken or Salmon teriyaki set that comes with a side of chawanmushi, salad and miso soup. The chicken is grilled until smoky and crispy and the salmon is kept a tad pink.
These simple Japanese fare are common everywhere, but what makes this stall stands out is Mr Yap's diligence and respect he has for his craft, keeping it real. It reminds us of how students are instilled and drilled by their Sinseis (Japanese masters). But all that does not come with extra price tags thankfully and adds to create a pleasant dining experience.
Mansaku #01-93 Golden Mile Food Centre, 505 Beach Rd. Hours: 11am- 9pm (Closed on Sundays and Mondays)