Marsiling Mall Hawker Centre: New Year, New Hawker Centre, Good Ol' Makan
By KF Seetoh - Friday, Jan 05, 2018
Just because we crossed midnight on the 31st of December last year does not mean everything magically changes for the better or worse. It happens every midnight and whatever changes the next day, depends on you. So visiting one of the latest re-furbished hawker centres in a far flung edge of the city was one of my first new year activity to check out what happened when the sun rose on the first day of 2018. The new Marsiling Hall Hawker Centre was re-opened in mid-December and it boasted some new improved features which was gleaned from lessons from the other "new" hawker centres.
For starters, not all stalls are fully occupied as yet. Your fifty cents will be refunded when you return your food tray although you can opt out if you chose not to use it (like when you are buying a cup of coffee or a single plate of something) and return it to the manual tray return station or leave the cleaners to do their job. A cleaner rides the "sweeping mobile" slowly and surely and he admits it helps cut manpower but I noticed it was tough getting to crevices, like under the tables and chairs, which is still left to manual workers. There are colourful low children makan tables and kiddy chairs- kudos to that, and the second floor sundries and supermarket area is- air conditioned! Bravo. No cashless system was introduced so the older non-wired generation foodies should not shun this place. Thank you on their behalf. So I surveyed for an hour before I checked out this three makan gems there.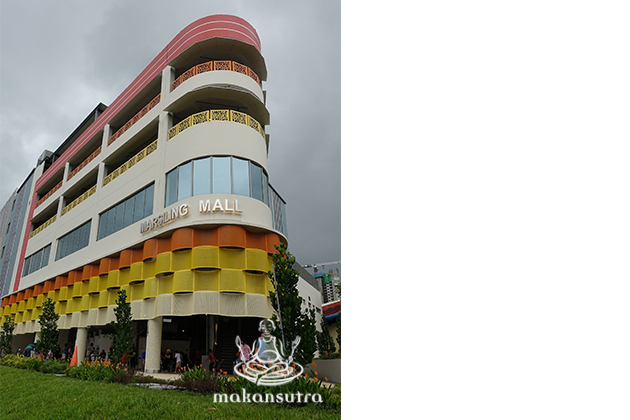 Marsiling Mall Hawker Centre, 4, Woodlands St 12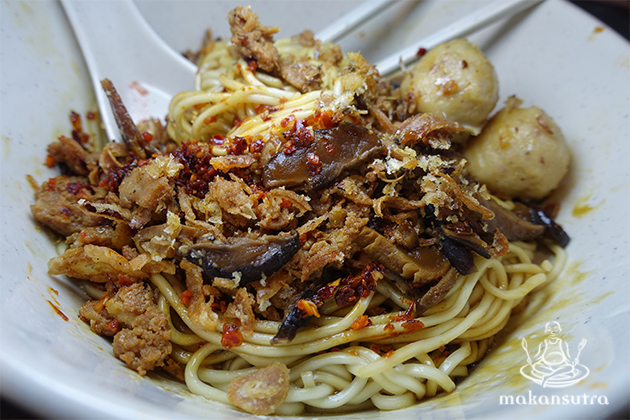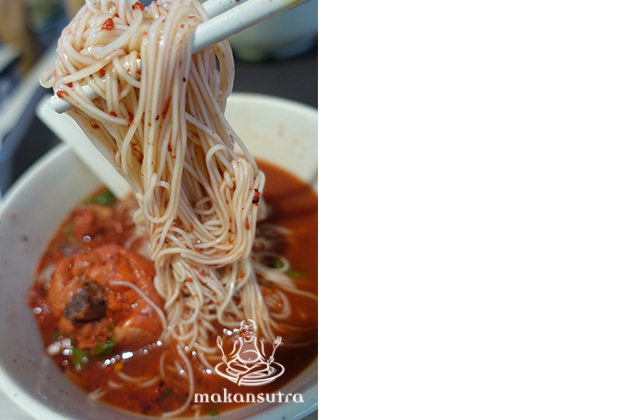 Hao Jia Ban Mian, 01-53, 9am to 9pm (ad hoc days off, undecided for now).
Their signature chili noodle is the champ here. They fry grounded dried chili with minced dried hae bi and ikan bilis to create this spicy umami bomb of a chili paste that went supremely well with the thin ban-mian (softer than mee-kia), topped with store-bought pork ball, mushroom and minced meat. The first thing in noticed of their red-wine mee sua was just how generous they were with the red wine lees base, it had an aromatic wine sweetness. Flecks of it were on every scoop of the noodle, with chicken chunks.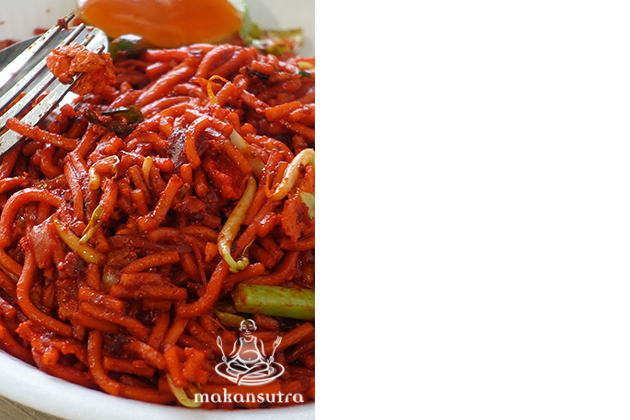 Five Star Fast Food, 01-40, 10am-10pm (ad hoc days off)
Never forget this old classic. Many hawkers are lost as to what makes a good mee goreng these days, but not here. It's one of the better ones I've had in years. It is very well fried (you don't get the "factory noodle' flavour anymore) and it is gently moist and softly aldente. It comes spicy, with rich savoury hints, a full bodied kick of tomato paste which lends sweetness. I did not even bother to notice the lamb bits or greens. There was a queue for it all throughout my 2 hour "makan spy" gig there. They may tell you to return in 15 minutes after you order and they are not exactly friendly when the peak hour crowd shows up.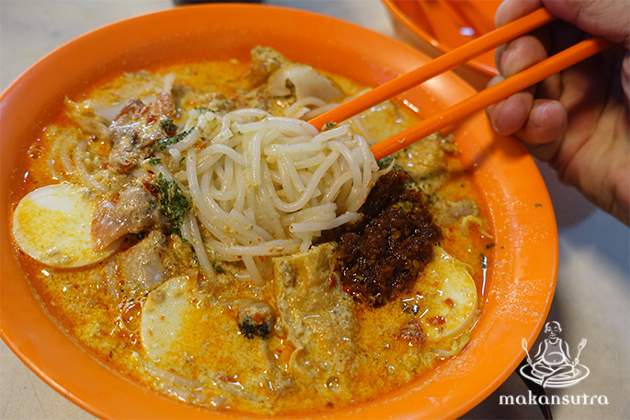 Ye Lai Xiang, 01-73, 8am to 2pm, closed on Mondays
This is a good spot for an early morning laksa fix. The grains of their bold, own made rempah is visible in the dish that comes with cockles and egg. The roasty dollop of sambal takes it to another dimension. This is a foodie's version, which isn't about the topping but the laksa curry, which says "Chinese style", not quite Nonya and is light on coconut milk and intense with dried hae bi in the rempah