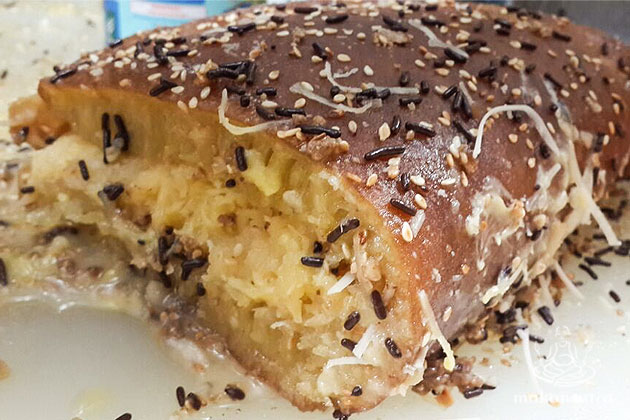 Martabak Manis (Terang Bulan)
By Marchellinus Hanjaya and KF Seetoh - Thursday, Jun 25, 2015
Murtabak or martabak has been a part of street food in South East Asia for a long time. This style of pancake sandwich has its origins from India. But in Indonesia, there is a sweet-savoury version named martabak manis – or sweet martabak and it is actually what folks here in Singapore and Malaysia call Mee Chang Kueh. It is nothing like the thin regular martabak we all know. And it Indonesia, they take it a mile ahead, especially on the sin factor.
Couple decades ago, several men from one village in northern coast of Java Island made a little business of their own, selling the martabak manis from a push cart. They divided and conquered the regions between them, ensuring they are not within earshot of each other and avoiding competition. hey even build a central kitchen system of ingredient production to make the base dough and other condiments to minimise processes and deliver consistency. It went well without any variation for several years and folks saw this as a Terang Bulan, or bright moonshine (aptly named based on the looks of a fresh made martabak manis, with it's moon crater like and porous texture). To simplify, people just labeled it as martabak manis (sweet) instead the savoury one.
Terang bulan or Chinese thick pancake, is actually the Indonesian version of Mee Chang Kueh. Usually it comes thicker, denser, and filled up with a bunch of ingredients variety, depends on customer's order like ground roasted peanuts, choice sprinkles, grated cheddar, roasted sesame seeds. Today, there are new "instagrammable" fancy options- it includes rich chocolatey renditions Nutella, Ovomaltine, Toblerone, and some uber sweet condensed chocolate milk.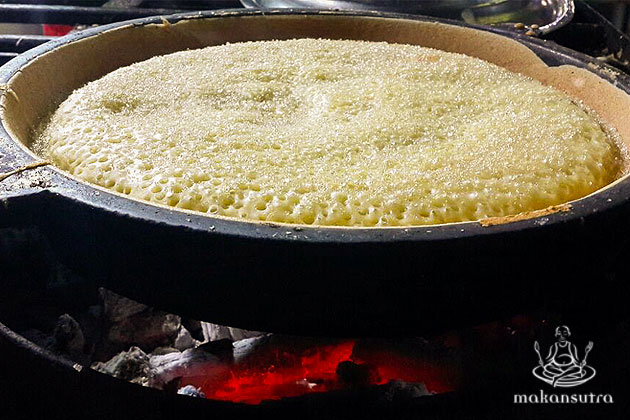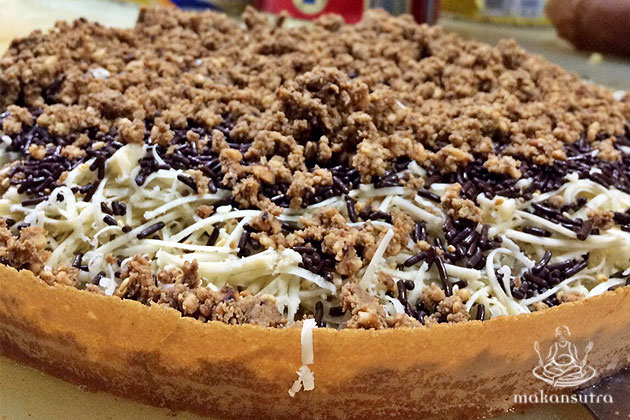 Even the majority of old famous brands have succumbed to this fancy route, topping it with fine cheese and top grade chocolate as they get to hawk it at premium prices. But some remain and stand their own against the fancy martabak manis boys of the game. How do they compete, you ask. Pure quality and madness in execution, especially in the way they make the batter. And heck, be out-of-this-world generous with the old school fillings like peanuts, condensed milk, cheese, chocolate sprinkles and butter, lots of it (like a slab). We kid you not.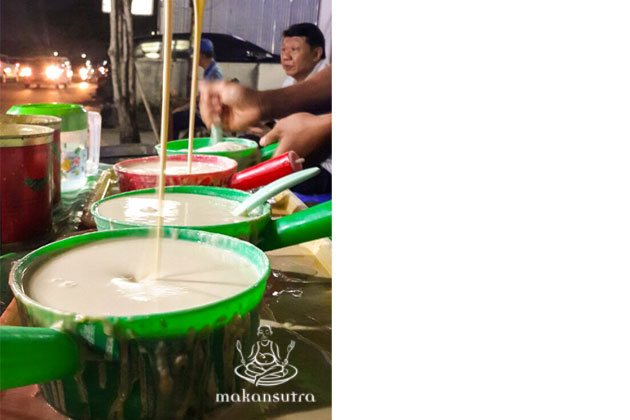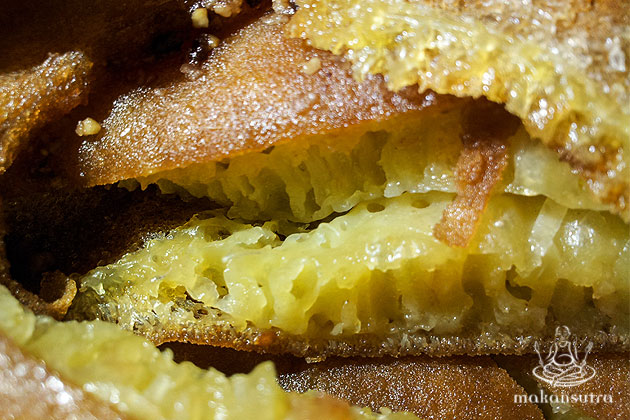 One of the best (because it is arguably the most sinful one in Indonesia) martabak manis in town, is Sinar Bulan. They kept the traditional way of aerating the batter- by using elbow grease. A line of workers stand over a pot of thickened dough and they spend hours just pulling the dough up and down, like a magic show- lifting up two feet up with a special mixer stirrer. It immediately goes onto the baking pan over wood fire. You can just imagine how thick, soft, porous and fluffy it is. I can testify to that. Then the sin begins- they bury half a slab of butter into the folded hot pancake surface, slowly and deliberately folding and spreading it in. This is followed by the fillings- about three cups of roasted ground peanuts, a pile (we are not joking) of grated cheese plus what felt like a barrel of chocolate sprinkles and not forgetting the good old condensed milk (half a can).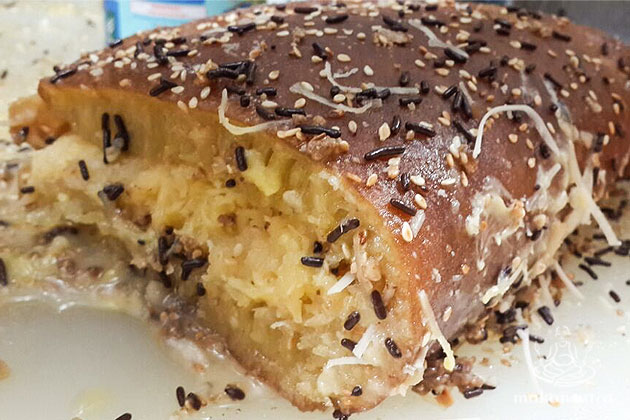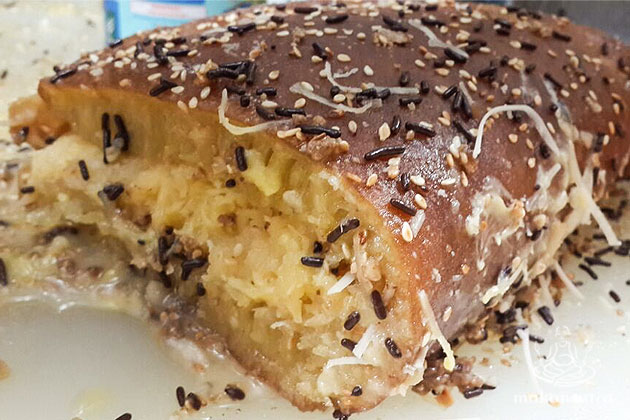 Then, he folds the martabak manis, flips it over, and repeat the butter spreading thing- on the other side. All this while, done under the watch of a constant crowd of at least a dozen fascinated and hungry feeders. As if they sinful spectacle isn't enough, the cook artfully sweeps the ingredients that fell off in the process (and there's a lot of it) back into the pancake, before they lay it into the take-out box or what I consider as a coffin for your arteries.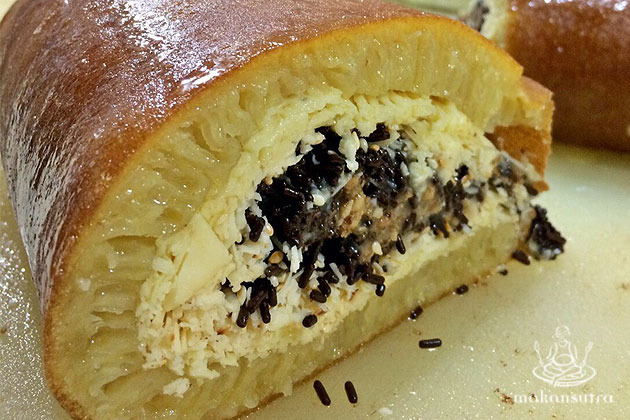 One bite in, and you know some things in life are worth dying for.
Sinar Bulan
Jl. Muara Karang Blok B8 Timur
Jakarta Utara
+6281329183102