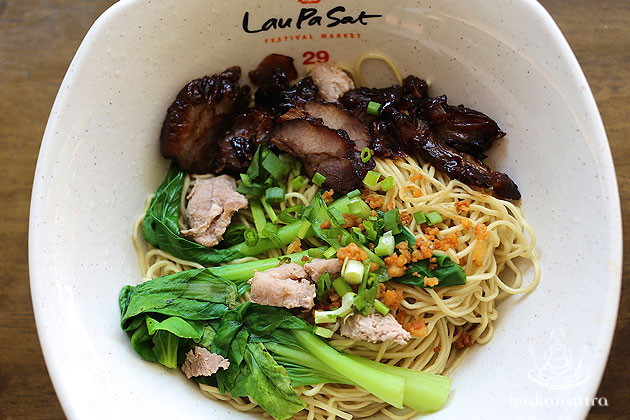 Master Hawker Programme: A Hawker's Journey So Far
By Cecilia Joven Ong - Thursday, May 14, 2015
Peter Mok, 55, was amongst the first batch of 13 trainees who graduated from the Hawker Master Trainer Pilot Programme in May 2014. The programme was designed to preserve Singapore's hawker heritage jointly launched by WDA(Workdforce Development Agency and National Environment Agency). It provides training in Food & Beverage and an opportunity to learn from veteran hawkers.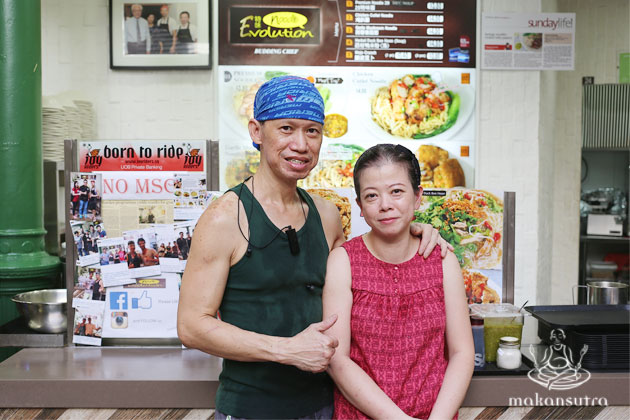 Peter worked as a Quality Assurance officer in an American department store till the company closed their office in Singapore, he then contemplated with the idea of becoming a hawker even though he has no formal training in Food & Beverage trade. He even travelled to Vietnam to brush up his skills in beef pho and it has been his dream to set up his own beef noodle stall then. He participated in the programme by NEA and was trained by Madam Lai Yau Kiew of the famous Ji Ji Wanton Noodle Specialist in Hong Lim Food Centre to cook Wanton Noodle. Peter said, "The training programme has provided a foundation together with the related skills in the day-to-day running of a stall though no recipe is shared during the training." He then created the recipes through trial and error for all the dishes on his menu.
He started with #NOODLELICIOUS, a wanton noodle stall at Amoy Street Food Centre. This was an incubation stall provided on a one-year lease by NEA in which no open tender process is required and with $500 monthly rental remission for the first 6 months to defray the initial cost of investment for this stall. He closed it when the food centre underwent a 3-months long renovation. He and Bee Lee, his wife, started NOODLE EVOLUTION, a noodle stall at Lau Pa Sat in December 2014. He revamped the menu to include Chicken Cutlet Noodle, Garlic Mushroom Noodle, Herbal Duck Bee Hoon Soup and also Mojo Crunch, a fried tau pok stuffed with veggie filling.
Peter said, "Noodle Evolution's goal is always to create great tasting food that cannot be easily found elsewhere." Peter then said, "The Garlic Mushroom Noodle ($4) is a must-try, this dish is created by my wife". The springy egg noodles were served with a good amount of garlic and generous serving of nicely stewed sliced mushroom, which when tossed with the noodles packed a savory garlicky punch. A piece of candy is given along to tame the garlic breath right after eating. Such thoughtfulness is an important part of good customer service.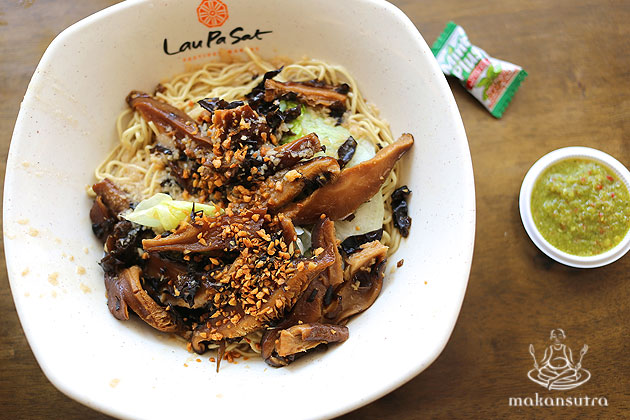 I tried the Premium Noodle 29 ($3.80), their signature Wanton Noodle listed as 'must-try' on their menu board. The equally springy and chewy egg noodles were served with no chilli, ketchup nor dark sauce but a meat based gravy, a bit like the Thai version of wanton noodle. Optional condiments are available to enhance the taste; the green chilli paste added a slight spicy flavor whereas the red chilli paste is for a spicier kick. The sliced char siew and pork cubes were not as tender as should be and the wantons was just  average.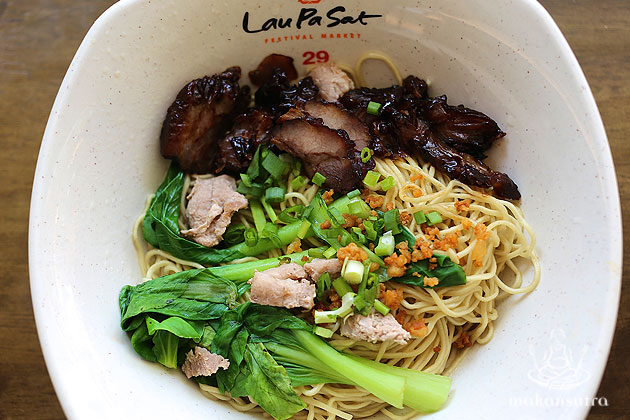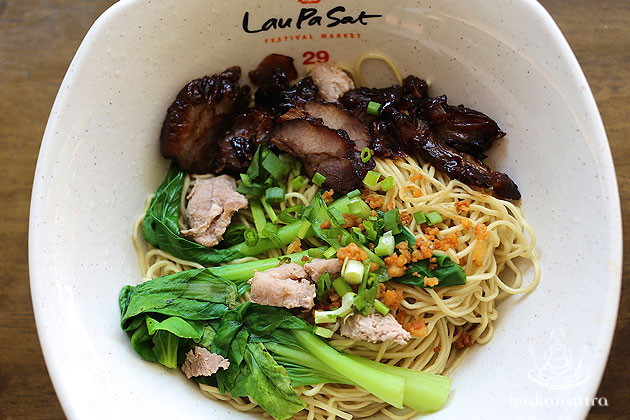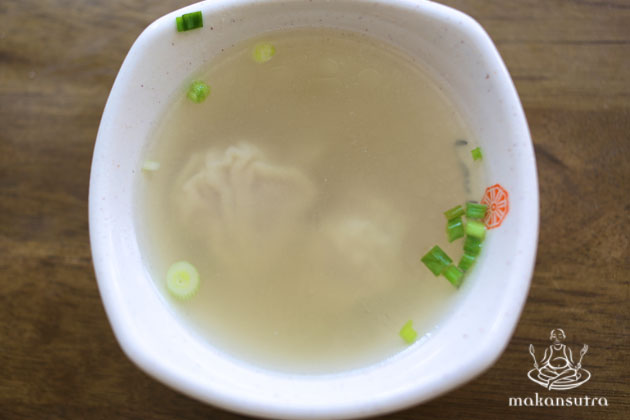 Peter mentioned, "We have experimented with Nasi Lemak and we will like to include it on our menu really soon. It is quite different from those out there." He said that he initially wanted to run a Nasi Lemak stall but he felt it would be a waste since he is trained to cook Wanton Mee. He is in the midst of sourcing for another stall to branch out and this new stall is going to sell their special Nasi Lemak.
Peter said, "Rent and rising food costs are always the issues that the F & B industry has to deal with and we are no different. But we will never sacrifice the taste and quality of our food.  Manpower will be our next challenge when we expand the business." He continued to say, "The ability to maintain consistency in tastes is always a challenge as well."
Bee Lee said, "My greatest job satisfaction is being able to work along with my husband everyday!" As for Peter, the interaction with his customers is what motivated him despite the long working hours with almost no days off. He shared, "Having passion for what we are doing is the key to our success and that lead to extensive research & development carried out before we serve the dish to our customers."
And, he said, "Nothing brings me more satisfaction than happy customers."
NOODLE EVOLUTION
18 Raffles Quay Stall 29 Lau Pa Sat Singapore 048582.
Operating Hours: 11.00 to 9 pm (Mon to Fri) / 12.00 pm to 9 pm (Sat / Sun)