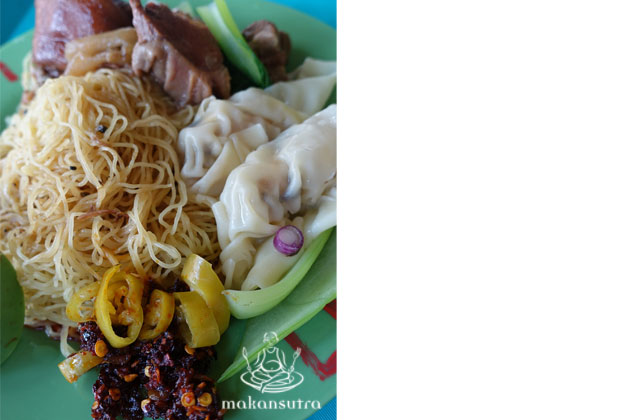 Master Tang is back…
By KF Seetoh - Monday, Apr 11, 2016
I had thought that at age 82, the daily long and demanding queue (of at least 20 at any peak meal hour) would have taken a toll on him. Mr Tang Siu Nam ran his stall alone and three months after he opened to much fanfare, he shuttered up for good about 14 months ago, much to the disappointment of many fans. It is a pity, as he is the man behind the signature Crystal Jade wanton mee, complete with that iconic roasty Cantonese style sambal chili paste. He was their former chief kitchen trainer for almost two decades.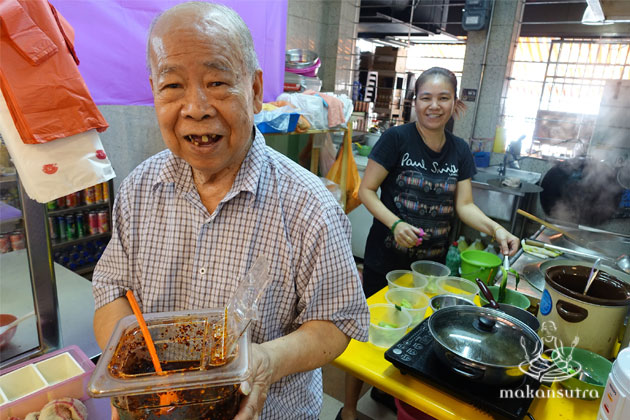 Then I got wind that he re-opened a stall in Bukit Timah area and when confronted he revealed "It's a complicated story, but it's basically a partnership problem." So he took about 10 months off and resurfaced here five months later. Today, at 84, Mr Tang is easily one of the oldest master hawkers in Singapore. He is now assisted by his wife Ms Happy Yong in this private kopitiam, who could not work inside his previous Chinatown hawker centre stall as she is not a Singaporean. Public hawker centres are reserved for Singaporeans and permanent residents. He knows the kopitiam scene is volatile as they can change owner, concept and rents anytime. His first wife passed on years ago and he hopes his current second wife can obtain PR status so he can apply for a cheaper, and more permanent public hawker centre stall. They tried and have failed a few times, but he is not giving up, as he needs her help at work and at home.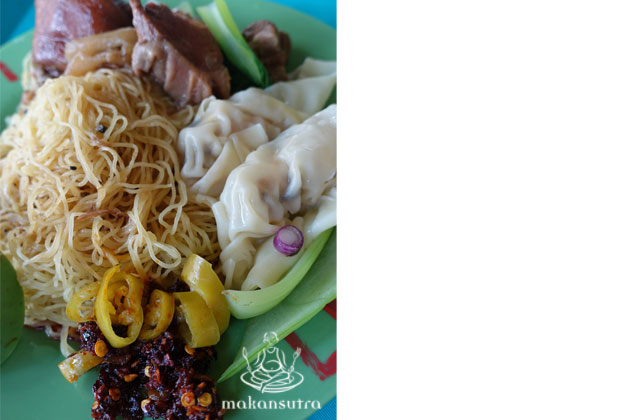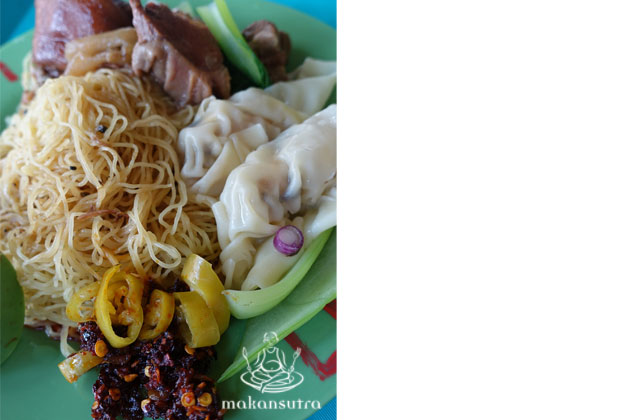 Food – a mouthful in and I knew all was alright, in fact, even better. "I now use another noodle supplier, a chap I once taught how to make noodles and is now running a successful supply business", Mr Tang tells me, adding that he goes to his factory once a week to help hand make a batch of noodles for himself, just to keep his skills intact. The crunch, resilience and al-dente chewiness of the noodles plays second fiddle to the signature rough and roasty sambal chilli paste, a key secret to his wanton noodles, and is extremely comforting when blended with his sweetish soy and sesame oil sauce mix. The few leaves of chye sim is just colour and necessary texture, but his bold and fat wantons, takes this whole plate of noodles to home base. Go ahead, order a portion of his beef brisket, and braised chicken feet and pig trotters, it's a complete Cantonese comfort meal. They all come softly firm, robusty flavoured and the sauce, oh my, enlivens the noodles even more.
But for those who also remember his pork liver porridge, bad news-he does not sell them now. I have not come across any one making liver porridge the way he does so- let it sit for 15 minutes and the liver is still soft and creamy inside. Many chefs will tell you this is not easy to achieve and it has to do with the method of the marinade.
So here's my idea.. go persuade when you see him, at least get him to do it once a week (bear in mind he is 84 and has manpower problems, but loves his active senior life.)
Master Tang Wanton Mee
Kopitown Coffeeshop
10E, Sixth Avenue
8am-4pm, close on Thursday