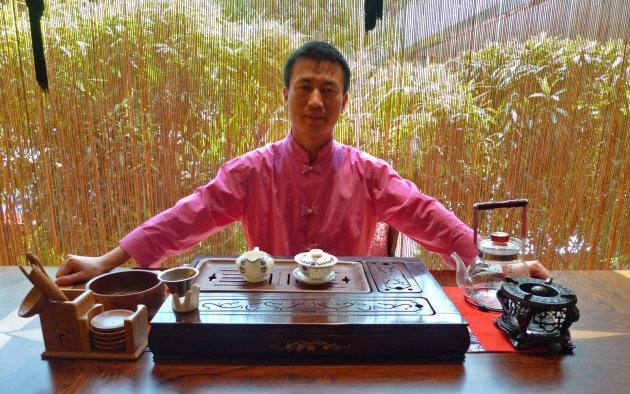 Matchmaking Chinese Teas
By Melanie Lee - Wednesday, Jun 27, 2012
We know that food can be paired with wine but how about tea?
In an effort to introduce customers to the 30 types of premium Chinese teas offered at Si Chuan Dou Hua restaurants, the restaurant group has started pairing tea with food, all in the name of promoting tea culture.
"While there are many Chinese in Singapore, few truly know about the wide variety of Chinese teas available," says Executive Tea Connoisseur He Zheng Hong from Si Chuan Dou Hua, who is on a mission to convert more people to Chinese teas with his team of seven tea connoisseurs.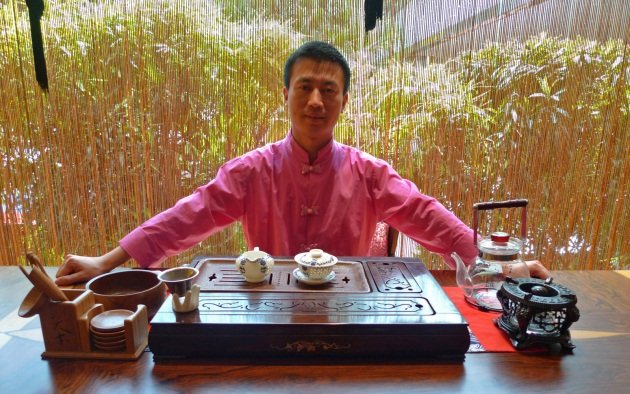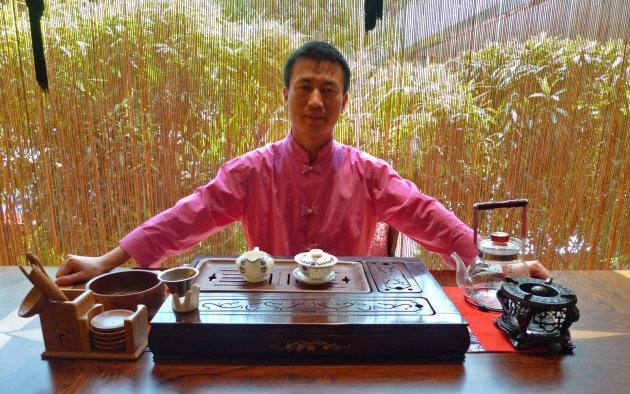 According to Zheng Hong, tea pairing follows similar principles to wine pairing (e.g. light teas with light food, darker teas with heavier food) but he always looks at what kind of tea the customer usually likes and what dishes are being ordered, before recommending a tea pairing.
Tea Pairing #1: Zhu Ye Qing Green Tea + Combination of Three Delicacies (Pan-fried Minced Meat Bun, Marinated Mushrooms in Onion Oil, Glutinous Rice Dumpling with Minced Meat)
What Zheng Hong says: "This is a famous tea from Sichuan. Its plump buds (unopened tea leaves) are picked individually by tea farmers. It is a gentle tea, which is why it is paired with these lightly-cooked dishes. This tea is calming and good for the eyesight."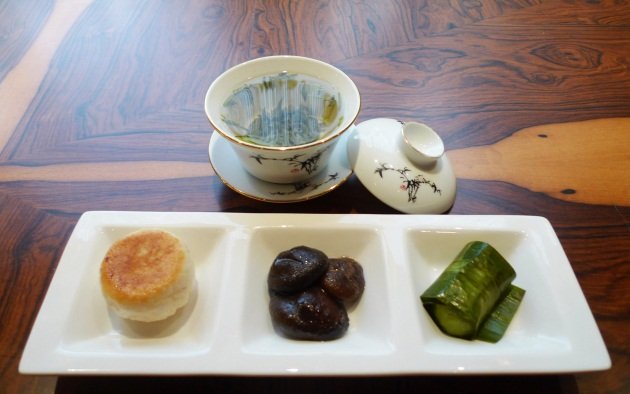 Our take: Also known as Bamboo Green tea, this pretty, pale jade brew tastes grassy with just a tinge of bitterness at the end. Zhu Ye Qing provides a pleasant contrast with the three savoury-sweet appetizers. In particular, the sticky texture of the glutinous rice dumpling brings out floral notes in the tea.
Tea Pairing #2: Shi Er Hong Nian Red Tea + Boiled Sliced Fish in Sichuan Pepper Sauce
What Zheng Hong says: "This is also a tea from Sichuan but its 12-step processing method originated in Fujian Province. Shi Er Hong Nian is a sweet and smooth tea that is strong enough to cut through the spiciness of the Sichuan Pepper Sauce and helps to wash the oil down. It's an invigorating tea that is good for those who are feeling fatigued."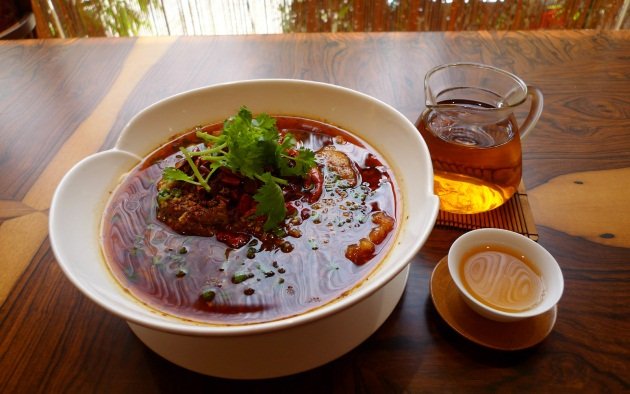 Our take: The first impression is that this tea is like a superior version of Lipton tea (in the West, Chinese red tea is categorised as black tea). This woody brew slides down the throat smoothly, and has interesting caramel notes to it even though no sugar is added. Psychologically, we feel less guilty tucking into this shimmering-in-oiliness dish with this tea by our side. It's also nice to note that this tea's flavour doesn't get lost in all that peppery goodness.
Tea Pairing #3: Yunnan Pu'erh Tea + Sichuan Pumpkin Pancake
What Zheng Hong says: "This is a loose leaf pu'erh using young leaf buds. It is a strong tea, which is why it is paired with a heavy, deep-fried dessert. This is also a good tea to drink at the end of a meal because it aids digestion and helps to lower cholesterol."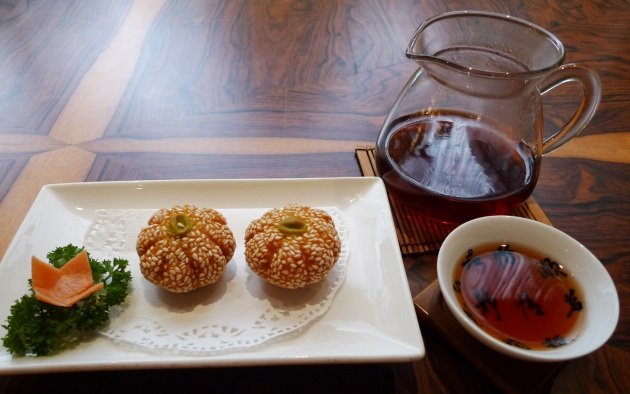 Our take: We're not pu'erh fans, but we happily drank several cups of this brew because of its intriguing red date flavour which makes the bitterness more palatable. The crunchy seasame seeds coating the pancakes complemented the earthy base notes of this brew.
But how about local food, you wonder?
In essence, tea is a versatile beverage. It is light enough not to overpower the taste of food, and yet when paired with the appropriate dish, is able to bring new depth in their flavours!
Here are some suggestions from the Makansutra team on how to pair your favourite teas with your favourite local hawker food:
Green tea
Goes well with: chicken rice, prawn noodles
Most types of green tea work well with white meat and seafood that is lightly-cooked. The slight bitterness of Chinese green tea brings out the meatiness of white or roasted chicken. Premium Japanese green tea has a distinct 'umami' taste which complements seafood stock very well.
Oolong tea
Goes well with: Chinese steamed fish, bak kut teh
A light oolong tea such as Tie Guan Yin would go with steamed or poached fish as its dainty, floral notes would help sweeten the taste of the flesh. A dark oolong tea, e.g. Red Robe, would bring more depth to meat dishes while also help to cleanse the palate.
Black tea (or red tea, if it's the Chinese tea categorisation)
Goes well with: chwee kueh, roti prata
If anything, the British have shown us that black tea is best drunk in the morning with its perk-me-up, woody, caramel notes. They would typically have bacon and eggs, so try it with an oil-rich local breakfast dish.
Pu'erh tea
Goes well with: satay, chendol
The earthy notes of Pu'erh tea brings out the smoky flavour of roast meat well. At the same time, its mellow bitterness makes it the best kind of tea to have with desserts, preferably with coconut and/or gula melaka in it!
He Zheng Hong is quick to declare that "there is no wrong or right" as taste is a very personal matter. Also important is the way you drink it.
"More people should embrace tea in Singapore. It's so fast-paced here, so I'm always happy to see families relaxing over pots of tea – that's the way life should be," he says with a serene smile.
Si Chuan Dou Hua restaurants are located at PARKROYAL on Beach Road, PARKROYAL on Kitchener Road and the top of UOB Plaza. For detailed information on the addresses, log onto www.sichuandouhua.com.
Opening hours are 11.30am – 10.30pm.