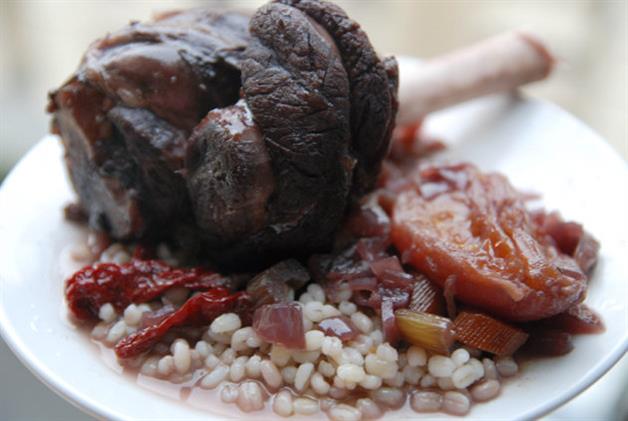 Meal in a Pot: Lamb Shanks
By Sheere Ng - Thursday, Apr 05, 2012
While flipping through Celebrity Chef's Ming Tsai's book, Orange-ginger Lamb Shanks with Barley caught our eye. This is because lamb is rarely the choice of meat to cook at home in Singapore (because of the gaminess and heatiness), and the use of barley (to replace rice) and orange (to flavour the sauce) sparked our curiosity.
Although the book is titled Simple Asian One-Pot Meals, the recipe (and most other recipes) is more Western than Asian. It is also not the homely, light-on-your-stomach kind of food that many of us yearn for at the end of a working day. Nevertheless, this makes a presentable meat dish for dinner parties and straightforward enough to cook for first-timers. One advice though: cut down on the sugar (by as much as half). The meat turn out sweet (too sweet in our opinion), and may not suit local palates that are used to savoury meats.
Orange-ginger Lamb Shanks with Barley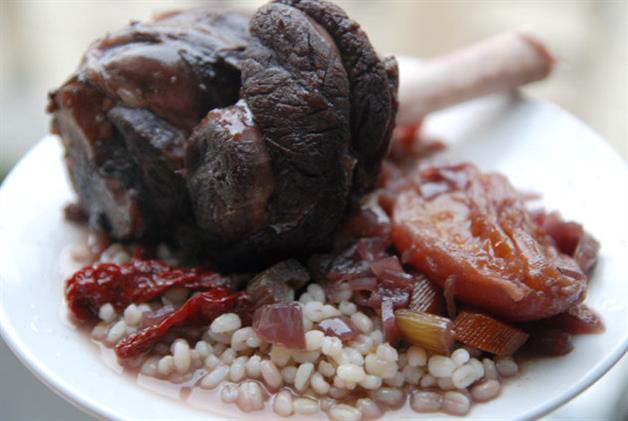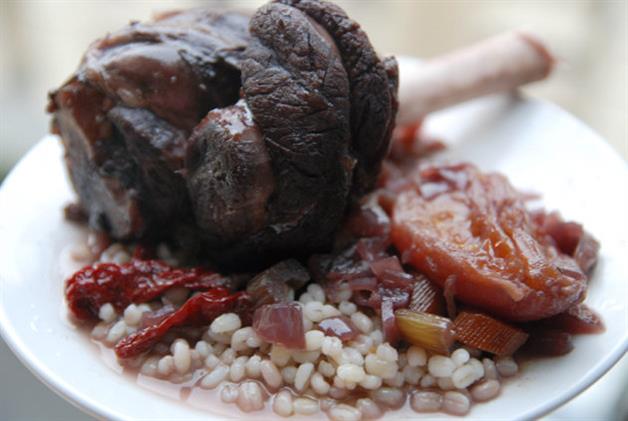 400g pearl barley
4 lamb shank (about 1.8kg), preferably from hind legs
sea salt and freshly ground black pepper
2 tablespoons grapeseed or rapeseed oil
2 large onions, roughly chopped
1 bottle dry red wine
5 large oranges, 4 quartered, 1 cut into 5mm slices for garnish
125ml soy sauce
200g soft dark brown sugar
4 5mm slices unpeeled fresh ginger, cut lengthways from a 5-10cm piece
3 dried bird's eye chillies
In a large saucepan, cook the barley in an ample quality of boiling water for about 45 minutes until tender. Using a sieve, drain the barley and then run cold tap water through it until it's cold. Drain and set aside at room temperature.
Meanwhile, season lamb shanks with salt and pepper. Heat a saucepan over a medium-high heat, add the oil and when hot, add the lamb. Cook on all sides for 8-10 minutes until browned. Transfer to a plate.
Add the onions, carrots and celery to the pan, season with salt and pepper and stir for about 3 minutes until the vegetables have softened. Add the wine, deglaze the pan and simmer for about 8 minutes until the wine is reduced by a quarter.
Add the orange, soy sauce, brown sugar, ginger and chillies. Return the lamb shanks to the pan and add enough water to barely cover them. Season with salt and pepper. Bring the liquid to a simmer, cover and reduce the heat to low. Cook for about 3 hours until the meat is falling off the bones.
Mound the barley on the plates. Top with the lamb, spoon the braising liquid over, and garnish with orange slices.