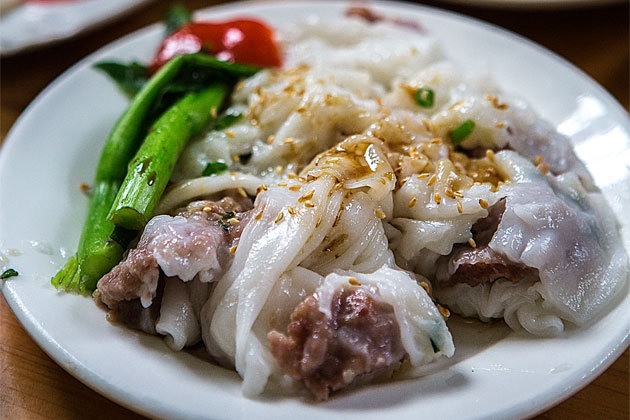 Memories through Flavours of Shunde
By Gastronaut - Thursday, Dec 05, 2013
Many of us would be familiar with the black-and-white 'amahs' of old. We may have seen them in our youth, or even lived with one in our household. The amahs' devotion to their employers is legendary; but how many of us know of the cuisine they brought to Singapore – the cuisine that goes by the name Shunde (pronounced 'shun-tak' in Cantonese).
Shunde is located some 30 minutes by train from Guangzhou in China; its long history has seen many ups and downs. In World War II, the town was occupied by the Japanese and its population and fortunes plummeted. There was a mass exodus of hundreds of thousands of Shunde's inhabitants who fled to Southeast Asia to seek refuge. The men found jobs mostly in construction sites, while the women became the black-and-white domestic servants – the amahs of the rich.
Many famous Cantonese chefs hail from Shunde. In fact, Shunde may well have been the precursor of Cantonese or Ye cuisine, as suggested in the Chinese saying "食在广州,厨出凤城" ("Eat in Guangzhou from a Shunde kitchen"). Shunde traditional cuisine is known for employing diverse and complicated cooking techniques. In the hands of the frugal Shunde people, these skills and techniques transform mundane ingredients into dishes fit for an emperor.
The journey from Guangzhou's airport to Shunde takes you through a quilted patchwork of ponds and green fields and a family-run restaurant every kilometer or so. The first stop was Jun'an, a rural town in Shunde, also known as the hometown of Bruce Lee. He lived here briefly as a child. The town, quick to capitalise on his fame, had built a theme park in Bruce's honour, but is otherwise a laid back agricultural-based community that produces fine freshwater carp. At Jun'an, there is the famous steamed vaunted Jun'an Pork. The whole pig – de-boned and marinated with five-spice powder, salt, and sugar – was placed spread-eagled on a pole inside a large wooden drum and steamed for an hour over charcoal. The tender pork that results was sliced thinly and served with a sprinkling of sesame seed. The spices intensified the porcine flavours, yet were so subtle and virtually untraceable, and this made the quality of the meat critical.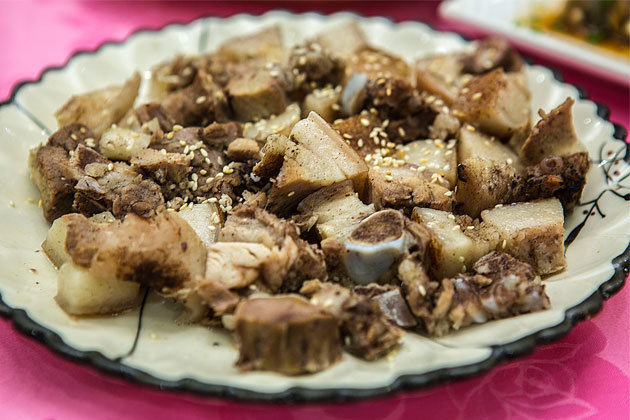 The freshwater carp that Jun'an is also famous for is a key ingredient of Shunde cooking. The fish are farmed in acres of large ponds and paddocks just outside the centre of town. Shunde frugality and skill with humble ingredients in the kitchen was renowned, and when these women became amahs in Singapore, these same qualities became hallmarks of their cooking style.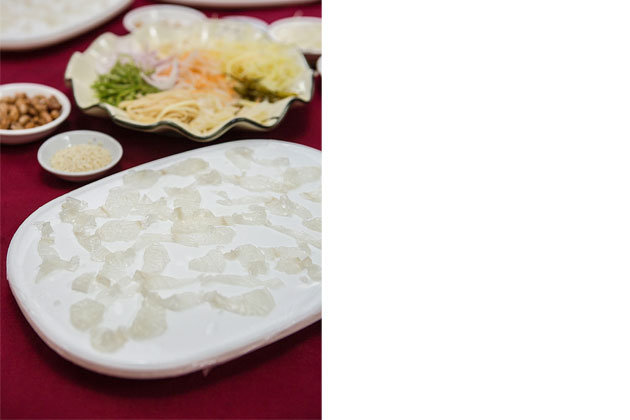 The Shunde Raw Fish is a showpiece dish and a must-try. The live freshwater carp is slaughtered and its most tender flesh – lying between the belly and tail end – is sliced thinly and placed on ice to keep it fresh. A mix of pickles, lime leaves, peanut and soy sauce (or salt) is then tossed in with the sliced raw fish and eaten.
Forty-five minutes from Jun'an is another small town called Leliu and its award-winning roast goose. Each bird is carefully selected and bred to its ideal weight of about 2.5 kilograms where it is slaughtered. The marinade used is specific to each chef and is jealously guarded, but the basic ingredients appear to be Sichuan pepper, five-spice powder, aged tangerine peel, galangal and soy sauce.
The Leliu roast goose is not crispy skinned like its counterpart in Singapore. Its skin is loose and wrinkled like a Shar Pei dog, and that apparently accounts for its fuller flavor. After the goose is removed from the oven, it is usual to 'rest' it in the open; but in Leliu the resting is done in an enclosed space away from the wind. This triggers a sort of 'braising' process that causes the skin to wrinkle, while drawing the juices from the flesh. And when chewed, the skin releases the intense flavours it has absorbed as well as those of the marinade.
Another must-eat while in Shunde is the famed rice noodle unique to the town of Chencun. It is said a man named Huang Dan developed the technique of making the noodle some 80 years ago. First, newly harvested rice is stored for six months, then rubbed under water for at least 20 minutes to remove excess starch before being ground with a stone grinder. The resulting flour is then used to make an extra-thin, extra-smooth flat noodle derived from the traditional sha hor fun. Chencun Fen is eaten in a variety of ways: steamed with meats or used like bread to soak up the gravy at the end of the meal, or even as a dessert with red bean paste and coconut cream.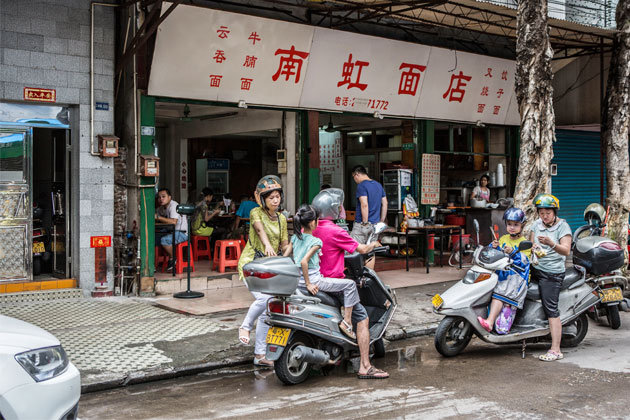 Daliang is a typical Chinese manufacturing boomtown, where gleaming high-rises and shopping malls are gradually elbowing out the traditional buildings – and foods – of the streets and side lanes. Happily, some traditional foods still abounded, such as meat porridge, chee cheong fun and deep-fried rice dumpling.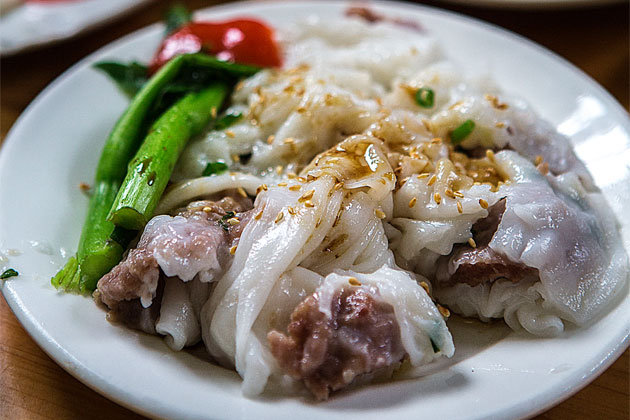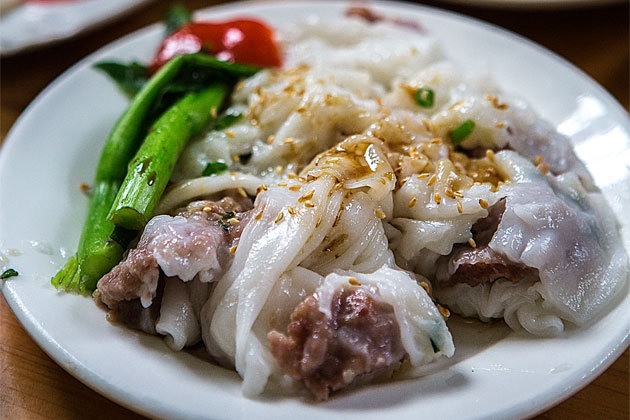 For Singaporeans who remember the old days, eating in the streets of Shunde would bring back memories of amahs in Chinatown chatting and gossiping among themselves, and cooking and sharing food from their homeland of Shunde. Memories seem to pervade every bite.