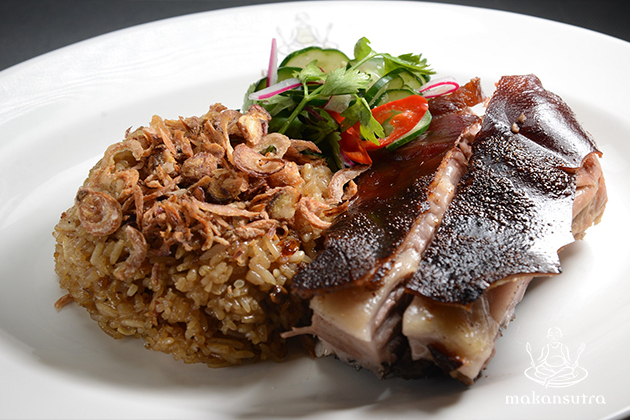 Michelin Chef Turns Hawker
By KF Seetoh - Friday, Dec 07, 2018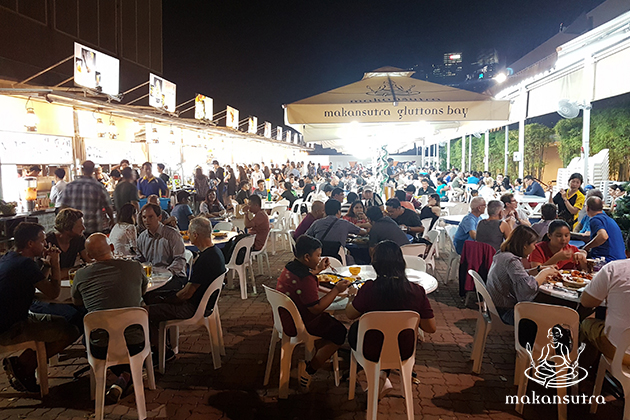 The happy crowds at Gluttons bay each night
At one stage he was bugging me till no end about doing some kind of pop up event at Makansutra Gluttons Bay. It was tough of me to tell him that food court spaces like this don't really dig pop up events. Folks come from all over the world to devour exactly what they expect of this 13 year old food market (recently reopened after a $250 thousand refurbishment). They come for Mee Goreng, Satay, Chicken Rice, Chilli Crabs, Cha Kway Teow etc.. you know the story. But offering Michelin Star restaurant stuff would be a little out of place. So I suggested to David Pynt, who earlier this year was awarded his first Michelin Star at his Burnt Ends restaurant, that he instead, take up a hawker stall space under his casual eatery brand Meatsmith. He jumped on it and specially created British and Asian inspired bbq dishes. He installed an adjustable Australian jarrah hardwood brick oven in the middle of the stall, a first of sorts, for a hawker stall here. I even took him on a western hawker food spin, just to get him acquainted to what these heritage fare meant to the food culture here. So David kept his menu simple and bore in mind what he thought would work in a hawker stall. He came up with 7 items and the cheapest starts at $4. He works with his head chef Nicol Wong at the stall.
I tried everything on the menu (a few times) and I have to say some are aligned to be hits. The Cha Siew Ribs with Garlic Rice and pickled cucumber ($10) is captivating. Two chunky and meaty pork ribs are marinated in cha siew sauce, fired up over the wood oven then smothered with even more of the sauce before they sit it over the rice. Very hard to dislike- it was meaty, robust, roasty and was soft yet firm to the bite.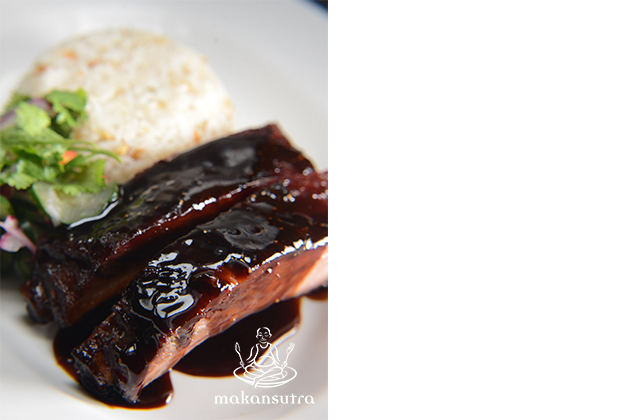 The superb cha siew ribs with garlic rice
David also created the Grilled Chicken Chop with Salted Egg Yolk ($9) sauce. It was dry and smokey on some occasions, but when they hit the mark, it came roasty with some burnt ends and was juicy inside. The salted yolk sauce, punctuated with fried curry leaves, was a pleasure over the boneless chicken, which came with garlic rice and salad.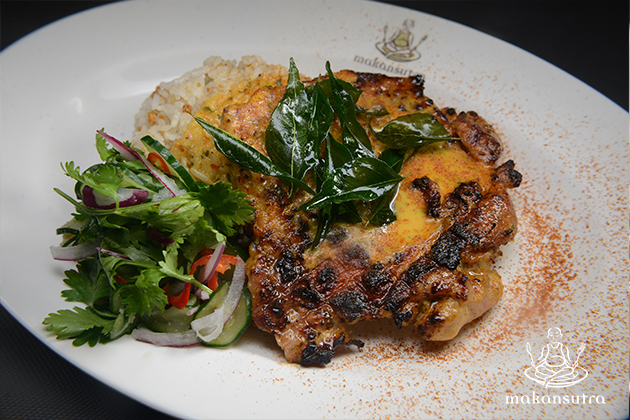 Salted Egg Yolk Sauce Chicken Chop
Their piece de resistance is the Smoked Suckling Pig with Glutinous Rice and XO Sauce ($16). While its not exactly food court price for some meat over rice dish- David insist on using Spanish piglets. When the skin comes thin. Light and crisp, ala lechon, the price suddenly does not matter. But I had it on some occasion when it was not grilled pleasure. The crackling was leathery and tough, but on the other occasions, it was a symphony in the mouth, with soft glutinous rice, crispy shards of shallots, meaty pork and thin crispy skin. I think they will need just a little while to settle the oven in before they rock this consistently.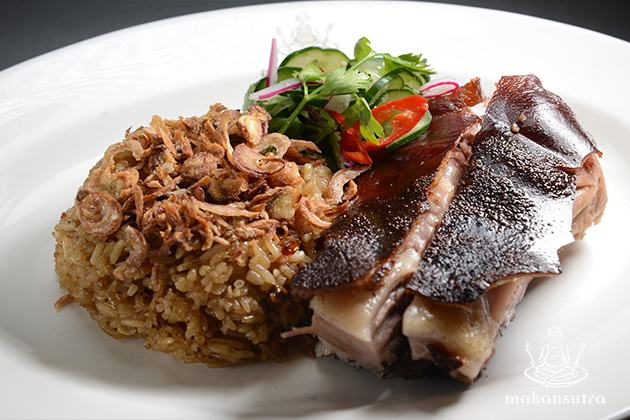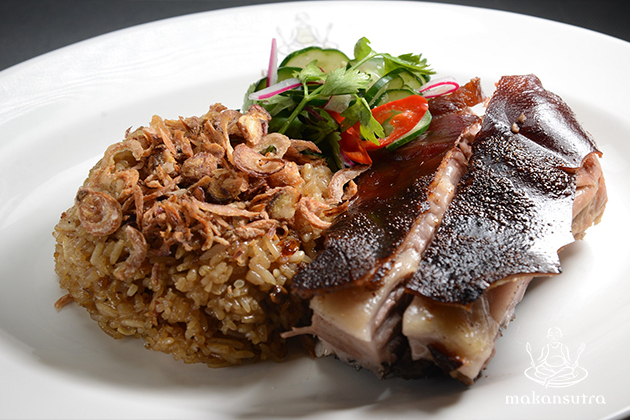 Their signature Smoked Suckling Pig Rice
They offer two great snacks- the kind you will find hard to stop even when you are not hungry. "I hate truffle oil" so David came up with a salt, pepper and five spice Fries ($4) with sambal mayonnaise. His pulled crispy Pulled Pork Wanton ($5), gosh, I'll say no more.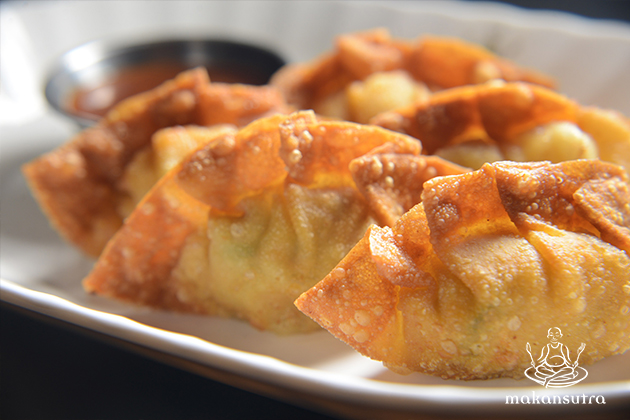 Moreish Pulled Pork Wantons
I am very honoured to have dynamic kitchen wizards in our Gluttons Bay family. It just changes the food narrative of Singapore. Welcome on board, David.
Meatsmith
Makansutra Gluttons Bay
At the Esplanade, 8 Raffles Ave
5pm to 2.30am daily.