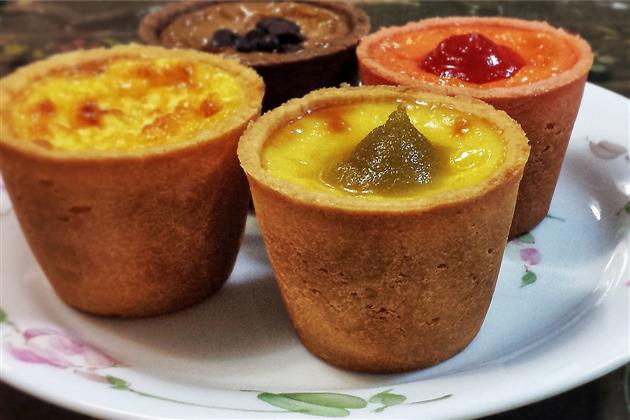 More than just Egg Tarts
By TianTianChi - Wednesday, Jun 18, 2014
To many people, egg tarts is a comfort snack and is easily found here at many confectionaries. While die-hard fans still swear by the traditional egg custard filling, new flavours and even designs and textures of the tart shells have crept into our dining tables. Here are some of the different variations and also our favourites.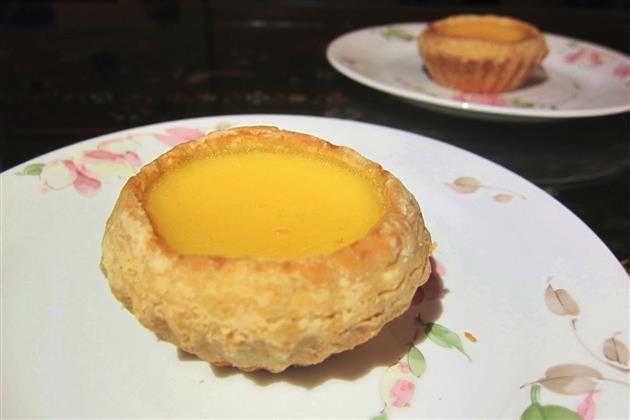 Da Sheng Hong Kong Pastry
36 Sago Street
9.30am-5pm
They only produce the traditional flaky version most are familiar with. The shell comes firmer and multi-layered yet holding itself well without being overly crumbly. The only fault we feel is the crust is thicker crust a little dry. However that is compensated by its larger size and generous custard filling. The custard is smooth, moist and firm with a prominent egg fragrance and with right degree of sweetness. "We want to keep the Hong Kong traditional style true and make it affordable too" the ex-Hong Konger confectionary owner said. This is undoubtedly an excellent value at only $1 per piece.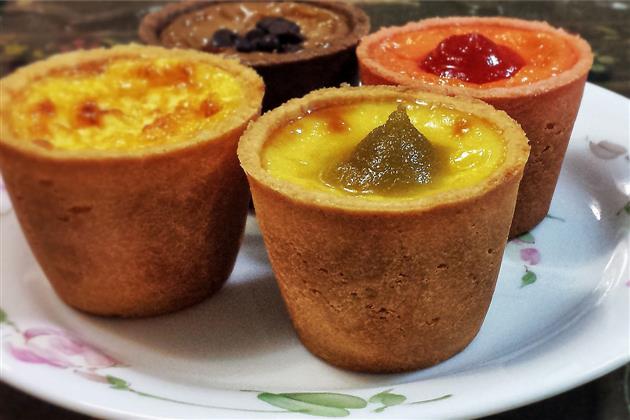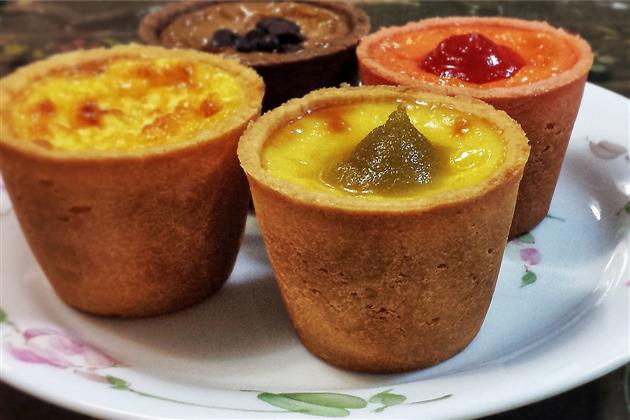 Fancy Delight
Stall 1: Lorong Kilat
17 Lorong Kilat, #01-04
11am-7pm (close Sundays and Public holidays)
Other outlets: http://www.fancydelight.com.sg/outlet
Their shot glass shaped egg tart ($1.50) is good looking and easy to hold. The shortcrust pastry has a soft biscuit-y texture and buttery taste, good even on its own. A whopping 17 flavours are available, sweet and savory. We find the savory chicken and mushroom version particularly intriguing. Chawanmushi comes to mind with a delicious egg and umami flavor. The several fruity version looks pretty but we didn't think fruits go very well with egg custard and somehow the jam tasted a little artificial. We were told the original flavour is still best seller still and we agree that it has the essential egg flavor and with the right firmness and sweetness.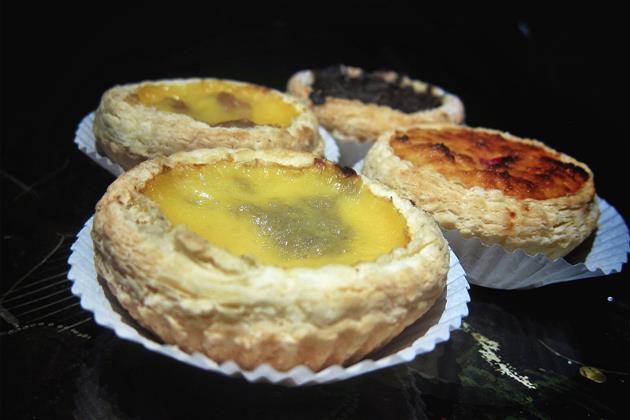 8Tarts & Pastries
252 North Bridge Road B1-58 Raffles Shopping Centre
8am-10pm
Other branches: http://www.8tarts.com.sg
They have some of Singaporean's favourite food as a filling – durian, chocolate, cheese, soya bean curd and coconut. There is even a cempedak version that turns out to be our favourite. The aroma and flavour of the fruit is intense and the flesh thick and chunky. The custard smoothens rather than playing second fiddle here. Chocolate is another favourite of ours with the custard sandwiched between a layer of dark chocolate and chocolate flakes. Warm it up a little and let the molten chocolate flowed out like a lava cake. The durian, although its pulp is visible could be more intense, but nevertheless, is still likeable. We feel however that the traditional flavour can have a stronger egg flavour. (Price from $1.40 for regular to $1.80 for dark chocolate and cheese).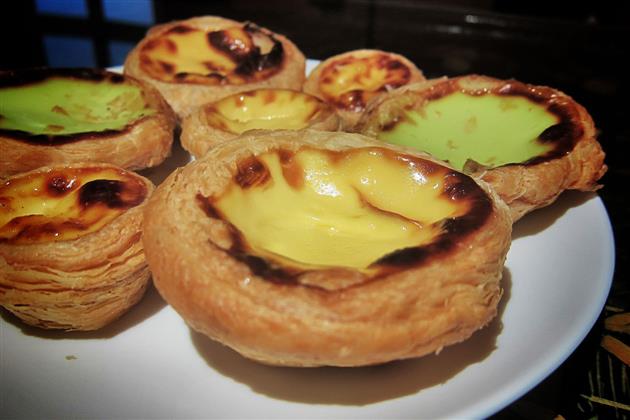 Madeleine's Original Portuguese Egg Tart & Puff
198 Tanjong Katong Road
8am-8pm
This is the Portuguese version characterized by the thin caramelized coat above the custard filling, rather similar to Crème Brûlée ($1.50). Their flaky pastry shell is quite thick but it is light in texture, each layer paper crisp. The custard comes with perfect texture – slightly wobbly yet creamy. We find a stronger milk flavour in the custard which kind of tames the eggy-ness. They also offer a pandan flavor version ($1.50) that we feel pale to the original version. In an attempt to quell guilty pleasures, they offer the tart in smaller sizes ($0.90).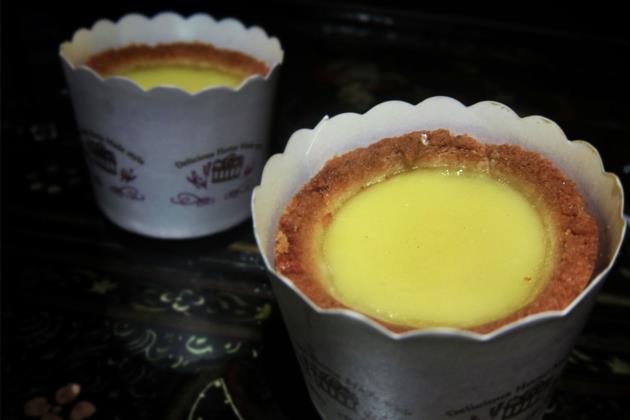 Pain De Gourmet Sun Moulin
350 Orchard Road, Shaw House, B1 (next to Isetan Departmental Store)
10am-9.30pm
The deep dished shape is rather similar to Fancy Delight version from this Japanese confectionary but is bigger and served in a scalloped edge cardboard cup. The shell is cake-y and crumbly. Although it cost the highest ($2.20) among those we have tried, the more than ample filling compensated for it. You can even eat it with a dessert spoon. The firmer filling is slightly on the sweet side but the egg flavour is prominent. This is quite popular as gift for its rather fanciful packaging with the shoppers at the departmental store. They only offer the traditional egg custard version.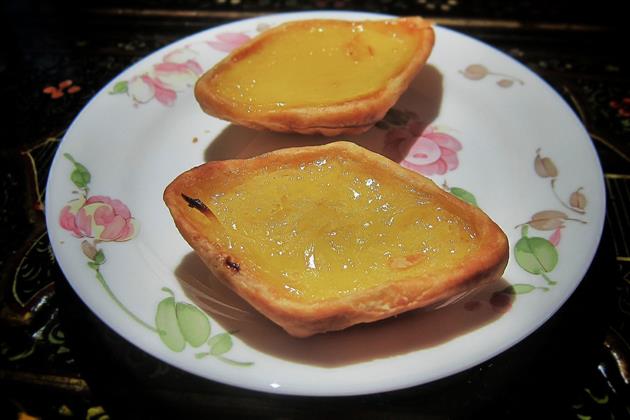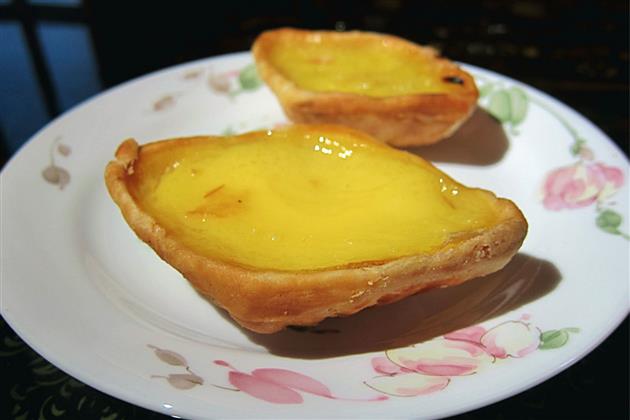 Tong Heng
Main shop: 285 South Bridge Road
9am-10pm
Branch: B1-10 1 Jurong West Central 2, Jurong Point Shopping Centre
10am-10pm
The signature diamond-shaped egg tart ($1.60) is a sensible design from this 90 years old confectionary. Easy to hold and it enters the mouth easily with its pointed diamond shaped end. The buttery crust resemble a flaky puff pastry yet it is slightly crumbly like a short crust. It is also thinner than most other egg tart, almost thin enough for light to pass through. The taste is not overly egg-y and is lightly sweet. It also has a runny melt in the mouth texture, the result of being light with thickeners. We prefer the traditional filling than the coconut version ($1.80) that is too fibrous and overly sweet.